Did Your Mother Dress Your Website?

For many juniors and seniors, one major decision comes to dominate the closing chapters of their high school careers: where to go to college. It's not a secret that your higher ed website can – should, even – play a large role in the decision-making process. Often, it's the first interaction between a prospective student and your school.
It's important, then, for your site to create a good first impression by presenting and defining your school brand for visitors in a compelling, accessible and fun manner. It helps if your brand lends itself to memorable presentation. However, if your brand isn't compelling, accessible or fun, you'll likely struggle to create the first impression you want.
The truth is, bad branding – including sub-optimal visual presentation – can stymie the performance of an otherwise perfectly good college site.
Bad Branding Is Real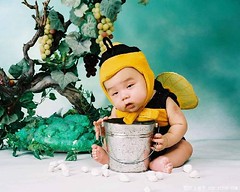 You remember those looks you'd get as a kid when your parents would dress you up in something real "cute" – like a sailor suit or a bumble bee costume (stifles traumatic childhood memory)? That bumble bee costume wasn't your idea, and isn't you... but to everyone on the outside, you were a bumble bee. Thanks, mom!
What made those experiences feel, um, awkward – other than the stares and the laughs – is your personal brand being badly misrepresented. Normally, you wouldn't have been caught dead in that outfit. As a result, you were rightfully concerned about the consequences of that disharmony.
Putting painful childhood memories aside, kids are not the only ones to suffer from badly misaligned branding (though, thankfully, we get oversight powers of our personal brands eventually). Traverse the interwebs for even just a little while and you're bound to run across sites that look like they were dressed by your mother.
And, higher ed sites can be some of the worst dressers.
Brand Style Guide: Your Wardrobe Organizer
So, how do you put better threads on your site?
A visual refresh or redesign may be the solution if your higher ed site is technically sound but lacking a contemporary look and feel. Let's be clear, though – you don't necessarily need to reinvent your brand. To use your branding more strategically, you may just need to define it better.
The best way to do that is with a brand style guide  – a comprehensive document that explicitly defines key attributes and elements of your school's brand (sometimes referred to as a brand bible). The brand bible is best used as your road map for all future marketing initiatives, including website redesigns.
A brand style guide is a foundational marketing document, but many higher ed marketing departments operate without one. That's probably because style guides have a reputation for being cumbersome and difficult to produce.
However, there's no reason why a functional brand style guide can't be developed in-house by a dedicated team. With careful planning and buy-in from key stakeholders, no task is insurmountable. The most difficult task might be getting everyone in the same room for the requisite brand brainstorming sessions.
Defining Brand Components
To define a thing as elusive as your school brand, you'll need to discuss certain key attributes of your school. This is where you'll need all those VIPs – for their institutional knowledge and decision-making prowess.
Schedule a brainstorming session (or several) to discuss the following key brand components:
School Values
This may be as simple as pulling from your school charter. It's just as likely to find that no one has ever bothered to record your school values, or maybe even thought about defining them. In which case, the input from your school leadership will be critical to completing this task.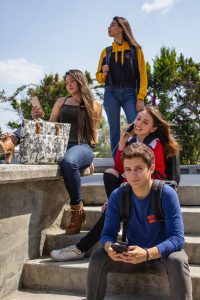 Target Audience
Develop a full persona, or several personas, of your prospective student groups. This will help calibrate all your marketing efforts.
Mission
If your school has a mission statement already, ask if your stakeholders feel that it still accurately represents what your school aims to accomplish. This may lead to a revision or a re-statement.
Vision
A vision statement speaks to goals or outcomes that your school wants to accomplish. As with the mission statement, you may find that an existing one may need to be brought up to date.
Brand Personality
This is where things can get fun. The goal is to come up with three to five adjectives to serve as brand attributes. There are lots of exercises that can help get the ball rolling. If your group gets stuck, start with deciding what your brand is not, or identify its opposite traits.
Discussions that involve abstract ideas can be difficult to get going initially. You'll want to have some ice breakers and exercises prepared beforehand to guide the discussion and keep it on track. More than one brainstorming session may be required to complete the task.
Shape Your Brand Elements
Once you've got the brand components down, use them to define your brand elements.
Brand Story
The brand story can draw upon your mission and vision statements to tell a narrative about your school.
Logo
A logo update may not always be necessary. That said, if you're introducing something substantially different or new to your brand, a new or updated logo can help signal that change.
Color palette
In this section of your brand style guide, provide explicit examples of all official brand colors and include information to help your vendors recreate the right hues.
Imagery 
There are several ways to provide guidance on creating on-brand imagery. Find and present images that convey the feelings you want to evoke. You should also include imagery that has historically performed well on your website and other marketing assets.
Voice
Your brand voice is closely related to your brand personality. Identify and document how you want your brand to sound to your target audience.
Typography 
In branding, details matter... down to the typeface selection. Choose your typeface family and provide explicit instruction on usage. Direct how you want copy to align and identify the spacing ratios to ensure consistency when typeface sizes change.
Beacon Knows Higher Ed Websites
Is your school website meeting your recruiting and conversion goals? Find out with a complimentary audit from Beacon's digital marketing experts.