Students Are Ripe Pickings for Web Content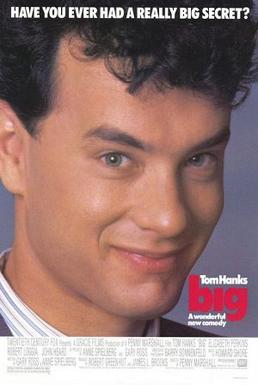 Have you ever seen the movie
Big
?
Definitely one of Tom Hanks' best. If you don't recall, it's the one where he plays a 12 year-old boy – Josh Baskin – who makes a wish to be "big" and wakes up in the body of a 30 year-old man the next morning. Before he finds a way to turn back into a pre-teen, Josh has to navigate the world as an adult, including getting a job as a data entry clerk for a toy manufacturer. Hilarious antics ensue.
In the process, Josh lands a top executive post with the company he works for. How? He demonstrates an uncanny ability to correctly predict the market sentiment toward new toy products. Because he's really a kid, and he actually plays with the toys the company designs, Josh is able to provide an accurate prediction of how much other kids would enjoy the same toys.
Josh's insights move the needle because they come from the point of view of the company's target demographic.
Can you guess why we're dissecting this 80's-ear movie like we're the Harvard Business Review? If you're thinking because it perfectly illustrates why colleges and universities should be looking to their own students more for compelling website content, give yourself a pat on the back.
Sometimes, the best marketing tactic is to let your real customers talk to your prospective customers. In the world of higher ed, that means having your current students speak to the prospects you hope to see as part of your next freshman class.
Let's talk about how that can be best accomplished.
Academic Content
What do prospective students look for on your website?
Unsurprisingly, information about academic programs tops the list of factors high school seniors consider when adding a school to their short list. So, if your school's program pages have thin content or are difficult to find, optimization efforts in these areas could yield some quick gains for your site.
But prospective students are not just looking into their curriculum choices and scoping out the faculty. Research indicates that they're also looking for information about what graduates do when they hit the job market and how well the program prepares them for success in the real world. However, this information is rarely provided.
This is precisely where the voices of real students can carry the most weight. This 2016 article on InsideHigherEd makes an excellent case for current students and recent alumni to be featured on well-designed, easy to find pages dedicated to your school's academic majors.
Student Spotlights
The best way to help prospective students see themselves on your campus is to introduce them to someone who is just like them, and who has only just recently been where they are. Student spotlights are a great way to accomplish that goal.
A couple of suggestions for these write-ups.
First, recognize that teens love video content. Incorporating a clip as part of the narrative, or using the medium as the primary mode of presentation, will be sure to engage the attention of page visitors.
Secondly, authenticity counts more than polish. This means, whenever possible, you should let the students speak for themselves. Have them write the spotlight piece in their own voice, or record a video using their own phone. Remember, prospective students identify better with their peers.
Social media posts 

Speaking of identifying with peers... when high school seniors want to know what's really going on on your campus, they check social media. And, considering that one of the golden rules of marketing is to meet your audience where they are, the case for investing your time and efforts into developing your school's social media presence is a good one.
A great way to demonstrate authenticity and gain a social media following for your school social media accounts is to involve your current students and alumni in creating your social media content.
Summer Internship Write-ups
This goes back to the importance of speaking to the needs that your audience has expressed. Rising college freshmen want to know as much as possible about the kinds of jobs they can expect to compete for after graduating from your program. First-hand accounts of summer internships with a prestigious company or organization can go a long way to paint a picture of what's possible.
Beacon Knows Higher Ed Content
Could you use some help optimizing your higher ed site performance. Beacon's content experts can help fine tune your content strategy. Request a free website audit to get started.