Hello from Beaconville: High Ed Conference Wrap-Up

We're back.
The Beacon team was thrilled to attend in-person events again, after the COVID-19-induced hiatus. We sent teams to the HighEdWeb 2022 Annual Conference in Little Rock, AR, and the 2022 American Marketing Association (AMA) Symposium for the Marketing of Higher Education in National Harbor, MD.
Both events were very positive and exciting. Attendees from across the country finally got a chance to reunite and reconnect in person again. And of course, it gave us a great reason to do something special. And that something was... Beaconville!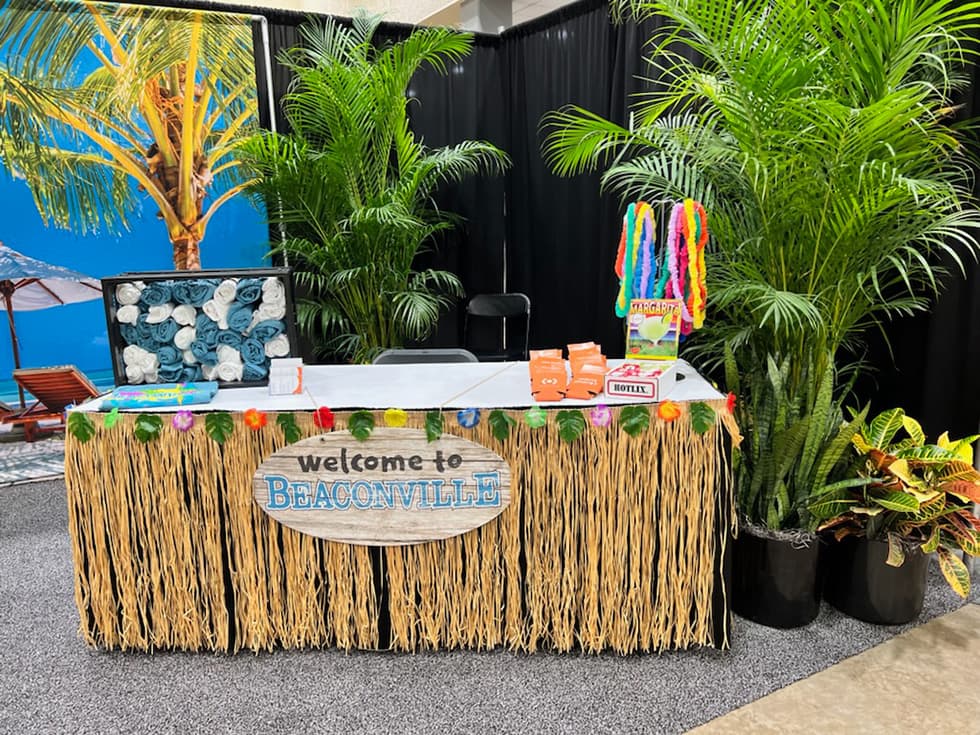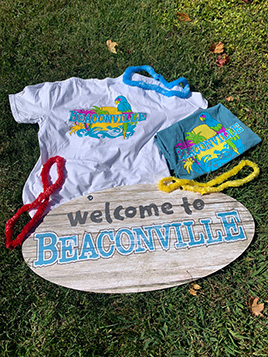 Yes, we brought a taste and spirit of the Caribbean to the convention halls with our beautiful, relaxing beach scene, plus we gave out leis, koozies, tropical refreshments, and snacks. As is our tradition, we also brought our special, custom-designed Beacon t-shirts for everyone. This year's shirts were Beaconville-themed, and they were pretty stylish if we say so ourselves. 
These shirts were in high demand, especially the blue color, as we handed out nearly 300 to our HighEd friends.  We get it: the Beaconville state of mind is definitely something you want to take home with you! It also gave us an opportunity to tell everyone about the new Beacon Coastal office we just opened in Carolina Beach, NC.
Our Goal: Show Attendees How to Get More from Digital
Of course, the conferences were about more than just margarita-flavored lollipops and t-shirts. Representatives from college and university marketing teams converged to explore new ways to reach more prospective students and to have their web marketing questions answered. 
There were a few topics that seemed to be on everyone's list. Google Analytics' upcoming shift to GA4, and how that would impact digital marketing and tracking, was a major concern for many attendees. Digital marketing in general was a key area of interest: many schools expressed a desire to generate more web traffic via search engine optimization (SEO) and pay-per-click (PPC) advertising but don't have the internal resources to make the most of those opportunities. We shared some of our newer digital marketing tactics and the success our team is having with our college and university clients, which the conference attendees appreciated.
Website redesigns, as always, were an important subject of discussion. This year, many of the marketers were particularly interested in content strategy, and how updating their site content can impact those redesigns and make them more effective. This is exactly why the Beacon Content Team was created over a year ago and is growing so rapidly. So it was good to share experiences and hopefully help some of our visitors define their course for tackling content issues.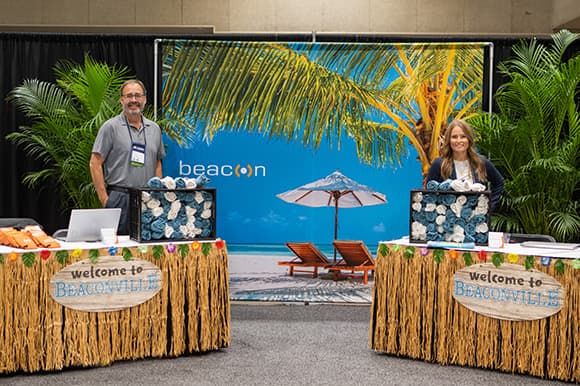 Beacon's account executives, Kent and Emily were on hand to answer everyone's burning questions. If you've been to Higher Ed conferences before, you probably recognize them as they've been steadfast attendees for many years. If this was your first conference, they undoubtedly made you feel welcome. Sometimes for as long as 12 hours a day, Kent and Emily greeted marketers, educators, and web developers as they visited Beaconville. "It was great to talk in person about their various digital concerns, share what we are seeing, and provide some options on how we could help," says Kent. "It really helped us to re-build connections in a way we couldn't with virtual conferences over the last couple of years."
The Top 4 Areas of Focus 
1.  GA4: Transition now before the current version of GA goes away. Since it was announced, our digital marketing team has been diligently tracking GA4 development and preparing for its launch. We're working to ensure all of our customers are ready and running in parallel to validate data. As Google Partners for 15+ years now, this is an area of particular expertise for us, and we're more than ready and qualified to provide assistance.
2.  SEO and PPC: Optimize & leverage digital channels to get more visits to your website, better engage students, drive more campus visits, and yes, get more applications. Our digital marketing specialists are passionately focused on higher ed and are ready to help you implement more effective digital marketing strategies.  
3.  Content strategy:  Assess and update your site's message with high-quality content that engages student audiences, more effectively tells your school's brand story, and drives actions like applications and information requests. Beacon's dedicated content team has been working tirelessly to craft new custom content for our client schools to tell their stories better and meet their goals.  
4.  Website redesigns: Update your school's website with fresh designs, easier navigation, and an all-around improved user experience. Make sure it's built on a sturdy foundation of user data, a sound CMS, and canny web strategies. College website redesigns are the core of what we do, with hundreds of success stories over the last 20 years in Higher Ed.
Right now, it's all about getting more from your website and digital marketing.  And that's exactly what Beacon does year in and year out.  In fact, the koozies we handed out said just that... with a QR code that took you to our Get More page. (You should definitely check it out.)
Contact Beacon for Everything Digital
It was truly a great conference season, and we're thankful to attend and reconnect with so many of our friends and colleagues, but more importantly, to get to know all the new people in Higher Ed since before the pandemic.   
If you didn't make to it HighEdWeb or AMA this year, or if we simply didn't get a chance to chat, don't fret: we can still help.  Just contact us today. We are always here to help your institution get more!
In the meantime, we're already thinking about next year's shows and how we can create an even more memorable experience. 
See you in 2023!