Could Your Higher Ed Website Stand to Lose Some Weight?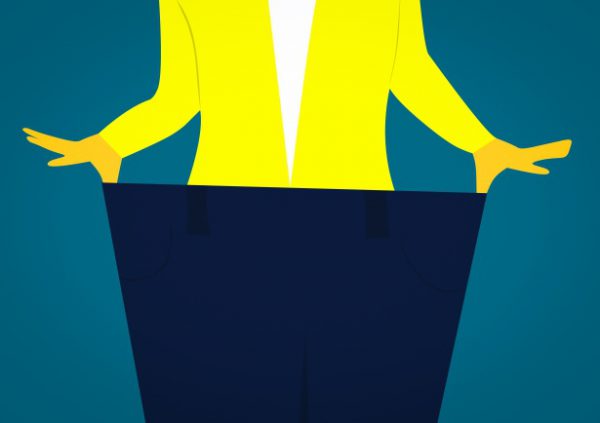 Happy New Year, everyone! How are you doing with your resolutions?
Ok, ok… put down the pitchforks. This is a safe space.
Every year, as the calendar turns, Americans rush to empower themselves to do those things that we find difficult. One of the most popular resolutions, year after year, is the commitment to get in shape. Come January, gyms swell with new members, even if the new recruits only stick around through March.
January seems to be THE months to shed those extra pounds that have accumulated throughout the previous 11. But, as we're all collectively and diligently keeping our minds on our waistlines, I thought I'd shift our focus just a tad… to overweight websites.
Did you know that your higher ed website is also prone to unhealthy weight gain? It's true.
The digital "weight" is the content that your website hosts. Your site can't function without content, just like a human body cannot survive without food. But, too much content, wrong content or old content can prove to be counterproductive to the goal of maintaining a vibrant, inviting and healthy website.
Thankfully, keeping your site in peak digital condition does not require a gym membership. What you will need, however, is a good model of what you want your site to be, an objective analysis of your current site as is, and a plan of action to get you to your goals.
Step One: Define Good Content
What is good content? That's not a philosophical or a rhetorical question. It has a real answer. It's just that that answer can be complicated and completely unique to your site.
When they choose to pay attention, people learn through personal experiences which foods work best for fueling their bodies. You may notice an extra energy in the mornings whenever you add fruit to your breakfast cereal. Or, you might feel more creative and productive in your afternoon meetings after you have a healthy smoothie for lunch, instead of the generic burger value meal.
But, what works for you, may not work for someone else.
Same with your website content. Content that performs well on another website may not deliver the same results on your site. You can't replace those learning experiences that define what "good" is for you.
Define good content by identifying the goals that you are trying to accomplish. Is it to improve engagement? Are you trying to share knowledge? Increase conversion? Describe the ideal attributes of content for each goal.
Then, compile a short list of your top-performing content and analyze what makes those pieces work. What value does a particular page provide to your target audience? What needs are being met? Is anything relevant being left out?
At the end of this process, you'll have a fairly good working concept of "good content" for your site.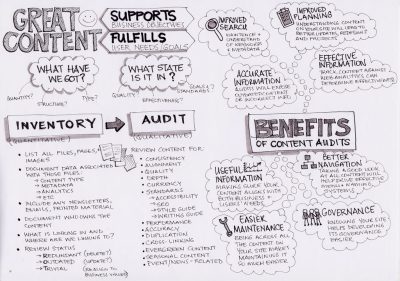 Step Two: Audit Your Content
Once you decide what good content is, you can evaluate your site for what you're missing, what you have too much of, and what is no longer needed. Dig in and become an expert on your website content.
Begin with a content inventory to identify all the pieces of content currently live on your site. This will help you break down your content into different categories.  At Beacon, we like Screaming Frog for these types of audits.
Once you have your list, you can segment your content any number of ways: content type (blog, landing page, toaster message), format (text, video, pic), user journey stages (awareness, consideration, conversion), etc. Include as much information and data – metadata (meta descriptions, title tags), content length, social shares, posting date, etc – as possible.
Next, add performance data for each piece of content. Google Analytics can help you identify the pages and content that attract the most visitors and drive engagement.
And finally, assess each piece of content by the goals you established. Focus your attention on content that does not accomplish any goals and leave the content that already meets your criteria alone. Once this is complete, you'll need to decide what to do with each piece of content individually.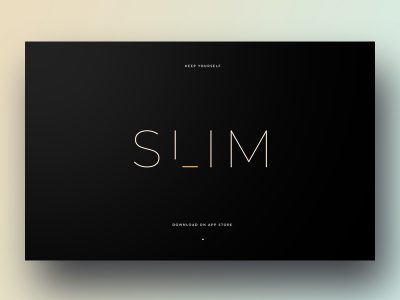 Step Three: Prune Your Content
This is where some of your content will meet its end.
After you've split out the good content from the bad, you'll need to evaluate whether the sub-optimal content is worthy of efforts to update and improve it. Keep in mind that not all of your content can or should be salvaged.
That said, many pieces of content can be improved or re-purposed. Just because a page is not attracting a lot of visitors or driving goal completions doesn't make it useless. A new angle, better keywords or a more sophisticated use of keywords, improved structure or a more optimized CTA can all rescue copy from the digital waste bin.
The resources and bandwidth that you have at your disposal will affect what can and should be salvaged. You may only have the ability to work on a limited number of pages. Make an action plan to improve the content with the most potential to meet your website goals.
The remaining pieces of content are the excess fat that should be trimmed.
Beacon Knows Content Strategy
Pruning your website content can be a big job. Beacon can help. Our content experts can provide valuable advice and help you come up with a strategic plan of action. Give us a call.