New Features, New Opportunity: Google Offers More Ways to Compete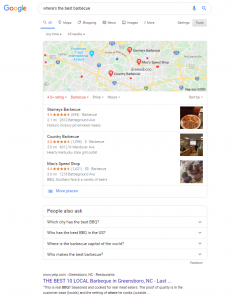 A lot has changed about Google's search results over the last 10 years. A LOT.
As users of Google in our personal lives, we may take a quick mental note about a new useful feature or carousel in Google. But, as digital marketers, we pay close attention to these updates and the impact they have on organic traffic. One particular trend we've noticed over the years is how far down organic results have been bumped.
Why is this happening?
Well, it may have something to do with a slew of additions to the top of the search engine results pages (SERPs). These new features are developed to fuel two things. The first, of course, being Google's primary revenue stream: advertising. And, the second being market retention.
To ensure people come back to Google time and time again, they've continually enhanced the search results to provide better and faster information. After all, they don't maintain their market share of 92% by staying the same.
New Features Pushing Organic Out of Sight
Four ads up top
"People Also Ask"
Top Stories
Video Carousels
Featured Snippets
Image Pack
Knowledge Card
Knowledge Panel
Local Pack
Local Teaser Pack
News Carousel
Reviews
Shopping Carousel
Site Links
Tweets
Massive Growth in Mobile Search Further Complicates Things
Now, let's take into account mobile device usage. Squeezing the search results down to the width of a phone pushes that first organic result down even further, which requires more scrolling. When you consider the fact that global website traffic from mobile devices has grown from 31% in 2015 to 52% in 2019, it's clear that organic traffic is an uphill battle with a constantly steepening grade.
Now Lets Quantify the Impact
Our friends over at Moz also noticed this trend and did an in-depth study on how the search landscape has changed since 2013. From the 10,000 search queries they analyzed, one thing is abundantly clear – organic search isn't the same game.
One of the key takeaways concerns the depth at which the first organic search result appears on SERPs. Back in 2013, the average pixel depth of position 1 was 375 – with an observed best case of 157 pixels and the worst case landing at 976 pixels deep.
By 2020, the average position of the top organic search result eroded to 616 pixels, with the absolute worst-case pixel depth observed at a stunning 2,938.
For some context, 100 pixels is roughly equivalent to one inch, regardless of device. So, the worst-case top result in 2020 was nearly 30 inches down the page. That's three times lower than the 2013 worst-case scenario (nearly 10 inches).
What does this mean in practical terms?
It means that, today, the top organic search engine result is not nearly as valuable as a traffic generator as it was in 2013. It also means that Google is placing a considerable amount of value on all those new features they keep adding. So, we don't anticipate this landscape changing back to the "old way".
Take Advantage of Opportunity: Updating Your SEO Strategy

The search engine landscape changes on a near-daily basis, and therefore, so can your ranking (position) in the search engine results. Optimizing the text content on your key pages used to be a solid strategy on its own and, with the right know-how, you could drive a lot of organic traffic to your site. It's no longer that easy.
Keep in mind that SEO is still a required, fundamental component of any good digital marketing strategy.  SEO continues to be the leading traffic driver to websites, but in a vastly different way.
But, today, you'll need to do more than just write high-quality, optimized copy. You'll also need to take advantage of all these top-of-page playgrounds Google has created. With all these new features come new opportunities. Video carousels, featured snippets, "people also ask," image pack, local pack, and many more of the aforementioned features present great new avenues to get your content in front of people.
Don't miss out. Make sure these features are considered as part of your organic strategy.
Beacon Knows Search
Our SEO team is full of experienced creative thinkers that inform SEO strategies with data and forethought. If you're looking to update your organic traffic strategy, let us know!