Higher Education Digital Marketing
Digital Marketing Services For Higher Ed
Why Beacon?
Beacon's Higher Education Digital Marketing team is comprised of specialists in each of the disciplines (SEO, Paid Search, Google Analytics, and Project Management), and are tightly integrated into Beacon's Website Design & Development team.
Most colleges and universities have lagged behind other industries with their online digital marketing strategy. Now that many have finally gotten their websites under control (design, development, content and management), digital marketing has come to the forefront. So, there's a big upside for institutions that do it right and seize the opportunity. With thousands of new and repeat visits to your College or University's website, from a multitude of channels, representing a variety of audiences, interested in different types of content and producing volumes of valuable data for analytics, you need a legitimate expert in both Higher Education and Digital Marketing.
A Winning Strategy for Higher Ed
SEO (Search Engine Optimization) via seoClarity, Keyword maps, Page Health, Search Console
SEM/PPC (Paid Search Marketing) via Google, Bing, Content Ads, Display Ads, Remarketing, Geo-targeted Ads, Facebook
Data Science & Analytics - Insights to optimize results by audience, geography, investment, content using Google Analytics, Google Tag Manager, DataStudio, Optimize
GAFUSION - Connecting applications and enrollment to online marketing activity
Online Marketing For Higher Ed: Our Approach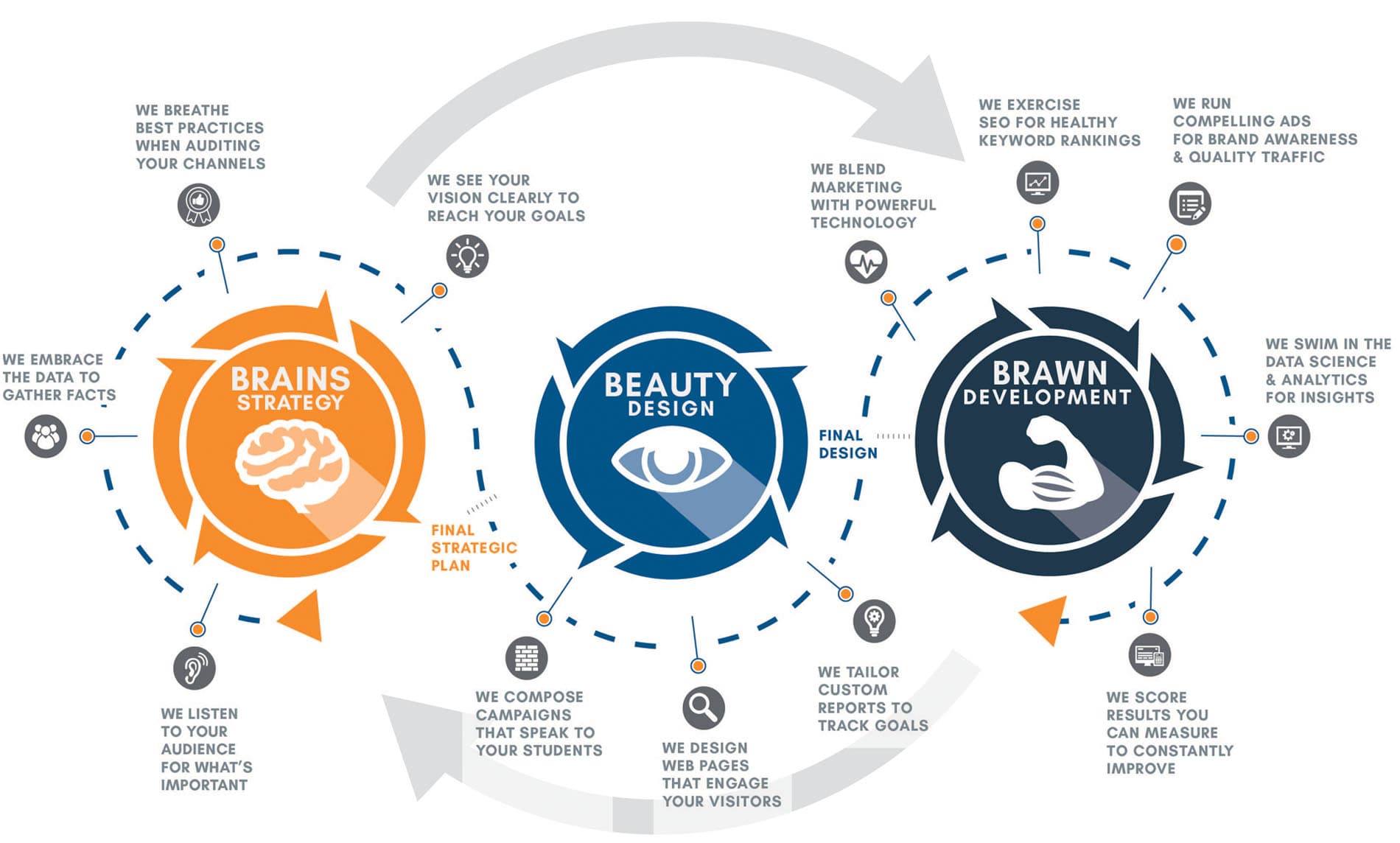 "You can't manage what you don't measure."
Make no mistake about it. Your University or College's website is the centerpiece of your marketing effort - the destination for most marketing channel to enlighten, engage and convert students, parents and alumni. Since Beacon's doors opened in 1998, SEO has been part of its offering and is still a factor in nearly every marketing and development project. Similarly, Paid Search and Social Media ads depend heavily on the content relevance of their destination landing pages. Why? Two reasons. First, Google wants to serve the user with the best match for their search and uses quality scores to drive positioning and pricing. And secondly, ads are made to drive traffic; web pages are responsible for engagement. Our point? You gain a competitive advantage by having a digital marketing partner with a deep understanding of web technology.
During the strategy phase we identify strengths and weaknesses in your SEO, Paid Search and Google Analytics implementation to improve student recruiting, alumni engagement, academic program visibility and other strategic objectives for your institution. Remember, your digital marketing strategy includes your website. So an integrated strategy with accurate tracking is essential for success.
We LISTEN to your Audience(s)
New Student Interviews (Recruiting) | Current Student Interviews (Differentiators) | Faculty Interviews (Differentiators, Targeting) | Alumni Surveys (Marketing Opportunity)
We EMBRACE the Data
Google Analytics Traffic & Engagement by Audience | Site Search Utilization & Search Log Analysis | Device Utilization Analysis (by target audiences) | Key Phrase Research & Mapping
We BREATHE Best Practices
SEO Baseline Analysis | Paid Search Baseline Analysis | Google Analytics Baseline Analysis
We SEE your Vision Clearly
Client Discovery Survey | Administrative Interviews (Goals, Objectives, Strategy) | Competitive Analysis (Look-alike schools)
We SHAPE a Winning Game plan
Strategic Planning Sessions - based on Insights and Trends from Data Analysis | Deliverable: Strategic Plan for SEO, Paid Search, Data Collection & Reporting
Higher Education Digital Marketing gets students, alumni and others to your website due to the messaging in your ads, but the content on your website plays an important role as well. These ads and content must speak to them based on well-designed personas, using the right keywords that grab their attention and bring them from search engines to the website. Getting them there is half the battle, as it is the website's responsibility to convince them to take action. Furthermore, tracking must be designed to support continuous optimization throughout the student journey. The recipe for success depends on the right ingredients, then stirring everything very carefully.
We CRAFT Campaigns that Speak to your Students
Persona Design & Creation | Ad Campaign Design & Creation | Re-Marketing Design
We DESIGN Web Pages That Engage your Visitors
SEO Landing Page Design & Creation | Content Landing Page Design & Creation (Paid Search Quality Scores) | Website Design Improvement Recommendations
You've invested significant time (and money) to develop a data-driven strategy and a cool new design that will engage visitors. Now it's time to bring your vision to life. Time to make it happen!
The success of your carefully crafted digital marketing strategy rests squarely on the tools that are used but even more on the expertise of the team implementing and monitoring it. The wrong approach here can result in soaring costs and poor quality. No worries. You can count on Beacon's team of Higher Ed digital marketing experts to meet your goals with proven processes, best-in-class software, and incredible passion to do things right.
We CONSTRUCT Compelling Ads for Brand Awareness & Quality Traffic
Setup of Google Ads & Bing Ads | Keyword buildout and Configuration for bidding, scheduling Remarketing and dynamic targeting (by Location/Geo, Demographics, Device). | Google Analytics Integrations | Ongoing Optimization & Updates to Ad copy, budgeting, Ad Extensions, search terms
We SWIM in Data Science & Analytics for Insights
Google Analytics for Tracking | Data Studio for Dynamic Reporting | "GAFUSION for Higher Ed; | Google Tag Manager | seoClarity for Premium Support | Call Tracking Integration | A/B Testing Support
We EXERCISE SEO for Healthy Keyword Rankings
Search Console and Bing WMT | SEO Landing Page Installation | Website Crawl Automation for XML Sitemap | Robots.txt File | 404 (Page Not Found) | Local Listing Claiming & Optimization | Structured Data Optimization | Canonical tag adjustments
We SCORE Results You Can Measure
Custom Dashboards - Metrics isolated by internal organizations (Admissions, Administration, etc.), audience (Students, Alumni, etc.), by Actions (specific pages, form completions, requests, etc.) or Geography (by state, region).
On Demand Adhoc Reporting - For special requests as needs are identified (an on-campus event, new trends, to support business decisions, etc.)