Is Website Personalization Right For Your School?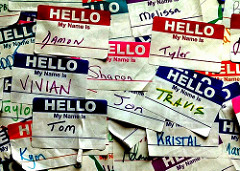 This time of year, as students flee campus for winter break, the usual bustle of activity slows considerably. This affords the opportunity for faculty and staff to take a break from the breakneck speed of the semester.
For many institutions of higher learning, this is a good time to explore some new ideas and tactics to meet strategic goals. The end of the calendar year is, after all, a time for reflection and goal setting. For your higher ed marketing team, this may take the form of evaluating your website performance for optimization opportunities, or a discussion about implementing new processes or concepts.
One concept that's been gaining steam in higher ed marketing for a couple of years now is website personalization. Can a personalized web experience make a difference for your school's recruiting and marketing efforts?
Website Personalization Explained 
A personalization-enabled website delivers tailored content to visitors, providing a quicker pathway to relevant information and, hopefully, enabling deeper engagement with the site. The assumption behind personalization is that it will promote more loyalty from visitors. And increased consumer loyalty translates to better financial performance.
Traditionally, early adopters of the concept (see: Amazon and Netflix) would create a unique homepage experience for each visitor. The founder and CEO of Amazon, Jeff Bezos, famously said this way back in 1998:
"If we have 4.5 million customers, we shouldn't have one store. We should have 4.5 million stores."
Research backs up Mr. Bezos' affinity for highly personalized web content. And the success of Amazon speaks for itself. For e-commerce websites, personalization has proven effective in improving conversion rates, engagement, customer loyalty and more.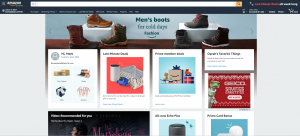 That said, colleges and universities don't run e-commerce sites. So, what works for Amazon may not necessarily work for your school.
In the higher ed sector, it's difficult to personalize a web experience to the individual level. For one, schools just don't have access to the same type of information about students that e-commerce sites are able to collect from their customers. It's easy for Amazon to come up with unique content for you, specifically, when it can analyze your shopping queries for the last six months (or six years).
Without that level of insight, it's more prudent to personalize content for a distinct higher ed audience, rather than each individual visitor. If you're already segmenting your audiences, you have the data you need to begin differentiating your content strategy for each group. There's a treasure trove of actionable audience data aching to be put to good use.
Implementing Personalization
If you haven't gone through the audience segmentation process yet, make that the jump off point. You'll want to start with the obvious groups: prospective students, current students, faculty, alumni, etc. Digging deeper, however, can reveal additional opportunities for personalization. Prospective students, for example, can be further broken up into geographic regions, undergraduate vs. graduate, or by academic interests.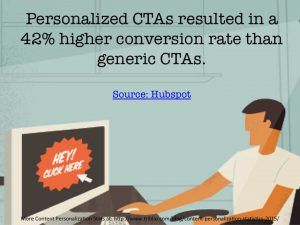 With your groups defined, you'll need to match each audience group with actions you want them to complete (conversions). For prospective students, that could be submitting a request for information, interest in a campus visit, or downloading an application. This is when tracking comes in - you'll need to be able to analyze the number of conversions to know if your strategy is paying off.
Another helpful step can be to develop personas for the groups most important to you. Creating a "real" person to embody the needs and goals of the audience group will help you zero in on how these users will want to interact with your site.
Finally, you'll need to design the personalized experience for each target audience group. This involves identifying the proper calls to action and conversion points, creating the actual content, tasking your development team with building out the needed pages, and making a plan to track performance, evaluate and iterate if necessary.
Beacon Knows Content Strategy
Not sure if personalization can work with your content strategy? Let Beacon help. Our expert team is happy to evaluate your website content and governance structure against your goals. Give us a call today.