Cohesion: Key To Great Web Design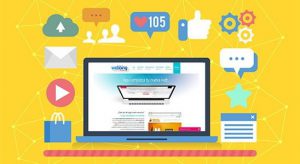 Does this sounds familiar?
You're exploring a website and click into a major navigation menu item. The new page loads and, suddenly, you feel like you've been transported somewhere completely different. Nothing about the experience on the new page ties back to the page you just came from. The type face is different, the navigation menu is completely unrecognizable in both style and selections, the color scheme is brand new, as is the overall page layout. You check the URL… yep, still the same domain.
This confusing experience is replicated surprisingly often across the web. In fact, this issue crops up fairly consistently for colleges and universities, as well as other large organizations.
What gives? It's 2018! Doesn't anybody know how to design and maintain a good website?
Putting our incredulity aside, it's important to remember that the reasons behind a bad user experience aren't usually intentional. No one sets out to confuse their audience on purpose.
In most cases, a confusing website is just a result of competing needs. Sometimes you need to add a new landing page quickly. Sometimes, staff turnover makes replicating older page templates challenging. Sometimes, you're asked to try something new and different just to see if it works.
All of these reasons are plausible enough. Also, the web is a fast-moving place. The instincts to evolve, try new things and move quickly are usually the right ones.
That said, nothing on your website should be a one-off. If you want to implement change, you have to have a plan.
Creating & Maintaining a Cohesive Web Design
It should go without saying that a cohesive website design will keep your users engaged, on task and able to replicate their sessions easily and intuitively. So, how can one create and maintain cohesion through the design process and beyond?
The first objective is to create consistency for the user throughout their journey. This is best accomplished by establishing your brand elements and maintaining predictable page layouts and navigation. Predictable doesn't have to mean boring. You can have a great page, with lots of great, engaging content, that still follows an intuitive layout.
The other on-page elements that you must painstakingly keep constant throughout your site include:
navigation menus
header and footer
type face
color palette
accent graphics
imagery (quality and tone)
There are aspects of your higher ed website that can be tailored to highlight special features of various departments or schools. The above list, however, is absolutely hands off.
Elements of Cohesive Interior Pages
While the homepage introduces your users to your brand, the job of landing and interior pages is to deliver information that your users are searching for and help them complete a specific goal. These objectives are best accomplished by different means, and this should be acknowledged by your design.
Branding is done best through visual elements. As such, homepage design leans heavily on imagery and graphics.
Interior pages are concerned with delivering hard information. As such, the design and layout need to reflect the text-heavy nature of these pages. Branding can be injected through the use of consistent header  and text styles, button colors, voice and tone of the text.
Visual elements, while still very much important, are, nonetheless, a secondary priority – they help break up the text and keep the user's attention on the page. Despite the reduced emphasis, the visual elements help tie interior pages in with the branding of the rest of the site.
Elements of Cohesive Landing Pages
Landing pages are a cross between the homepage and an interior page. When arriving at a landing page on your higher ed website, your users should feel like they've just flipped open to a start of a new chapter in a book. There's an introductory feel, but also hard information presented for consumption.
Due to the dual-nature purpose of landing pages, they tend to integrate a bit more graphic elements than interior pages. The landing page are really a continuation of the user experience from the homepage. As such, they tend to carry over some of the visual design and interactive elements of the homepage.
Beacon Knows Higher Ed Web Design
Want to know how your higher ed website stacks up? Not sure if you need a refresh or a complete overhaul? Request a complimentary website audit from Beacon's expert team. We'll be happy to discuss your most pressing needs.