Content Strategy: Do You Have a Plan Ready?

Content sure seems to be hording all the buzz in 2018. Take a look at the lineup of any higher ed marketing conference and you'll be sure to find at least one or two speakers or break-out sessions promising the latest low-down on content strategy.
It's not just higher ed. A number of content marketing conferences have sprung up over the last decade, as year after year is billed as THE year of content marketing.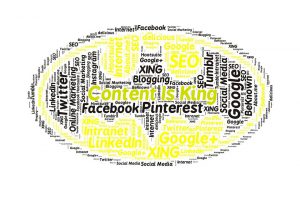 For a long time, content had been relegated to an afterthought in the website building process, with graphic design and development driving project priorities. The current infatuation with content is the eco-system balancing itself to recognize an essential and under-valued component.
It makes sense. Websites are, after all, vehicles for delivering information. So, being able to present information strategically and skillfully is of great importance. Content is the whole reason people are going to your website in the first place.
Yes, there are now many advocates of the content-first approach. But, the truth is, neither content, nor graphic design, nor development should be thought of as "first." The best approach to website building weighs each function equally - relying on the three processes to work together, in concert with each other. And, it's important to consider and plan for the needs of all three at the outset of a web project.
That said, content is the only one of the three that plays a major role after a website is launched. A site with no new information loses relevance and becomes stale very quickly. It's essential to have a plan in place for the development and publishing of new content. And, for this reason, a forward-looking content strategy is necessary for the long-term health of any site.
What goes into a comprehensive content strategy?
Research & Analysis
Content Audit - If you're re-designing an existing site, you need to know what's already there. A content audit will help you outline the current structure of the site, inventory the existing content and evaluate the quality. It's also often helpful to do a top-level audit of your competitors' websites, to gain a sense of industry standards.
Stakeholder Interviews - Ultimately, the website needs to satisfy the goals of the stakeholders. It's imperative that their goals and priorities are clearly outlined. This group will also provide key institutional knowledge and strategic guidance.
Focus Groups and Surveys - It's important to know how your current users think about the site, so you can optimize an even better user experience with the re-design.
Planning & Structure
Information Architecture - This document lays out the structure of your site in detail, accounting for the existence and location of every, single page.
Content Design - Whoever ends up writing the content for the new site will need to understand the purpose of each new page section and element, as well as where and how each page fits within the overall site structure. Each template should come with directions to help writers optimize the copy.
Functional Requirements - This document identifies every element on each page, and describes how it will work on the new site. Developers and designers refer to this document to guide their work.
Content Development/Governance Plan - Writing copy for a new website can be a lengthy process that involves numerous writers and editors. It's important to have a clear understanding of the writing timeline (deadlines), as well as the role each person has.
Content Creation & Entry
Content Writing - Optimally, the content is being written as designs are finalized and the site's templates are being developed. Progress should be tracked via the content development plan and follow the governance protocols.
Content Import & Integration - Once the templates are built and the copy written, content can begin to be ported in. Newly written content should already be optimized for the new site templates. However, if pages are being brought over from the old site, editing and additional integration efforts may be required.
Post-Launch Planning
On-going Content Development - New content is vital for your site to continue serving your users' needs. As before, writing efforts should be scheduled via the content development plan and administered by the governance protocols already in place.
Content Owner Trainings - Many sites begin a slow decline after launch. Often, this is because the process of adding new content doesn't follow best practices or intended use cases. Sometimes, new content owners are not familiar with the correct procedures or usage. A regular cadence of trainings can help to keep everyone on the same page and minimize content problems post-launch.
Content Maintenance Audits - One of the biggest problems with older websites is that they sprawl. You want content that user want, of course. But, at some point it becomes too much. An annual content audit can help manage that inevitable sprawl.
Archiving - Another solution for sprawl. You don't have to permanently delete old content. Keeping outdated content on file, but off line, is a good way to prune your site without losing the hard work that went into developing that content. And, old can become new again. You can use the archived copy as inspiration and starting point for new content.
Beacon Knows Content Strategy
Need some help with content strategy for your higher ed website? We'd love to help. Give us a call, our content strategy team is here for you.