A Birthday Wish. Let's Make It Come True.

Special Message from Beacon CEO, Mark Dirks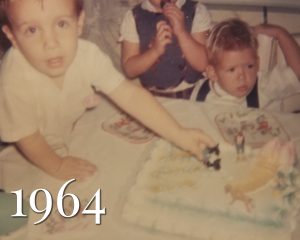 As I blow out the candles on 57 years today, I have a bigger-than-normal wish.
Over these years, I've had the great fortune of becoming friends and business partners with many, many people. One of my character traits (or flaws) is to constantly push forward with new opportunities and ideas, which apparently doesn't diminish with age!
I'm reaching out for your help on my newest and maybe boldest undertaking.
I feel like I've always been a "business" entrepreneur. I enjoy it. But, over the last two years, the plight of the children and people of Rwanda has really impacted me. I was emotionally overwhelmed with what I saw during my visit to Kigali this past June. The poverty. The genocide stories. The malnutrition in children. The lack of schools. The seemingly constant search for water. The subsistence farming. I could go on and on. But you know what sticks in my mind? The smiles. The friendliness. The drive to overcome. And, how much they need our help. This is why we started the Weaving Hope project.
Life is precious. We understand this more and more as the clock ticks on our own lives, even more so for me as I grapple with the very recent news of my mother's health. "Giving Back" has always been part of my work culture, whether it was the Arts Council (RJ Reynolds) or the United Way (AT&T). We made it a point to carry this same spirit into Beacon's culture 20 years ago – giving our time and money to the local community. Now we want to give Rwanda that same love and attention. Life is just as precious there, and these children need a fighting chance.

Fifty-seven years are gone and my eyes are closed over my imaginary cake. I'm quietly wishing to build a preschool in a rural part of Rwanda, just outside of Kigali. It will bring education, nourishment and more importantly, HOPE, to children, year after year! Be a part of our "construction crew," forever connected to this building that will endlessly change lives. Let's make it come true.
You can help in one of two ways, or both!
Share this message with everyone you know. Help me get the word out by forwarding this blog or sharing with your social network.
Buy a beautiful handmade African basket for $29.95 (perfect holiday gift!), 100% of which goes directly to the building fund. Visit WeavingHope.com and click the Buy A Basket button at the top. This also brings meaningful income to the artisans so they can support their families.
Learn more at WeavingHope.com and follow our progress. I hope you enjoy the pictures we took of the children and schools, basket weavers, countryside and people of Rwanda, along with the Weaving Hope Team.
These images show the depth of need and are forever locked in my memory.