Weaving Hope: A New Venture Aims to Build School in Rwanda

Weaving H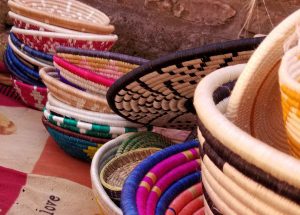 ope, a new philanthropic partnership between NC-based Beacon Technologies and Georgia-based burton+BURTON®, is targeting the educational and nutritional needs of Rwandan children.  Through the Hope on A Thousand Hills mission of the Anglican Church in Rwanda, the initiative aims to raise funds for a new school through the sale of authentic, African baskets. Launched on Wednesday, August 15, 2018, the Weaving Hope website invites the public to "join our virtual construction crew" and follow the progress by purchasing one of four traditional designs handmade by women artisans in the small Rwandan village of Gitarama.
"Rwanda is bouncing back in a big way from enormous challenges in the last two decades," says Mark Dirks, Beacon's CEO. "We want to help keep the momentum going by providing the youngest generation of Rwandans with a solid foundation built on good nutrition and education." Hope on A Thousand Hills' school-building mission includes a food program to ensure students receive proper nourishment to deter stunted growth that affects nearly 50% of rural Rwandan children.
In addition to helping young students, the initiative also provides an economic benefit for Gitarama artisans. Weaving Hope's basket-weavers belong to the village women's cooperative, which helps many women combat poverty. Weaving Hope helps members of the cooperative sustain meaningful employment so they can take care of their families.
"Women are the backbone of Rwandan society. Helping them leverage their traditional skills and know-how into real, economic gains is so personally rewarding," says Maxine Burton, burton+BURTON's COO. "I love the fact that our efforts start and end with the Rwandan people."
Construction of the school will begin as soon as the $30,000 fundraising goal is met. The logistical and architectural designs are already in place. You can check on the progress of Weaving Hope's fundraising goal by visiting www.weavinghope.com.