Beacon is Going to edUi 2018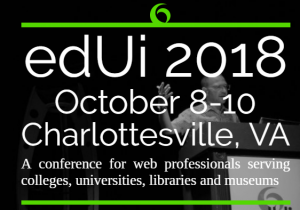 Beacon is going to edUi 2018 in Charlottesville, VA. If you're a web professional who works with colleges, universities, libraries or museums, you should, too. In fact, we'll help you get there.
Register here and receive $100 off the registration fee. Or just apply the code "Beacon" on the regular registration form to access the discount.
The conference always features a great line-up of speakers and workshops, and this year is no different. Check out the blog posts from this year's presenters, and this guest blog post from our CEO and President Mark Dirks.
We hope to see you there. Come and say hello October 8 - 10.