Google Analytics: Understanding Your Audience

What Does the Data Tell You About Engagement?
The competition for students in higher education is fierce. With so many excellent options for undergraduate and graduate studies, colleges and universities spend a considerable amount of time and resources recruiting prospective students.
These efforts include email campaigns, mailers, deployment of recruiters to high school campuses, and many other marketing programs. But, one of the most effective tools in your recruiting arsenal is your website.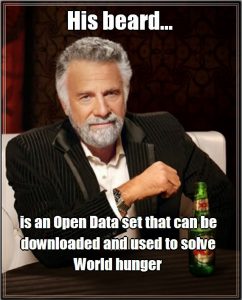 A higher education website has to be geared to many audiences and be able to accomplish a multitude of tasks -- keep the campus informed about news and events, allow students to register and schedule classes, provide accurate parking information for visitor, and much much more. However, serving as a primary marketing vehicle for prospective students is one of the higher ed website's main goals.
But, how do you know if your website is doing the intended job? Or, if it's doing it well? How can you make sure that your visitors are engaging with your site and taking the actions you want them to take? Your website is not a grocery store. You can't just follow someone around and see what they're putting in their shopping cart.
Luckily, the digital nature of the internet allows you to track all sorts of interactions users engage in with your higher ed website. With a properly configured Google Analytics (GA) account, you can learn a lot about your target audiences -- from how long they stayed on your site and how many pages they visited, to the geographic area from which they logged on and the device they used.
GA Device Analysis
One of the cooler things that GA can tell you is how many of your visitors use a desktop computer, a smartphone or a table device to access your website. Why is this important?
Not too long ago, device usage data was used to justify an investment in a responsive website design. A responsive design allows for a dynamic display of information based on the type of device you're using to access the site and the size of your device's screen. If you're accessing the website from a smartphone, the elements of the webpage shift to accommodate mobile-friendly viewing. Logging on to the site from your desktop is often a richer user experience, due primarily to the advantage of a bigger screen.
Today, however, a responsive design is almost a must for a higher ed website -- or, any website, really. With mobile devices set to overtake desktop devices as the preferred browsing tool sometime in the near future, many developers are recommending a responsive design as a default.

So, if justification for mobile-friendly sites is no longer necessary, what else is device tracking used for? Well, there's a treasure trove of insights that can be discovered by tracking certain metrics along with device data.
You can compare the bounce rate, pages per session, and average session duration data between desktop and mobile users to see if there's a significant difference. If your bounce rate for mobile users is higher (as in the pictured example), it can be an indication that your site is not geared toward mobile users enough. That should lead you to audit the mobile experience on your site and make improvements to any discovered shortcomings.
GA Audience Analysis
What else can GA data tell you about your audiences? Setting up some custom tracking can help you segment your audiences, track their various click paths and evaluate conversion metrics.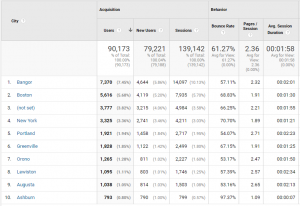 There are certain pages on a higher education website that attract a specific audience. For example, the Admissions page is a good bet to be primarily used by prospective students and their parents. The Career Services page, on the other hand, is most likely to be accessed by current students. Enabling tracking on these landing pages allows you to track the different audiences and learn about their usage habit and interests.
You can also zero in on any problem pages from which a significant amount of users end up leaving the site. Fixing these pages could go a long way to improving the experience for all your users.
There are also some simpler factors that can help you better target your marketing efforts. The Demographics, Geo and Behavior tabs in your GA account allow you to track age and gender, geographic location, and repeat visits of your website users. This data provides a rich foundation for decision-making in several areas, including in what part of the country to spend your marketing dollars.
Beacon Knows Google Analytics
Want to know more about how your Google Analytics account can drive a more fine-tuned marketing program? Give our experts a call at 855.695.2408, we'd be glad to talk to your team.