Google Analytics: Insights That Help Drive Web Design

A quick confession. Here at Beacon, we love Google Analytics. We're data hounds. Whenever possible, we rely on insights gained from data analysis to justify website development decisions. Indeed, a lot of higher ed website redesigns benefit from taking heed of current usage patterns and audience attributes.
You can learn a lot about your target audiences by understanding what devices and browsers they use to access your site. And you can combine that device engagement data with other valuable data streams to optimize your overall site structure and how information is presented on your pages.
So, how do we apply data analysis to design decisions? Let's take a look how we drive mobile engagement and user-friendly site structures.
Mobile Engagement
The popularity of mobile browsing is kind of old news. Nonetheless, the impact of mobile search is still being felt across the digital marketing landscape. One of the biggest developments has been the introduction of responsive website design, where on-page elements shift depending on the size of the users viewing screen.
When responsive websites were just rolling out, device utilization data was used to justify the added investment. If you know that close to 40% of your users are browsing from their smartphones, it makes good business sense to optimize the mobile experience.

Today, device utilization data is used to provide additional insights that can help you during a redesign process. Let's explore what device utilization data is, and how it can be used to improve site design.
Device utilization data in Google Analytics lets you track the types of devices that are used to access your website. So, you can tell how many of your visitors are using desktop computing devices, tablets or smartphones. You can also see what operating system your visitors are using, the brand and even the exact model of their devices.
This allows you to analyze what content is being accessed by mobile and desktop users most often. If your homepage has great engagement by desktop users, but your mobile visitors are leaving the site fairly quickly (low average session duration), you know that you have some work to do to improve the mobile experience on that page.
The same analysis can be applied to various landing pages on your higher ed website. Knowing which audience is most likely to visit a particular page -- current students and the Student Resources page, for example -- can help you segment your audiences and define their device usage patterns.
You can also combine device utilization data with location data to see if there are differences in mobile engagement in your various target markets. That can help you tailor your marketing approach to each specific location/market.
Site Structure
Google Analytics data can also help you identify any content gaps on your website and assist you in developing a more user-friendly site structure. How can you spot content organization problems?
Taking a look at the bounce rate of your most accessed landing pages can uncover some issues. If you have your visitors frequent some pages a lot and then leave quickly, it's an indication that they did not find these pages helpful. Identifying such pages via GA data is step one. The next steps involve uncovering why visitors are leaving, understanding what's missing, and applying appropriate structural fixes. Heatmaps and session recording data can help with this.
Tracking a user sessions will show you the visitor's path through the site. The path taken can tell you a lot about the intentions of your users by revealing what information they are accessing and where in the session they may run into a dead end.
Heatmaps can help you understand what visitors find useful by highlighting the most engaging elements on a landing page. A heatmap analysis will also reveal "cold" parts of the page -- or, the parts that users rarely, if ever, engage with. It may very well be that the content on the page is good, but organized in a confusing or less-accessible way. In which case, you'll see engagement with some elements on the page. If your heatmap is completely absent of color, however, it's a good bet that the content on the page does not match the expectations of your visitors.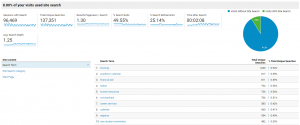 Queries from the site search feature on your website can also help you can identify trouble spots. A query entered many times by visitors is a sign that users had difficulty finding the needed information. That information may be buried too deep, or just be located in an unexpected spot. Either way, the path to the information is not optimal, and needs to be made more intuitive.
Another important part of site search analysis is knowing from which page a particular search query originated. If a user enters a search prompt several pages into a session, it's an indication that needed information is missing and the logical progression of the session may have been broken. The same experience by lots of users should encourage you to further optimize the page from which the search was initiated.
The Wonderful World of Google Analytics
We covered some simple ways that Google Analytics data can help inform your website design or redesign decisions. But, trust us, there's so many more insights that can be gleaned from your website data. To learn more about how GA can help you optimize your higher ed website, give our experts a call at 866.954.5590.