ARE YOU LISTENING TO YOUR DATA?
Your website users can tell you a lot about how your site is performing. Of course, they don't necessarily make it easy.
In our previous blog post, we discussed how to directly tap into your audience by asking questions via focus groups and surveys. The benefit of engaging with your audience in these ways is the opportunity to hear firsthand what your customer base thinks.
The drawback?
Your focus group and survey participants may not always be so great at assessing their own online behavior. Or, the nice people that they are, they may be tempted to tell you what they think you want to hear.
While direct responses from your website users are an excellent source of insights, you do want to make sure that what your audience tells you is reflected in their actual online behavior. There's an old Russian proverb, often attributed to a former US President, that offers great advice: "Trust, but verify."
The best way to do that is by taking a close look at what visitors are actually doing on your site.
Heat Maps: Pretty Data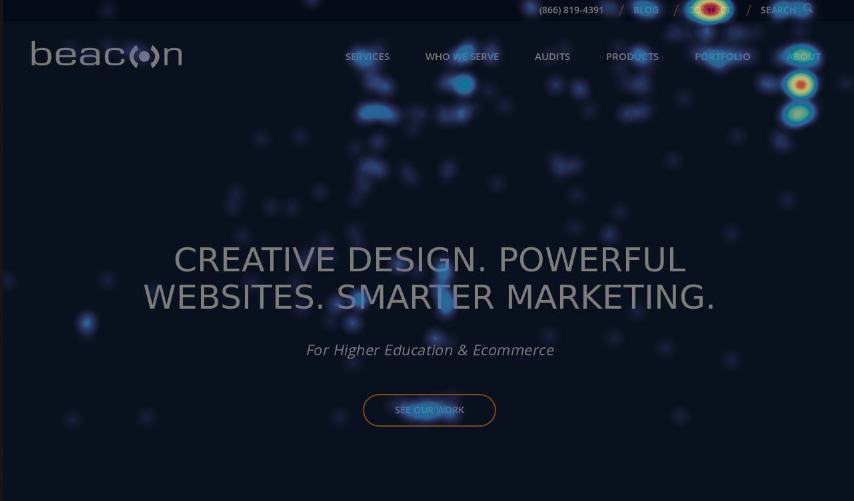 Heat map of Beacon's homepage

Heat maps provide an extremely user-friendly method for identifying the portions of your website that receive the most attention. Instead of numbers, pie charts, columns or bars, a heat map presents user behavior data as colors on a warm-to-cool spectrum. This provides an intuitive way to interpret the information - lots of clicks equals warmer colors.

Heat maps can be used to represent any kind of data - not just website usage. But, they are particularly useful in showing where on a given webpage users click the most. And that information can be easily turned into an analysis of on-page performance.

Are people using your navigation bar as intended? Is your CTA drawing the engagement you thought it would? Are page features being overlooked or overshadowed by other content?

Combined with a scroll map, you can also see if users are reaching the content at the bottom of the page. These insights make it easy to understand why a page may not be performing up to expectations, and help you come up with a well-targeted re-design plan.
Site Search: Know What They're Looking For
Another tool that lets you peek inside the mind of your audience is site search analysis. If you haven't installed a site search feature on your site, you should really consider doing so soon.
Site search makes your site more convenient for many different types of users, while maintaining emphasis on your primary target audience. It allows visitors to drive their own experiences on your site by letting them find exactly the information they want to access.
Through their searches, visitors also leave behind valuable information about their intentions, desires and future behavior. Between five and 10% of all internet users rely on site search - a healthy sample size from which pertinent and actionable insights can be pulled.
Site search analysis can help you identify new, relevant keywords; content that should be added; new product ideas; or unexpected reasons people are visiting your site. It can also highlight usability or navigational issues by specifying the locations from which users initiated their search and how many pages they viewed after completing their query.
We Can Help with That:
Want to know how heat maps and site search can help your website perform better? Give us a call at (866) 708-1467, we'd be glad to talk to you about your challenges. Insights and analysis are what our Digital Marketing Services team excels at.