Sean Connery's 5 Design Elements That Make Sites Look Outdated

How do you know when your website looks outdated and needs a refresh? When your engagement metrics slide, that's a pretty good indicator. Sometimes, it's even more obvious than that.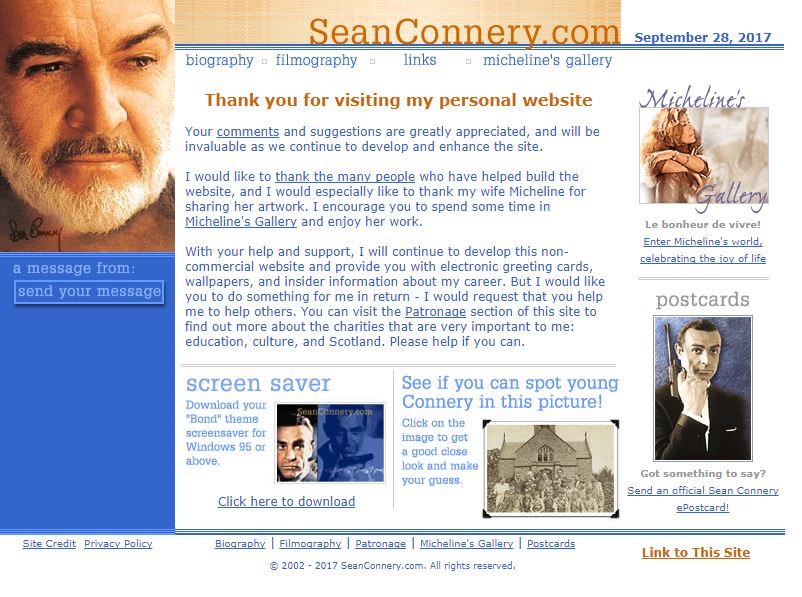 Such is the case with the website of a well-known celebrity. It's the perfect example of a digital public face in dire need of cosmetic surgery.  Or a car wreck you can't turn away from. This, in a nutshell, is SeanConnery.com.
As a public service, I offer my observations to you and the beloved actor. In the interest of pure fun, each anecdote references a famous James Bond quote. Guess the movie and win a prize. (Mr. Connery, you don't qualify).
Without further ado, I bring you the 5 design elements that make any site look outdated:
#1 Design Layout
"Well, one of us smells like a tart's handkerchief." – Sean, I hate to be the one to break it to you but it's you. The layout you've chosen is right out of the 1970's. The design is anchored in the upper left corner. Its three column layout with two side gutters is positively nostalgic. That's not a good thing, Sean. The type becomes very small and hard to read. The URL is in the header. I haven't seen anything like it since the McCarthy hearings.
#2 It's Not Responsive
"Good morning, gentlemen. ACME pollution inspection, we're cleaning up the world, we thought this was a suitable starting point." – All the top Hollywood gossip sites are mobile friendly, which should tell you all you need to know about this audience's behavior, Sean.  If I were assigned with ridding the internet of digital pollution, I'd start here.
#3 No Video
"Ejector seat? You're joking!" – You've appeared in over 60 films, won an Academy Award and 3 Golden Globes. And yet Mr. Connery, you have no video on your site. You must be joking. Video drives engagement. You need the attention. You're not exactly getting a lot of parts these days. Where's the paparazzi when you need 'em? Probably on YouTube.
#4 No Social Media
"Do you mind if my friend sits this one out? She's just dead." – Celebrities thrive on attention. In this day and age, there are no better or more necessary channels than social media outlets such as Facebook, Twitter, Snapchat and Pinterest. Hell, Pierce Brosnan has a social media presence and he can't act his way out of a paper bag.
#5 The Website Requires Flash
"Red wine with fish. Well, that should have told me something." – Yes, it's a website with Flash. That's the software Adobe will discontinue in 2020. 'Nuff said.
 Just Say Dr. No.
If SeanConnery.com reminds you, dear reader, of your website, just say "no". It's time for a redesign. NOW. If you have any questions on anything above, wish to add a comment or contribute another example of web atrocities, please leave a comment or email us here.
Answer key to quotes above:
#1 Diamonds Are Forever
#2 Diamonds Are Forever
#3 Goldfinger
#4 Thunderball
#5 From Russia With Love