Our new website has arrived!

I've got to hand it to my team here at Beacon.  They wanted to redesign our website and asked me to give them some leeway, politely saying, "Let us practice what we preach… and own it!"  Okay, I'll admit it.  I tend to hover over the website.  So I stayed out of it (for the most part) and they delivered – big time!
"Creative Design.  Powerful Web Technology.  Smarter Marketing."  That's Beacon, and that's exactly what the new site represents.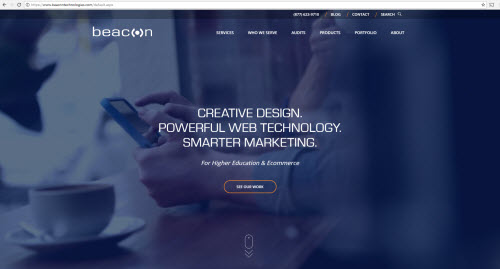 As a web technology & marketing firm, it's always a challenge to redesign your own website when priorities rest with your existing clients and the new clients knocking on the door.  But the Beacon Team (and I mean nearly the entire team) stepped up and made time to clearly take the Beacon website to the next level with…
Looping Video for our home page impact area.
More imagery and branding. Less content.
Simplified, cleaner navigation to our services, products and who we serve.
More examples of our work across a variety of specialty areas on the home page and in our portfolio.
Cleaner integration of the Beacon Blog on our home page.
Much more effective marketing approach incorporated into the website to lead visitors through the right information to various conversion points, or calls-to-action (contact form, audit requests, downloadable PDFs, etc).
Full utilization of our SITEXPRESS product, coupled with more extensive tracking using Google Analytics Universal features.
After almost 20 years of business, with clients in ~45 U.S. states and 5 countries and a wide offering of services and products, there's a lot of information to organize effectively so that it's both manageable and easily digestible. To accomplish this, we stepped through the same process that we provide for our customers – first, by spending significant time in the Strategy Phase to evaluate all the underlying data, gathering insights to drive the new design.  The Design & Development Phases were expedited thanks to the SITEXPRESS product, but still required ample time for designing all the creative elements to stay on brand and deliver the messaging.  We then completed the process with some custom development and testing to ensure SEO-friendliness, Google Analytics tracking accuracy, 508 compliance, and cross browser & device compatibility (10 different browser/device combinations).
Quite an effort!  We are already looking at some cool new features for Phase 2 to be delivered later this year!