How to Export your Google Data Studio Report to PDF

Google Data Studio is a great tool for those who need frequent, consistent and timely reporting, but there is an important feature currently unavailable in Data Studio — "PDF exporting."  But do not fret, my fellow Google Data Studio users. There is a way to take that multi-page Data Studio report and export it as a single PDF file!

If you have Google Chrome, you can export all of your Google Data Studio Report's pages into a single PDF by downloading the free Google Chrome Extension 'Google Data Studio PDF Export' by Mito Studio.
How to Export a Multiple-Page Data Studio Report to PDF
Step 1.  Click the link below to be redirected to the Google Chrome web store installation page for the Google Chrome Extension 'Google Data Studio PDF Export' by Mito Studio. ~ if the link is not working, copy and paste the link at the end of this post into your chrome browser. 
Click here to go to the extension
Step 2.  Reload (or open) the Data Studio Report you wish to Export to PDF and there will be a new option in the report header.  The picture below is a comparison of the task bar without the chrome extension (top image) and the task bar with the chrome extension (bottom image). ~ Note: you must be in the 'view mode' in order for the option to appear.


Step 3.  Click on the 'Export to PDF' option to begin exporting your report, wait a few seconds per page as each page downloads. The time it takes to begin exporting varies, but  if the report does not begin to export, click on the thumbnail icon in the chrome extensions area of the toolbar but instead of selecting 'Export to PDF',  select 'Clear Cache' the option (pictured below), then try exporting it again.


Step 4.  After the document has been downloaded, a pop-up window will appear with a black and white version of the report—the report's color will be restored after changing the destination. In the window, change the 'Destination' of the file to 'Save as PDF' (pictured below).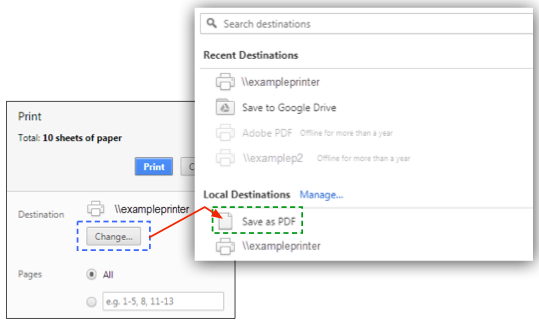 Step 5.  Click Print to save the report to a location of your choice.
Chrome Extension Link: https://chrome.google.com/webstore/detail/google-data-studio-pdf-ex/cmbgpgjhibpioljmaaocdommnggpecje