How to Zero In On The Consumer Purchase Funnel

Search Engine Optimization is tricky and to make it harder consumers are constantly in various stages of the buying process. Fortunately, we can craft content to appeal to searchers at various stages of the customer buying cycle. By digging into the consumer journey and considering searcher intent within the funnel we can tailor our content accordingly.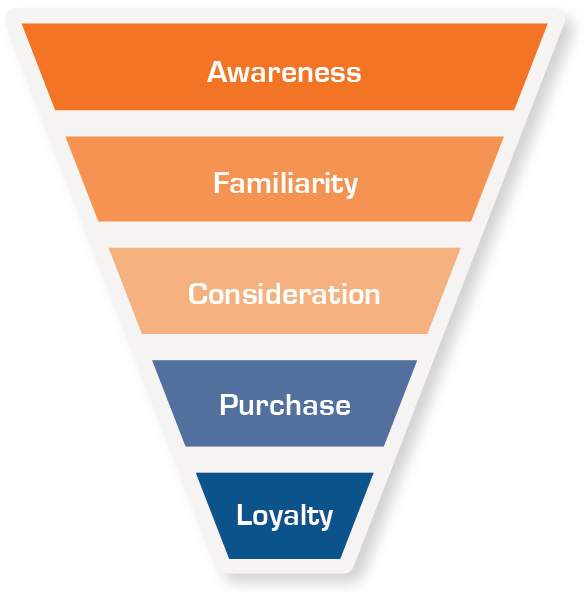 Awareness
In this stage of the customer buying funnel, searchers have identified a need they would like fulfilled. They are also not aware of your company or its services and products. The goal here is to create Top of Funnel Content to target specific pain points utilizing PPC and SEO. The content needs to be informational and highlight a problem or pain point.
For example, let's say you run an e-commerce site and you sell hardware typically used in home repair. You could create:
Detailed informative blog posts
Case Studies
eGuides & eBooks
For example, you could create editorial content like 'How a Renovation can Increase a Home's Value'. It is important to conduct some exploratory research initially. This can be accomplished by visiting forums and listening to what your community is saying. Epicbeat Epictions and Buzzsumo can be a robust tool when it comes to targeting the right funnel channel. These tools give unique, insight into the types of content your target market is consuming. At this stage, you can gain insight into different types of informational content is performing well in your niche.
This type of content is best suited for your blog section of your site. You can also use this as an opportunity to create link worthy content or clickbait content if you are so inclined.
Familiarity
During this stage, you will still be creating top of funnel content. Searchers are aware they have a pain point but do not know how to satisfy it. This content is still largely informative in nature. Think blog posts, case studies, infographics etc. The goal here is to show searchers how to solve their particular problem and create an additional touch point with your brand. In the end, your goal is to inspire the searcher to take action. Make searchers aware of your brand.
You can uncover insights in the familiarity stage by:
Forums – "they are a treasure trove of data"
Keyword Research – Keyword planner tool
Social Media
Google Alerts
Specialized Content Research Tools
Let's say you have an e-commerce company that sells furniture and you are implementing a customer buying cycle. You could build out some content on "Hardware needed for a bathroom renovation". In our fictitious example, you address a specific problem and a group of people who are experiencing this issue.
Our next step would be to motivate them to take action. At this point, you have a few options. You can ask them to subscribe, leave a comment, or send an inquiry.
Consideration
At this point, searchers are further down the funnel. They are familiar with your brand and are looking for a solution to their problem. They know they need a solution and roughly what they are looking for. In this part of the funnel, you want to optimize middle of the funnel content. This is the part of the funnel people typically optimize for and forget the other sections of the funnel. Don't be one of these people. Optimize for each stage of the customer buying process for search engine optimization bliss.
Typically this type of content may take the form of product/service related category pages.
You can uncover insights in this stage by:
Keyword Research – Keyword Planner Tool
Google Search Console
Google Analytics – Site Search Analytics
For example, continuing with our previous example let's say you want to target this funnel. Depending upon the industries you cater to you could produce content for each category page. You could target:
'Decorative Kitchen Hardware'
'Cabinetry Hardware'
'Ambient Lighting Solutions'
In these category pages, you can inspire confidence in your services and explain how you can help solve the searcher's problem. This is also a great time to get searchers to take action. Consider building out micro-conversions at this point. Such as, "download our buyer's guide", "Sign up to receive special offers", "register for our workshop".
Purchase
In this stage, you will target searchers in the bottom of the funnel. Consumers are aware of your product or service and are looking for confidence building material. This is a good time for user generated content, testimonial pages and consumer reviews.

Customer reviews and testimonials have an immense impact on organic traffic and conversion rates. According to a survey by BrightLocal, "88% of consumers trust online reviews as much as personal recommendations". Essentially, you can spread word of mouth on your product level pages and generate content around it.
Of course, you also want to motivate searchers to perform an action at this stage of the funnel. We want to drive purchases of course. The buy button or 'shop' option needs to be prominent.

Loyalty
In this stage of the funnel, we are targeting the bottom of the funnel searchers. The goal of this funnel is customer retention. The tools in your arsenal to achieve this goal is our email subscription pages, sales related pages and any community-related forums that you can implement on your site. Wayfair is a good example of a company implementing a sales page stuff full of clearance items in a user-friendly way.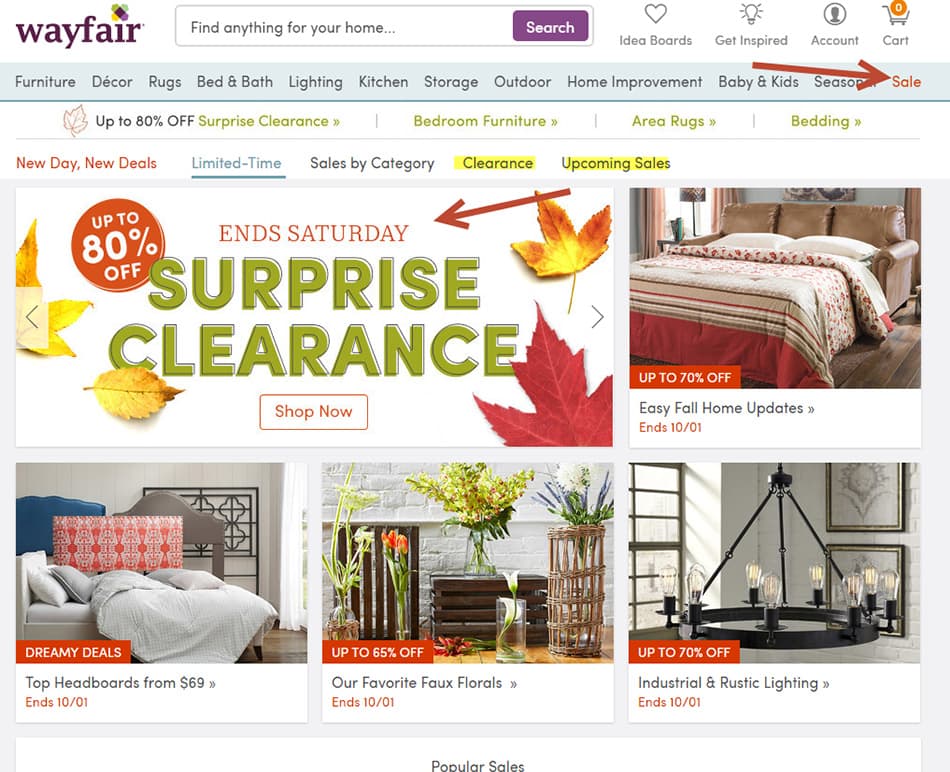 Also, you can also build a community forum page where customers can ask product related questions and gather advice for specific problems and issues.
The customer buying cycle represents a framework for visualizing the searcher's journey with your brand over time. By properly tailoring content around each stage in the buyer's journey, you can foster growth and sales over time. By creating tailored content you will be able to target customer wherever they are in your funnel.