Google Analytics Most Underused Report – Network Visits

Assuming your familiar with Google Analytics, then you know that GA has many valuable reports and lots of great information related to your website. At the basic level you can get sessions, pageviews, bounce rates and more. With advanced tracking you can get engagement metrics, goal conversions, offline data and more. However, did you know that from a basic level you can also get information related to sessions from certain Networks which can then be used for prospecting new clients?
The Networks report has been around a long time, yet we don't see clients use it very often. When we talk to them, we realize they don't see the benefit in the report and therefore don't look at it. Yet, this report has a huge benefit, especially for B2B companies who could benefit from knowing what other companies are viewing their site.
Let's dive into this report so I can give you an example of how we use it here at Beacon. First, to view this report you'll need to open analytics and then go to Audience > Technology > Network.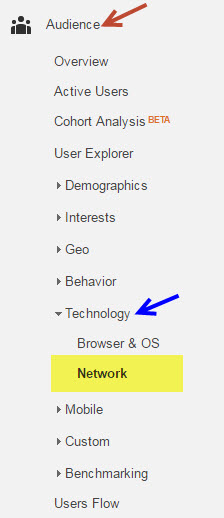 Now that you have this report open, you should see data related to Service Providers.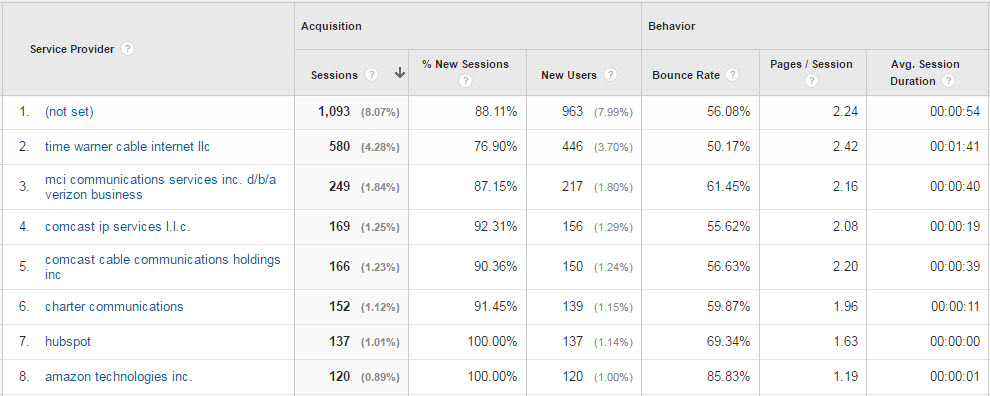 Before I show you how we use this report, I want to fill you in on a secret you might not know.
Larger companies and even some small ones, have their own service providers, so therefore you will see their company name listed as a Service Provider!
Did you know that? Are you able to start seeing how this report can be useful? Have I sparked your interest and got your idea wheel spinning? I hope so.
Moving on though, let me show you how we find this report helpful here at Beacon.
Recently, we've started to work with more and more Universities and are slowly becoming a leader in this industry for providing web development and digital marketing services. So this report is great for us to see what Universities are looking at on our website. To do this, I use the filter function and Include Only Service Providers matching "university|college|school".

Once this filter is in place, then I'm only seeing sessions from service providers with one of those keywords in the name. An example is below.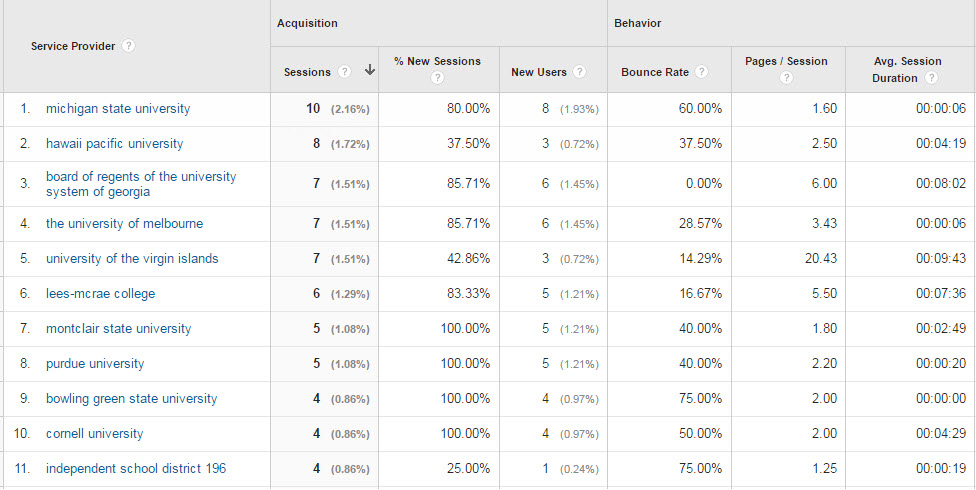 Now that I can see what schools are interested in Beacon, I can then filter it further by adding a second dimension for Pages and see what pages on our website these schools looked at. From here, I can pass along this information to our sales team so they can begin the process of reaching out to these Universities to see if our services could be of help to them.
This same method could be beneficial to you as well. You can apply the same steps I used, just change out the information to match your customers better. As an added bonus, since I know your filtering might not be as easy as ours, here's a list of service providers you can exclude so you can then see what companies are left.
Time warner|mci|Verizon|Comcast|charter|cox|telecom|at&t|north state|communications|embarq|sprint|service provider|centurytel|private
From there, you'll be able to get an idea of how you can better filter your data to get the information that would be most helpful to your business.
Don't wait any longer! Go Dig in!