How To Use Annotations in Google Analytics

Picture this: you're checking out your website data in Google Analytics, and decide to look at your monthly traffic year-over-year. You see a huge spike in traffic on a single day last year, but you aren't quite sure what caused it. Were you running a special that day? Perhaps a new TV commercial aired? Or maybe a direct mail piece dropped? Hmm…you start shuffling through old emails and notes to solve the mystery.

Without knowing exactly what could have affected last year's traffic spike, it's impossible to measure the impact individual circumstances have on your website. Sure, you can keep an Excel spreadsheet with a long list of dates. But what if I told you there was an easy way to keep all those events organized, in one place, and in context? Yep, you can do it right alongside your website data with Google Analytics annotations.
Annotations allow you to note a particular event that could have an impact on your data right on the date that it occurred.
Here are some of the types of things I like to annotate:
-          Website downtime
-          Sales and special promotions
-          Website development changes
-          Marketing campaigns (direct mail, TV, radio)
-          Content changes
-          Press releases or high profile featured content around the web
-          And any other time-specific event that could possibly affect website visits and user behavior
Making annotations in GA is incredibly easy. Here's how it's done:
Click the little down arrow under your traffic chart and click "Create New Annotation" on the right.
Enter a date, a note, and choose the annotation's visibility.
Save.

That's it. No, really. It's that simple!! Annotations are indicated by the little text bubbles at the bottom of your chart. To see the details simply click the bubble.
To see a comprehensive list of all annotations for your view, go to the Admin panel and click Annotations.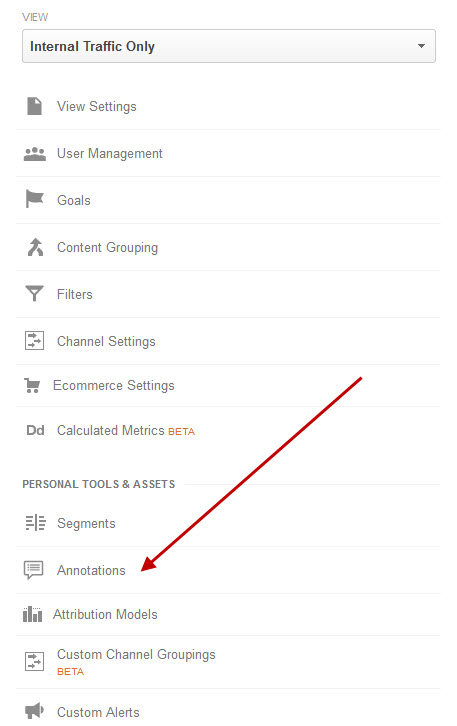 If I can offer you one final tip for using annotations in GA, it is to be explicit. Trust me when I say, it will save future you a lot of frustration. "Online Sale"…great…but what was on sale? While Google only gives you 160 characters, be as detailed as possible! If your notes are enigmatic, you're wasting your time creating them to begin with.
How do you use GA annotations to help analyze your website data?