How To Convert Standard Text Ads To Expanded Text Ads In Google Adwords

Expanded Text Ads Are Available Now
The way users search for products, brands and services online have changed. Businesses can no longer avoid or ignore the shift to searching on mobile devices. Because of this Google and Google AdWords have rolled out both responsive ads and expanded text ads across their advertising platform. Earlier in 2016, Google changed the way search results display by removing paid ads from the right-hand side of search results pages, which helped pave the way for a better mobile search experience across all devices. The big news for advertisers... You now have 50% more advertising space in your text ads!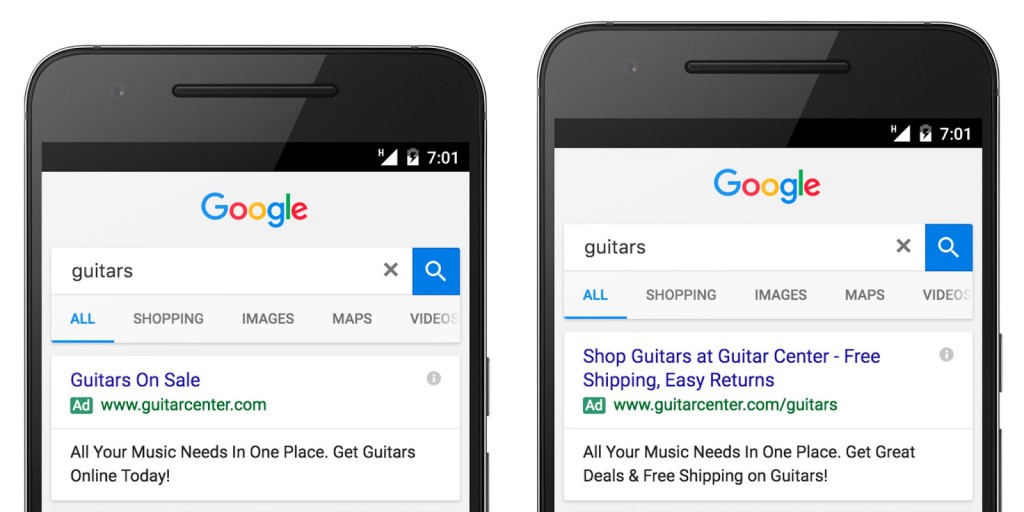 How To Get Started With Expanded Text Ads

Expanded text ads now feature two headlines at 30 characters each and one 80-character description line that will help advertisers reach a broader audience on mobile and create more room to promote your brand. Expanded text ads have removed the display URL and now use the domain URL from your final URL and give you the option to add keywords in two new optional "path" fields. It is important to transition your ads as quickly as possible because you may have the opportunity for your ads to showcase 50% more text than competitors that haven't made the switch. Google has provided an Official Guide To Optimizing Expanded Text Ads for those of you that manage your paid ads internally. Agencies like Beacon, have a paid search team to assist you in getting the best bang for your buck so you don't have to.
Should I Convert To Expanded Text Ads?
According to Google, starting on October 26th, 2016, you'll no longer be able to create or edit standard text ads. This means you'll only be able to create and edit text ads using the expanded text ads format after this date. Existing standard text ads will continue to serve alongside expanded text ads. Keeping the old format will mean losing 50% extra advertising space and potentially huge losses to competitors using the format. 
How To Convert Standard Text Ads To The New Expanded Format
Now we come to the tricky part. If you are like me and manage hundreds, if not thousands of ads, converting these ads to a new format manually can take an impossibly long time. If you add up ad creation times for most ads (let's say 1-2 minutes) multiplied by an account with upward of 100 ads, you are looking at investing 3-4 hours in converting to expanded text ads. If you manage multiple campaigns for multiple accounts, like Beacon does, this conversion time can add up to over 2-3 weeks time easily. Fortunately for you, Beacon has a quick solution.
If you download the most recent version of AdWords Editor that supports expanded text ads, you will be one step closer to expanded ads. Once in AdWords Editor's Ads panel, select all the standard text ads you would like to convert and right click your selection and select 'Export as expanded text ads'.
Once Editor exports the selected ads you will find all of your standard text ads with the updated expanded text ads format in the downloaded .csv file. All you need to do from there is to fill in the two new optional path fields if you choose so and create a new headline #2 to complete the transition.

Remember that when you import the .csv file back into Editor your headlines, descriptions and paths may exceed the recommended character lengths and you may have some edits to make before all the new ads will be approved.
More Questions?
If you have more questions on how to utilize the new expanded text ads in your AdWords account or need new management of your brand's campaigns, please contact us today.