eCommerce Analysis: Using Google Analytics to Identify Your Whales and Minnows

If you manage an eCommerce site, you probably spend a lot of time in Google Analytics. There's a ton of great metrics and reports to check out, like mutli-channel attribution, average order values by channel, eComm conversion rates, and so on. You've probably even segmented data by demographic, device type, or geography. All of this is great, high-five yourself if you're doing these things because you're probably a few steps ahead of your competition. But have you ever segmented by transaction dollar amount? I'm about to enlighten you on a couple advanced segments to help you identify your whales (biggest customers), your minnows (smallest customers), and how to get more whales and less minnows.
OK, got your coffee? Let's go!
First thing we're going to do is figure out your top 10% and bottom 10% transaction thresholds.
Go to Conversions > Ecommerce > Sales Performance. Expand your list to show all available transactions, then export to XLSX.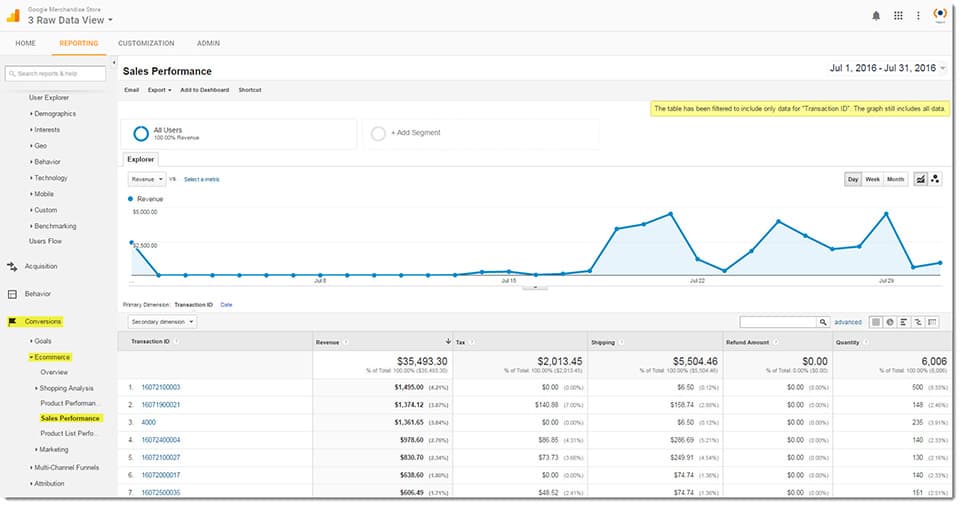 The next step is to identify the thresholds for your top 10% of transactions. Open up the XLSX file, put filters in your headings, and remove the last row of data where your totals show (keeping it in skews your sorting).
Sort the revenue column from largest to smallest, then apply some conditional formatting, as seen in the screenshot below. Repeat this step with the bottom 10%.
*Side note: If you're not familiar with this feature in Excel, I highly recommend becoming a conditional-formatting-ninja, it will shave tons of time off of your analysis.

Once you've got both conditional formats applied, simply look at the lowest dollar amount in your upper 10% grouping, and the highest dollar amount in your lower 10% grouping. These are your thresholds. In my case, using the Google Merch Store test account, I've identified $259.50 as the upper threshold, and $13.59 as the lower threshold.
Now the good stuff begins.
Head back into your Google Analytics account and create a new advanced segment. We're looking for users who have a per-user revenue of $259.50 or greater, so we create the segment as shown below:

Now that you've got a segment created, apply it, and you're free to check out other reports to analyze where these users come from, how the interact with the site, and figure out what you can do to acquire more people that would fall into this segment.
A few good starting points for conducting this analysis are:
The Source/Medium report in Acquisition - Perfect for learning how your whales found you
The Mobile Overview report in Audience - This is great for device type analysis. i.e. are your whales coming through mobile or desktop? Assumptions can be dangerous, so it's always a good idea to investigate
The Landing Page report in Behavior - Surely, you've got some pages on your site that are more likely to drive purchase, but which ones are the best?
Of course there are plenty of other reports you can gain insights from, this list is only intended to kick start your analysis engine.
Once you've conducted your whales analysis, circle back and repeat the process for minnows. The idea is the same, but this time around you're trying to identify ways to attract fewer minnows. So check out the same reports in Google Analytics and identify channels that drive small transactions, landing pages the don't perform as well, et al.
If you do this on a regular basis and make adjustments to your marketing efforts accordingly, you'll start to see your thresholds shifting upwards, as well as increases in your average order value.