Benefits of Upgrading to Universal Analytics


Yes, Google Analytics announced their Universal version way back in 2012. It made sense to hold off on upgrading back then so that many eventual bugs could be worked through. I occasionally come across websites that have yet to upgrade. If your website is still using the Async version, it is time to upgrade to Universal Analytics. Here are some of the benefits that are waiting:
1) Report on users, not just website sessions
With User-ID implementation, you can connect a single user's website activity across multiple devices. Subsequently, there is reporting that shows truer user totals. There are also reports focused on the user experience across multiple devices. If your website collects many email addresses, has log-in features, or is eCommerce, then this is a must-have feature.
2) Simplified configuration options
In the admin section of your Google Analytics account, you are given the ability to clean up organic traffic attribution. You can also change the session and campaign timeout times, which are which are 30 minutes and six months, respectively, by default. Referral exclusions is a great new tool available with the Universal Analytics tracking code. One of the frustrating aspects of the Async version is the issue of self-referrals that sometimes cannot seem to be solved. I have personally seen websites that upgrade their tracking to Universal, utilize the referral exclusions feature, and end up with far more accurate attribution reporting.
3) Custom dimensions and metrics
With the Async version of Google Analytics, you are limited to five custom variables. That feature is replaced with custom dimensions and metrics, and the limit is increased to 20 each. Using the dimensions to segment your website users, build funnel groups, and so on leads to more valuable data analysis and decision-making. Custom metrics can be used with data imports, combined with product information, or used to create additional helpful data related to the user experience.
4) Enhanced eCommerce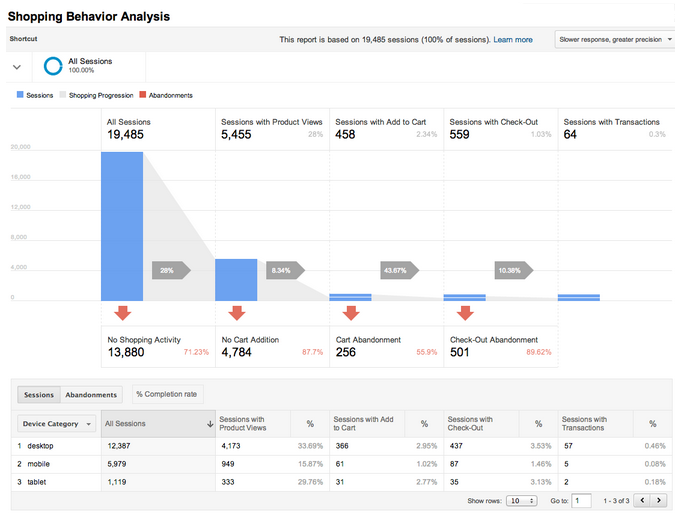 Certainly, one of the biggest beneficiaries of Universal Analytics are eCommerce websites. The enhanced eCommerce feature opens the door to new data elements and reports. For example, you can use enhanced eCommerce to build a shopping funnel that goes from when a user views a product on the website, to the point of sale. Having funnel reporting during the shopping experience, and not just the checkout process, can help lead to user experience improvements.
Upgrade the Right Way
When beginning the process of upgrading to Universal Analytics, be sure to map out a project process. It is important to leave all current tracking in place until the new tracking is scoped, coded, installed, tested, and verified. A best practice would be to install your fully built-out Universal Analytics tracking alongside the current tracking, using a different UA-ID, so you can verify that the two tracking instances are delivering similar data.