Microsoft Names Kevin Bacon New CEO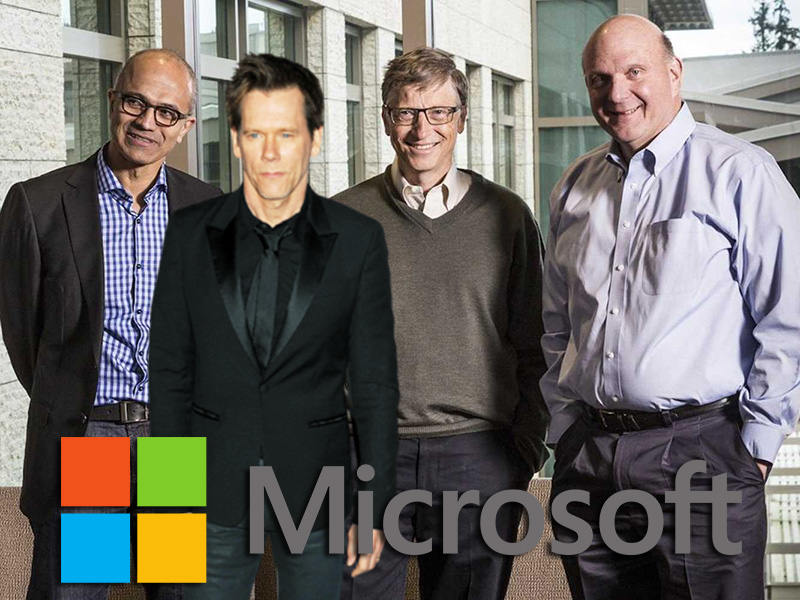 In a momentous move by the search giant, Microsoft has named Kevin Bacon as their new chief executive officer (CEO), succeeding Satya Nadella and Steve Ballmer. After increasing pressure from the likes of Google, Yahoo and upstarts AskJeeves, DuckDuckGo and DogPile, Microsoft has made a historic move to land Bacon and push the company to new heights, especially in the search space for its floundering Bing. The move is timely as Microsoft's largest competitor in search, Google, continuously rolls out new algorithms and experiments to make users's total search 1-2 clicks away. Currently Bing offers search functionality where users must traverse 1-2 pages, an average of 12 clicks, to find the results they need.
Microsoft's founder Bill Gates gave insight on why Kevin Bacon makes a logical successor to the Bing throne,
"We have all heard about the 6 Degrees of Kevin Bacon. Heck, Kevin is actually only two steps away from Melinda's best friend and sorority sister at Duke University's Kappa Alpha Theta. Our hope is that Kevin will personally know what users are searching for in 6 answers or less and cut our current search time for users in half."
Bacon was interviewed after the announcement as CEO and stated,
"I am excited to start this new chapter in my career. When I was told Bing would need my help immediately, I quickly Googled what Bing was and I am now confident in my task that lies ahead."
The news out of Redmond, Washington has Silicon Valley buzzing with excitement and intrigue with this unconventional appointment from Microsoft. Alphabet CEO, Larry Page could not be reached for comments but fellow co-founder, Sergey Brin, had this to say,
"I appreciate what the folks at Microsoft are trying to do. Even as a competitor we were all excited to see the next new game-changer over there. We can't all put out products like the Zune or Windows Vista. But these guys keep on doing it year after year, God help 'em. I personally can't even type up a memo anymore without help from Clippy or signing off my salutation in Comic Sans."
It is uncertain, at this point, where Kevin Bacon will lend his expertise after revamping Bing Search. Several insiders have alluded that we may see a bold face-lift of Bing Ads, where Kevin live-chats via video advertisements trying to answer every individual users' question until he finds an aunt or foster brother he may have ran into at Starbucks. Kevin himself has even hinted that he may bring Internet Explorer and other nostalgic products back to life,
"We all know that Internet Explorer was the number one browser to download other browsers. I want to harness that gift and create a permanent icon on users' desktops called 'Get Chrome' with ads serving on 99% of the page to boost revenue this quarter. Also, let's bring back HotMail! Everyone knows when you get an email from bacconator@hotmail.com, you mean business."
*if you made it this far and haven't looked at the nearest calendar yet, April Fools! This is of course, total non-sense and you should in no way, shape, or form believe anything mentioned above (except that we are all, indeed, 6 degrees away from Kevin Bacon)