Beacon changes name, adds services.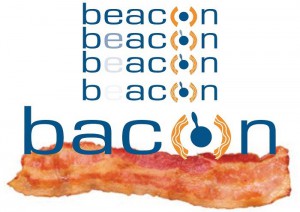 GREENSBORO NC.  Since the company's inception in 1998, Beacon Technologies has always advised its clients to "Listen to your customers," when developing their websites or conducting online marketing.  Now Beacon is finally practicing what it has preached for all these years.  Mark Dirks, Beacon's President, announced today that the company will operate under a new name, which allows it to introduce new services as well.  "People have always misread 'Beacon' which caused them to not find us in Google or have their email returned – leading to lost business opportunities," says Dirks.  "So we made the bold decision internally to end the confusion once and for all by changing the company name to Bacon Technologies."
Dirks admits that the new name may initially take some time to register with clients, but several marketing consultants were engaged in this undertaking.  "From a marketing perspective, the world is moving toward more shocking, outrageous naming conventions simply to obtain higher visibility," says Dirks. "Well, everyone loves bacon and since so many are already calling us that, it makes perfect sense. Check out our new website and you'll see that it certainly stands out.  It draws you in by appealing to all of your senses… especially our porkfolio."
Of course, makin' bacon is not easy.  It requires a highly experienced team that knows how to process bacon efficiently and put it on the table.  "Just like when developing websites, we have to know our audiences.  When and how do they consume bacon?" says Jordan Burleson, one of Bacon's Digital Marketing Strategists. "And we have to be mindful of language because you are dealing with Canadian, American, Turkey and many other preferences."
Dirks acknowledges that this is an unexpected move, but marketing-driven.  "It opens up a lot of new opportunities for us.  For example, we will soon be providing bacon bits to customers who desire localized flavor on demand, with one shake!" (April 1, 2016... yes, it's April Fool's Day!)
Bacon Technologies is a recognized leader in web design, development & analytics for Higher Education and Ecommerce. Its full-service "Brains, Beauty & Brawn" approach consistently delivers websites that truly engage and support the needs of the varied audiences that use them.  With one of the first Certified Google Analytics Partners in the country, lean on Bacon to garner the full power of GA for ROI-based decision-making.  Our strategy, marketing and technology experts are all under one roof.  So you can always count on an audience-focused, on-brand, easy-to-use and dependable website.