Google's New SERP Layout: How It Affects You

What Happened With The SERPS?
Starting February 18th, Google issued a worldwide roll-out of a ad placement format: 4 paid ads will now display on top of desktop SERPs (search engine results pages), instead of the usual 3. In addition, they are also removing paid ads on the right-hand side of SERPs with the bottom of the SERPs featuring 3 paid ads. These changes, once fully rolled out, will be active across all languages. This change isn't completely unexpected as Google has been testing their four-ads format for months now, but we should be seeing the changes take a more permanent effect in the next few weeks. The one constant amid all of these changes are the Product Listing Ads (PLAs), which will remain atop the SERPS or on the now free right-hand side.
How Does The SERP Change Affect Me?
In the industry, speculation abounds as to what effect these changes will have on: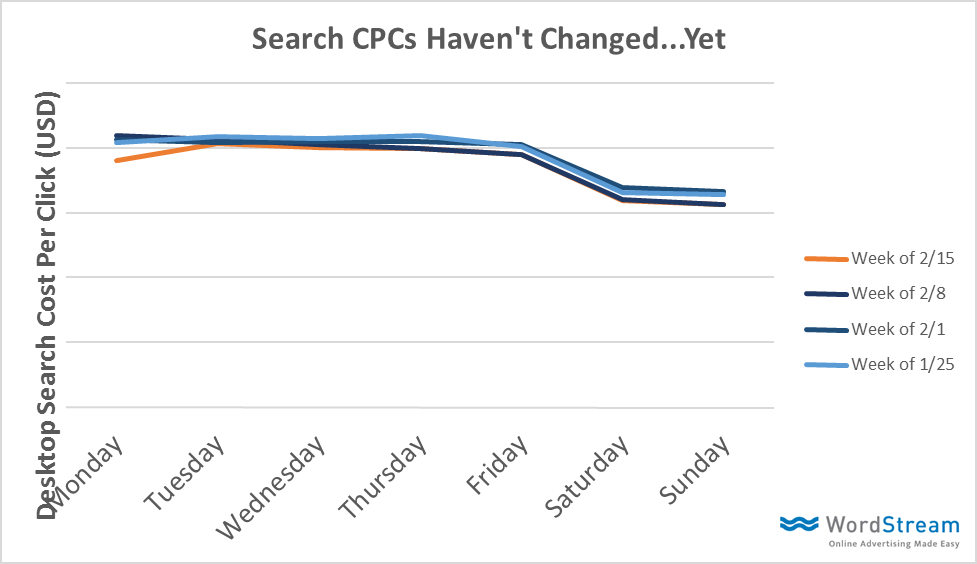 Paid Search Cost: One of the main concerns from the change has been how much more expensive will clicks become with fewer ad spaces. Will advertisers with smaller budgets not be able to compete and fade away? SO far, the results don't show this is the case. According to different early case studies, CPCs haven't shown any increase and some industry experts argue that the increase in ad inventory at the top of the page will drive down CPCs.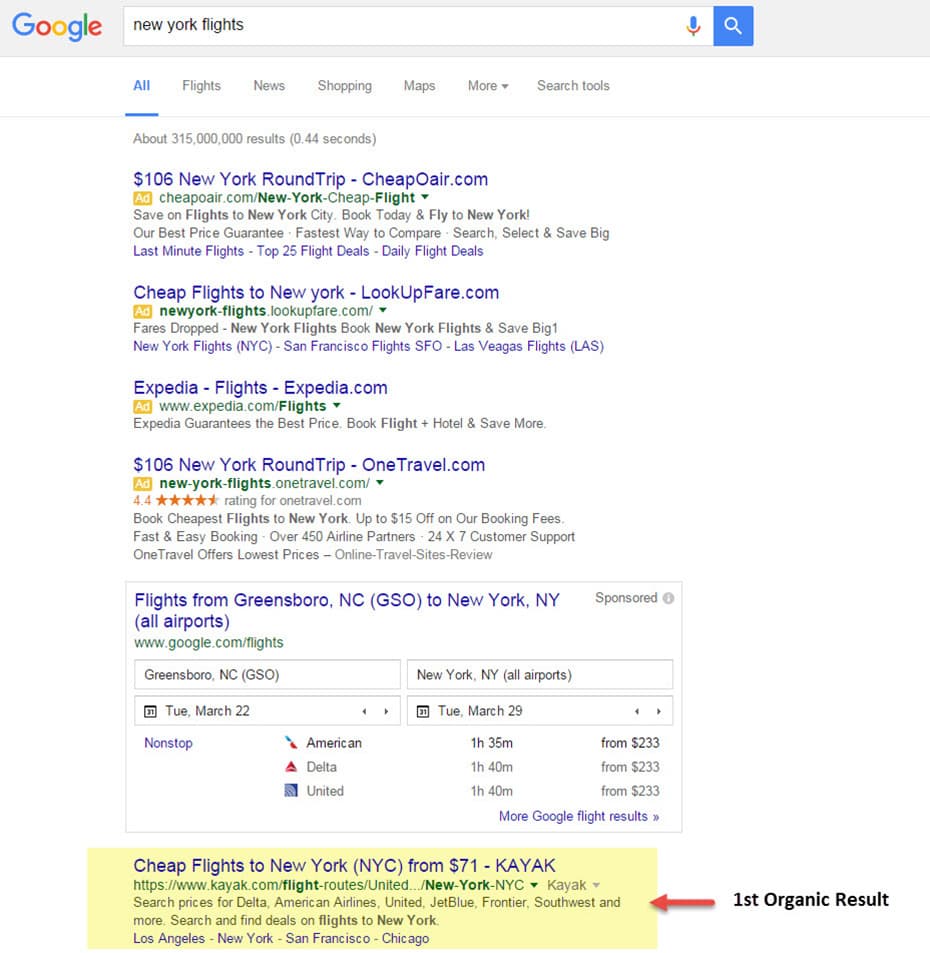 Organic Visibility: Another cause for concern has been that organic listing #1 is now paid ad #4. This means organic results and organic top-performers have been pushed down the page and lose visibility. Organic real estate has been shrinking for years, thanks to features such as news, images, videos, local/map packs, the Knowledge Graph, new ad formats and features like hotel/flight search. The conclusion is that results have not changed enough to start worrying or make drastic changes but if you have third-party tools or SEO management platforms to monitor position changes, you should make use of them to stay ahead of any new changes.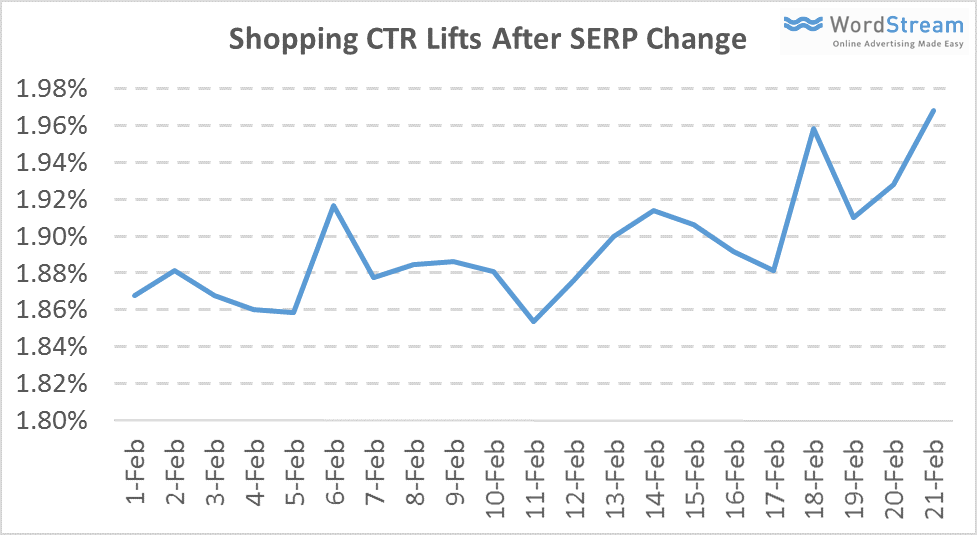 Product Listing Ads: One of the biggest gains from the SERP change came in the form of Google Shopping Ads.

Product listing ads and the knowledge panel are the only listings that will appear in on the right, beside the top four paid search ads. Early results suggest that 

the retained position on the right-hand side is helping the PLAs attract a slightly higher CTR

 as well as a larger share of the paid clicks from the SERP. If you currently have PLAs, take advantage of them by expanding your product groups and enjoy the new exposure until competition creeps in. If you aren't taking advantage of PLAs and have shopping feeds, work with your developer and/or marketing team to create a Merchant Center account and tap into this prime retail space.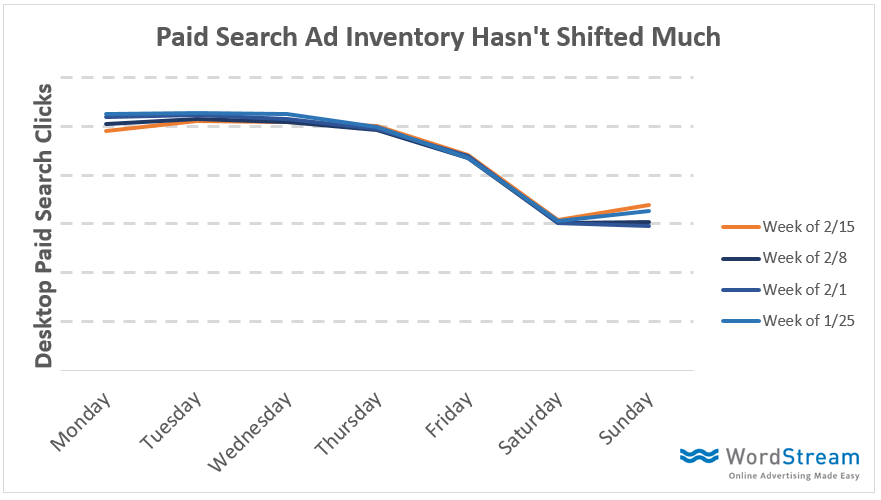 Search Volume: Many marketers have been concerned that fewer ads above the fold and SERPs would translate into decreased impressions and search volume. Although some paid search users have complained of fewer impressions and clicks it seems to be more of an issue of seasonality and normal shopping cycle than the SERP change. For marketers that focus on the spots 3-4, most have been the biggest winners from the SERP change as impressions and clicks went through the roof especially at the 3rd position (some are seeing CTR double or triple). The good news is the right-hand ad positions and bottom of the page ads accounted for less than 15% of click volume before the new changes so the true impact isn't as great as some marketers will lead you to believe.
In Summary
The SERP change in February 2016 shook up the digital marketing world as do all global changes Google makes with search engine results pages. The biggest winners from the SERP change were most paid search advertisers especially those advertisers in position number 3 followed distantly by those in the brand new position 4. Position 3 advertisers saw click-through rates increase over 20% while position 4 saw increases up to 15% in click-through rate. The biggest losers were advertisers in positions 5-11. Those unfortunate enough to remain in these positions or to be bumped down to positions 5-11 have seen significant loss of impression share and total click volume due to be evicted from the right-hand SERPs.
It is still unknown whether organic results will win or lose as data is inconclusive and more case studies need to be performed. Due to just moving down one more position and possibly moving under the fold, organic listing businesses may see drops in search volume and website sessions. If you are high-ranking in organic currently, look to your digital agency or marketing team to find third-party tools or SEO-management platforms to help monitor position increases and decreases over the next 30 days.