How to Identify Stolen Content and Take Action!

Imagine that you and your staff have spent countless hours creating engaging content for your website, only to discover that much of it has been stolen and repurposed by others - without your consent.
The appearance of duplicate content could adversely affect your website search rankings, making it more difficult for prospective students, alumni and the community to find you. And as we all know, good content rules. So, why let others break them (the rules, that is)?
At Beacon, we've seen what unethical practices such as copy scraping can do. Having personally experienced the theft of our content fairly recently, I thought I'd share the steps I took to alert Google to this offense and protect our company from the negative fallout that can follow.
Here are six easy steps for getting back at the thieves who steal copy.
Step 1 – Verify that your suspicions are correct.
Perform a quick Google search to determine where your copy is showing up across the internet. You can randomly select copy from a webpage (copy and paste a few sentences in a Google search box) to run a query. The search results will indicate if your copy appears on another site on the web other than your own.
For example, here are the results from my search.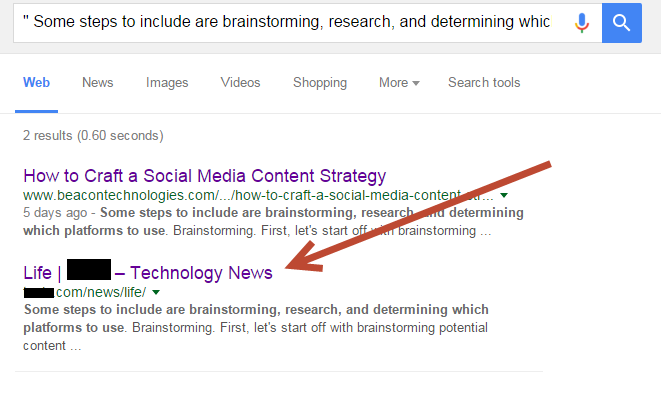 The search results will provide you with a list of webpages where that content appears (including your own, of course). As you can see in this example, there is another website using content I wrote without my consent (see the red arrow above).
Step 2- Investigate the extent of the theft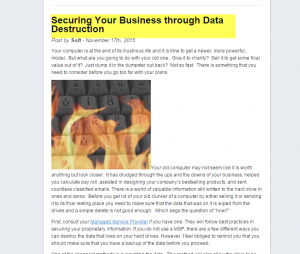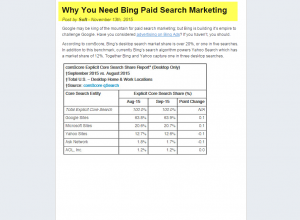 When investigating the extent of plagiarism, check to see if your content was been copied verbatim. Also, you'll want to check if this is an isolated event or if the website in question has copied multiple pieces of content. In our example above, you will notice multiple instances of stolen content. It's time to take action.
Step 3 – Reach out to the website's administrator
Reach out to the webmaster of the website that stole the copy. If the webmaster's email contact isn't readily displayed, check the about or policy sections of their website. The webmaster's address is often hidden within these pages.
Once you've found an email address, notify him that you are aware of the offending activity and request that he remove the stolen content within a defined period of time. A week to ten days is more than enough.
Should the webmaster voluntarily remove the stolen content, your job is done. Have a latte. However, most nefarious webmasters will ignore such warnings and hide behind a perceived veil of anonymity.
Now, the fun begins.
Step 4 – Contact the hosting provider
It's time to perform a who-is-lookup. This online tool provides you with the webmaster's identity and more importantly, their website hosting provider. Armed with this new information, I reached out to the hosting provider and let them know that a website they host had blatantly infringed on my intellectual copyrights. I respectfully requested that they take down the website in question.
Step 5 – File a DMCA request
If the hosting provider fails to respond, then it's time to file a dirty DMCA request. Only take this step once you have exhausted the other options. Also, keep in mind that you need to have the authority to act on behalf of your organization prior to filing this request.
You have the option of drafting your own DMCA takedown request or downloading this DMCA Take Down Notice Template to customize and send to the offending website owner. After you have sent the DMCA notice, give the website a week to ten days to respond. If you don't hear back within the time you designate in your notice, it's time to elevate the complaint to Google and get some sort of resolution.
Step 6 – Request Google remove the stolen content
Log into Google Search Console: https://www.google.com/webmasters/tools/dmca-notice. This will take you to the copyright removal section within Google (see below). Simply follow the instructions and be sure to describe the nature of the work being copied and include URLs where the copyrighted work can be viewed. Also, include the link to the infringing material.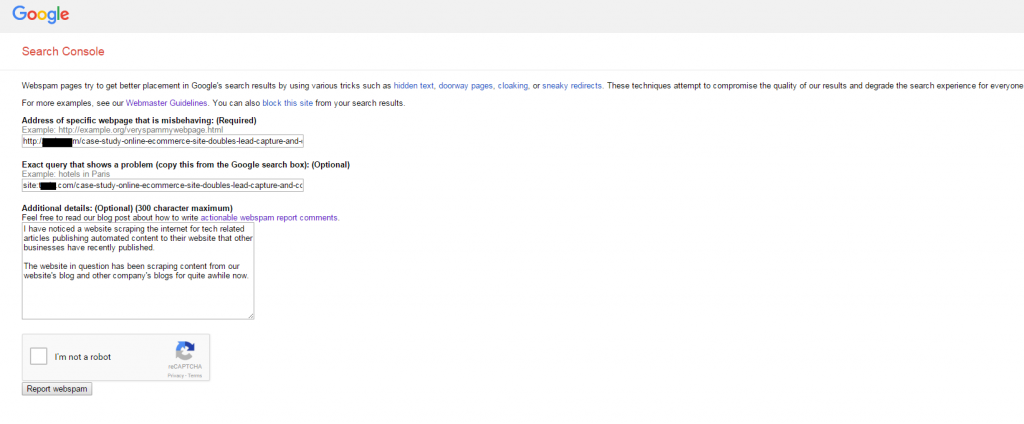 The DMCA request tends to work pretty quickly so you want to keep an eye on how many pages are currently indexed and compare it over the next few days or weeks. You can double check this by running another search query containing a snippet of your stolen copy. If you were successful in your attempt at protecting your content, you will see that Google has removed pages from its search engine that were infringing upon your copyrights once they complete their investigation.
Monitoring tip: If you would like to check the progress of your request, perform a site search if the offending site and make a note of the number of pages Google has indexed (see below). Compare this number to future searches and you may find the Google now indexes fewer of the website's pages than before your request. This is a sign that Google may be taking action.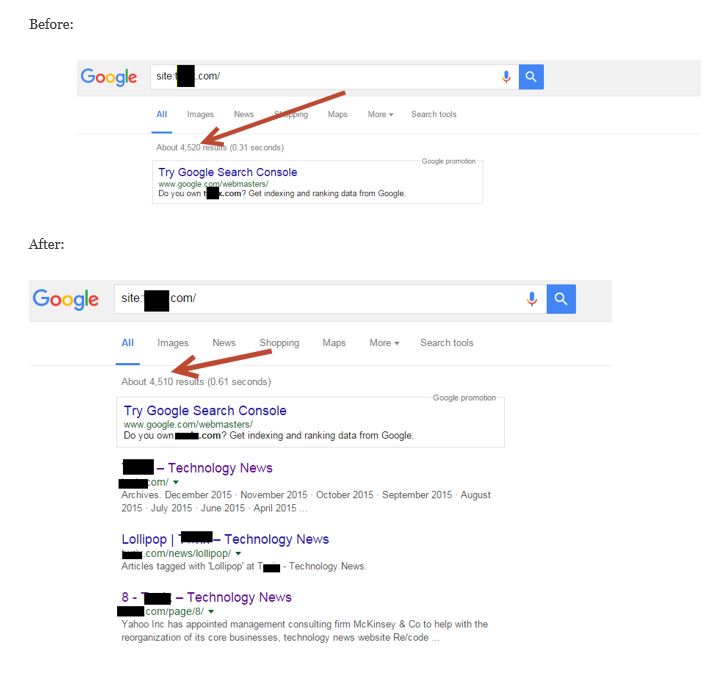 You'll know you've reached a final resolution when you run a search query and see the following highlighted message displayed: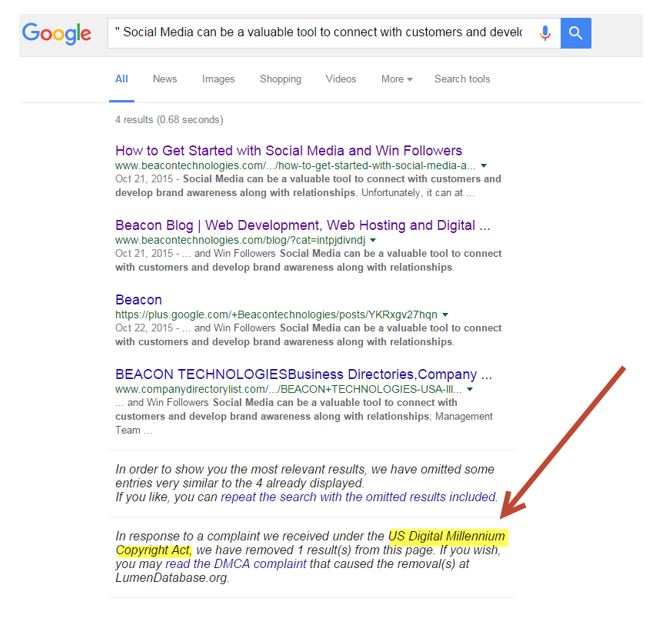 Good luck and happy hunting!