New & Notable in Digital Marketing: December 2015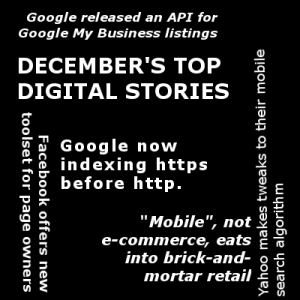 With the holidays past and a fresh, new year upon us let's reflect on the happenings in digital marketing that were important but may have squeaked by us amidst the hustle and bustle of the holiday season. Here's your monthly dose of what was new and notable in digital marketing this past December.
SEO
Google is now indexing https (secure sites) by default. This gives an even clearer and more direct signal that Google will continue to favor secure sites--a claim previously mentioned in 2014. Moving to a secure site it a costly and labor-intensive venture. SEO's and marketing directors can now feel more comfortable that https is of long-term importance to Google for rankings.
Yahoo mades tweaks to their mobile search algorithm. The change includes presenting the most recently published content above all else, with a focus on trending content, news, and social media. This is a marked change from Google, who relegates news articles to "News". Changes are available now. If you're active on social media or a regular content generator, you may see an increase in Mobile traffic from Yahoo.
Google released an API for Google My Business listings. The API enables you to programmatically create and edit locations in Google My Business. This is a big win for businesses who need to manage a multitude of local listings. Use this opportunity to take stock of your current data and make important, scalable updates.
Real estate agents, brick and mortar stores, and apartment complexes take heed. Google is filtering out your results when there is location-overlap. And Google doesn't care if you're a different address or person in the same area. The sheer magnitude of this filtering (sometimes tens of listings) highlights the need to really differentiate your content across your domain.
PPC
Google has released automated "Smart" goals in AdWords, powered by Google Analytics. In general, I'm pretty against anything automated by Google and although Beacon hasn't personally tested this new feature yet, the feedback in the industry isn't great. My take: any SEM above novice should steer clear.
SOCIAL MEDIA
Facebook released a new toolset designed to help page owners better communicated with audiences. New features include the ability to set expectations around response time, an "away" setting, "away" messages and instant replies, more personal information about the person speaking on behalf of the business, and a better way to keep track and respond to comments. This was a much needed change that takes out a lot of the detrimental anonymity of dealing with big businesses on Facebook.
Many are forecasting that 2016 is the year for Twitter and along those lines Twitter has released a new ad unit that encourages conversations with businesses. The new ad unit has a call-to-action and allows users to re-Tweet and add in their own hashtag.
Facebook releases "Professional Services", a new product to compete with Yelp and Angie's List. Seeing this new offering unfold will be interesting since Facebook can run so strongly hot or cold for businesses. Combine Facebook's reach and you could have a recipe for disaster. I'd say taking part in Facebook Professional Services is a smart idea for those companies with an intensely positive following. Everyone else should sit back and watch before jumping in.
TECHNOLOGY
Mobile, not just e-commerce, is eating into brick-and-mortar retail. Although Mobile traffic growth is expected to slow from the double-digits seen in previous years, Mobile traffic will continue to eat away at other device traffic. Traditional retailers with hopes of continuing to see growth need to assess their mobile strategy.
That's it! 'Til next month.