Segmenting Your Higher Education Audience Using Google Analytics

Higher education websites face a difficult challenge that websites in many other industries do not have to endure: Catering to a handful of audiences with one website.
The typical list of audiences that frequent a university or college website includes:
Prospective Students: The most critical audience for higher education websites, especially considering the impact of digital marketing for admissions.
Current Students: Not only do current students access the website for email and current schoolwork, but researching potential classes and majors can also be important. Sometimes, this can be the most difficult group to isolate.
Faculty/Staff: Digital marketers obviously do not want to isolate this audience for marketing purposes, but identifying Faculty/Staff activity can help with future content navigation and redesign projects.
Alumni: Especially when donations are sought, it is important to know the website interactions by this audience.
Parents: Some higher education websites have a section of content tailored to parents of prospective students, incoming students, or both.
Community: This audience constitutes individuals involved with the university or college who do not fit in any of the above audiences. For example, if the university is leading an initiative in its city, website visitors seeking more information on that initiative would fit in this category.
Imagine how much impactful Google Analytics for Higher Education would be if the data could be segmented based on audiences such as these. Analysis of audience activity could lead to improvements in content display, website navigation, and call-to-action optimization. In order to implement audience segmentation for a higher education website, follow these steps:
#1 - Identify and Define the Audiences
You may want to include all of the audiences listed above, or it may make sense to just start with Prospective Students, nail down that audience, and then add more audiences later. The best way to define each audience is by noting what actions can confidently be associated with just that audience. Examples of such actions could be:
A prospective student is any user who downloads an admissions application form.
A prospective student is any user who schedules a tour on campus.
An alum is any user who submits a donation via the form in the alumni section.
Notice that there can (and should) be more than one action used to identify any given audience. An important point about defining audiences by action is to be careful to avoid actions that could be performed often by multiple audiences. For example, logging into the school's email provider is an action probably done by students, faculty, and staff. You cannot confidentially single out any of those audiences with that action.
#2 - Configure the Audiences as Custom Dimensions
Under the property settings in the Account Admin for Google Analytics is a link for Custom Definitions. (Side Note: These instructions are for Google's Universal Analytics syntax, their most current version. If you are on an older version, it is time to update your website analytics.) When you click Custom Definitions, you will then need to click Custom Dimensions.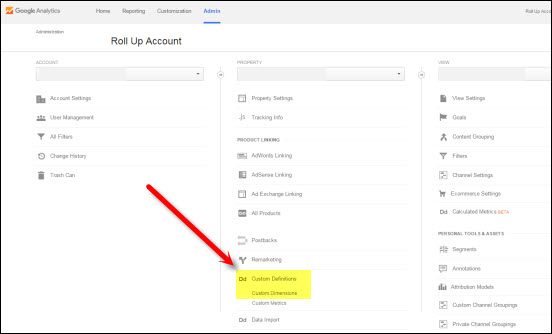 Add a new custom dimension for each audience that you are building. Name the custom dimension as you plan to name the audience, and set the scope as User. That configuration will apply the audience identification for a user across multiple sessions. Once you save the new dimension, Google Analytics will provide you with a snippet of JavaScript. The dimension value should be replaced with the name of the audience, and the snippet should be added to all user actions in the website's HTML.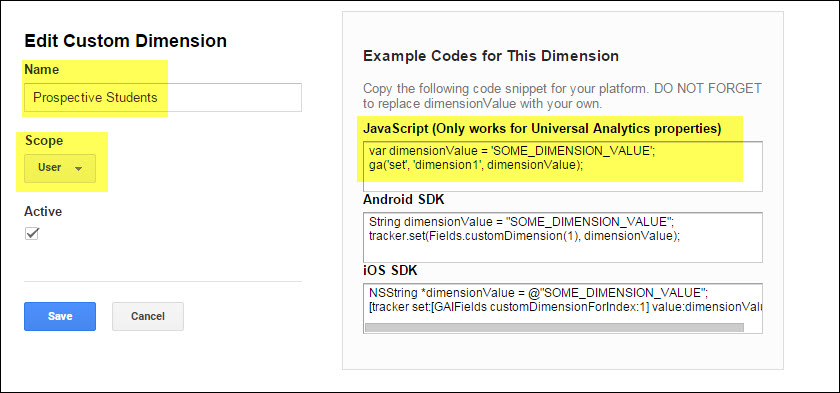 What if our website uses Google Tag Manager?
Rather than hard-coding snippets of custom dimension JavaScript, some digital marketers prefer Google Tag Manager. Google has some content that points Tag Manager users in the right direction, such as this: https://support.google.com/analytics/answer/6164990?hl=en.
#3 - Test and Validate
First, make sure that the website's pages load properly in a test environment after the custom dimension code has been added. Also, use a test reporting view in Google Analytics to make sure that the custom dimensions are loading in the reports. In most reports, all you need to do is add a secondary dimension, typing an audience name to find the custom dimension in the list. You can also create custom reports, adding these custom dimensions as a primary dimension.
Once the custom dimension tracking goes live, decide on an amount of time to allow new data to populate in the reporting view, maybe a couple of weeks or a month, depending on the website's traffic volume. Upon analyzing your new data, you will be able to determine if the actions you have tagged on the website are representative of that audience. For example, you may see audience totals much higher or lower than expected, compared to overall traffic or to other audiences. Take that opportunity to adjust the actions tagged for those audiences in question. Of course, you will always have the opportunity to tag additional actions in the future, further refining your audience reporting.