How to Craft a Social Media Content Strategy

It is true that social media can be beneficial to a business, but it can also cause a migraine at the same time. If not implemented properly it can damage your business' reputation or become a waste of time. Here are some important steps to keep in mind when developing a social media content strategy. This will help keep your content relevant and work to amplify your postings. Some steps to include are brainstorming, research, and determining which platforms to use.
Brainstorming 
First, let's start off with brainstorming potential content ideas. These will help build shareable content. In this stage it is important to think broadly about your industry. It is necessary to think about how you can branch out to reach a wider audience. It is a good idea to not have a narrow view of your business when brainstorming content topics at first. Once you build out a variety of topics and ideas you can always go back and decide what fits your brand image. Try to think of all the components that work together to make up your business. For example, let's say I own a skateboard shop. I might produce content about skateboard maintenance or the benefits of skateboarding. This tactic will help you build a diverse social media content strategy.
Here is a visual representation of my thought process when brainstorming content: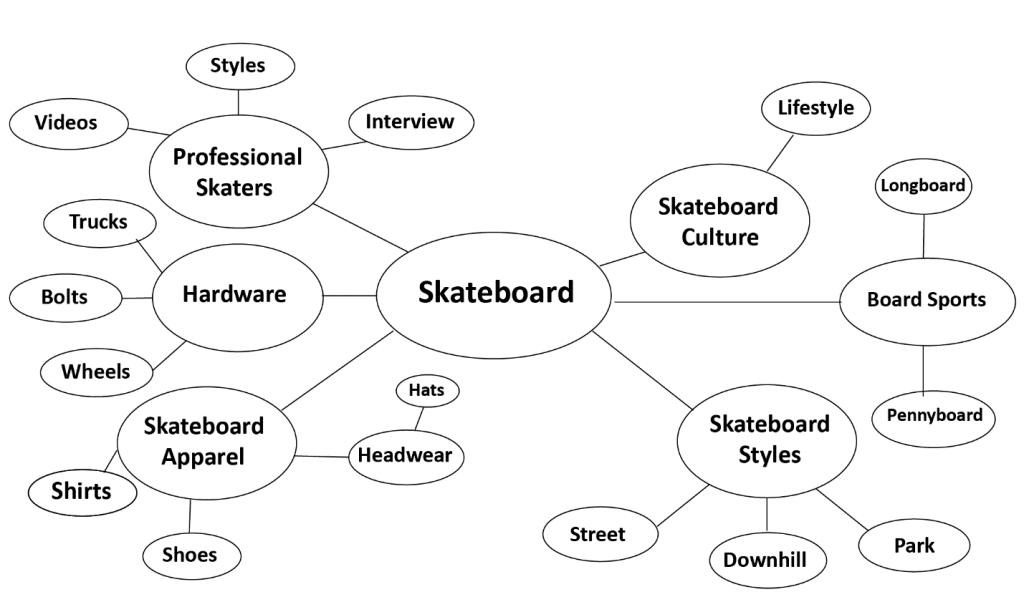 Research 
Once you have spent time brainstorming, then it's time to move on to the next phase, research. We want to learn what types of content are performing well in our industry.
In continuing on with our skateboarding example, let's say I am done brainstorming. Now I have some topics I want to build out content around. It's time to dive into some content research so I have a better idea of what performs well. This will vary by industry and whether you're a B2B or B2C business.
When conducting my research, I use several tools to learn what is performing well. For this, I am going to start with a neat and free tool called Epicbeat, which I think is an appropriate name for a social media tool. Epicbeat will help you discover popular content, influencers, and industry insights.
First, I want to enter in the term I will be researching.

Then, I am directed to a dashboard that gives a quick view of several key factors. These factors will help me find content to re-share and give me greater insight into what I need to create.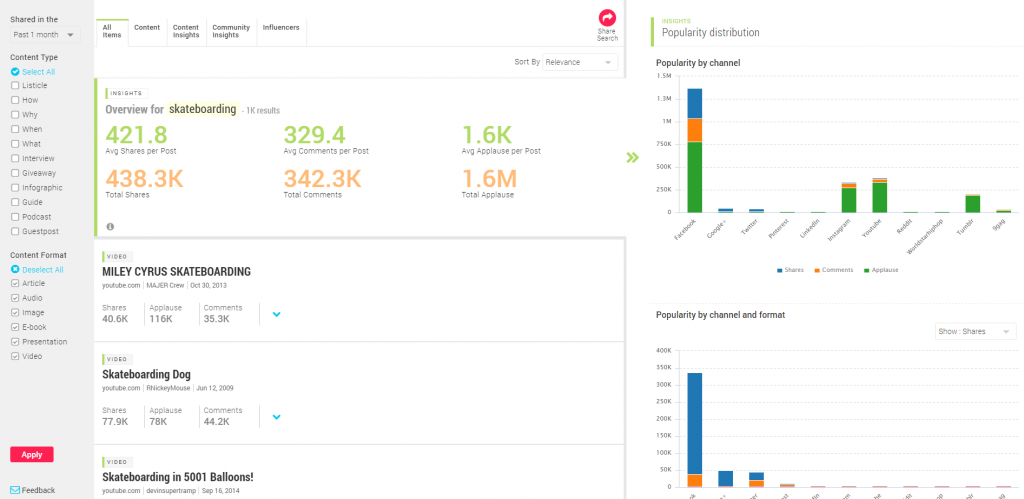 Which Platforms? 
The few things I want to get insight into are which platforms are popular and what types of content perform best. Then, I want to know when I should be posting to my platforms.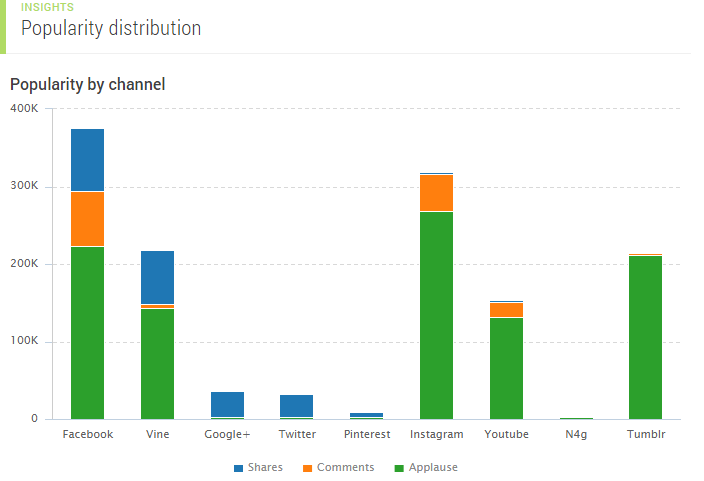 Right away I see that Facebook is the most popular channel followed by Vine and Instagram. I also get some other metrics such as average shares per post and a few other engagement metrics which is great. This tells me the type of engagement I can expect from each social platform. I also want to look for what type of content is most popular within this industry.
Now from my research, I know I should focus on Facebook and maybe Instagram as well. This will help get my social media content strategy off to a great start. After reviewing the engagement metrics, I know where I need to be to have an impact. Keep in mind, it is important to start a social media campaign small and scale up. In most cases, it is better to have one or two social profiles than five that you rarely engage with users on.

EpicBeat is nice enough to give me the distribution by content type for skateboarding. This gives me a better idea of the types of content to either begin producing or re-sharing. Right away I see that 'how' articles are trending with Listicles, and Interviews trailing. If I skipped this step and ran giveaways and produced guides, I would have missed a lot of engagement. This is why research is so crucial so you are not fumbling around in the dark.
I'm at a great starting point now I have my topics I want to build content around. I also have a better idea of which social platforms my target audience are active on. Now I have a better understanding of the content types I will begin curating. I even have an idea of what I can re-share to my platforms to further encourage engagement too.
Tools make research easier, but you should still browse followers to gain more insight. Look for what they are sharing and engaging with, and news they consider important. This will help you plan your social media content strategy in an effective manner. As an added bonus, I like to use Klout to spot trending content pieces and re-share them with my followers. Only use this platform once you have taken the time to research your industry and build out topics. This can be a great way to find relevant news about your industry.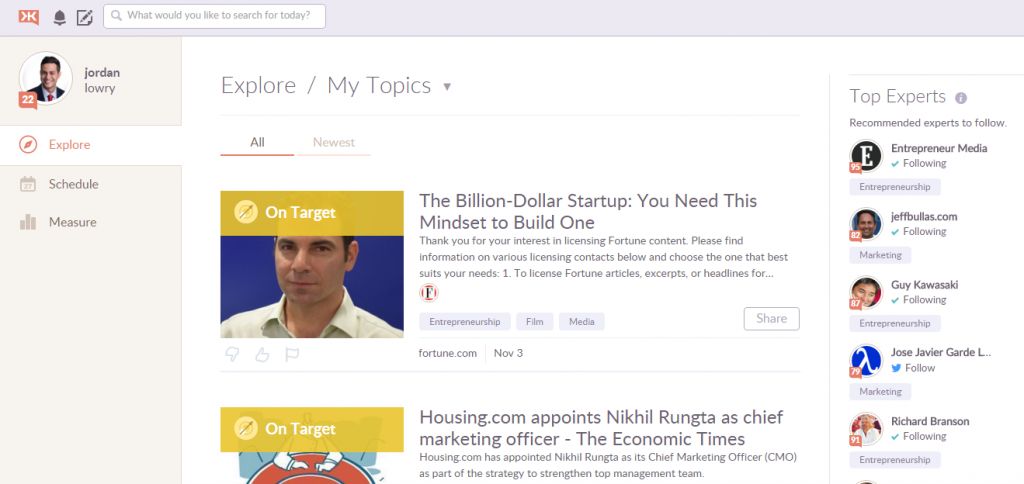 Klout shows content to reflect the best trending pieces related to your industry. Klout also includes a search function as well so you can do further research. This allows me to take topics I built out earlier and search for trending articles. Another feature like EpicBeat is the ability to find influencers within your niche. You can even research influencers within your industry and see content they engage with.

Once inside the platform, there is no need to go back and forth between Hootsuite to schedule a post. You can schedule all your content within the platform as well and save some time. Remember, research is the cornerstone of a successful social media content strategy. Taking the time to brainstorm will lead to unique ideas that may not have developed otherwise.
As a side note, you can have a great social media content strategy but without goals you can get off track. Setting goals that impact your business is important when starting a social media campaign.
By brainstorming, researching, and evaluating platforms, you can start an effective social media campaign.
Happy sharing!