Beacon Supports Kids Path

Earlier this month, Jordan Burleson and Emily Ledbetter delivered a donation from Beacon to Kids Path, a program of Hospice and Palliative Care of Greensboro.  Beacon raised funds for Kids Path through our hole sponsorship at the 2015 North Carolina Technology Association Golf Tournament.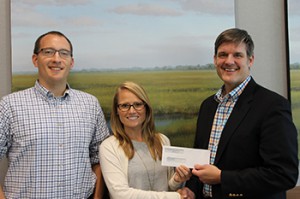 Tournament participants were able to take part in our longest drive competition which featured marshmallows instead of golf balls.  It came as no surprise that many golfers gladly made donations to Kids Path while partaking in the competition.
A program founded by Hospice and Palliative Care of Greensboro, Kids Path is designed to address the needs and difficulties experienced by seriously ill children and their families. Support is not only offered to children with potentially life threatening illness but to family, care givers and significant others. Additionally, Kids Path can be a source of counseling support for those grieving the loss of a child.
Kids Path relies on community support for approximately 85% of its operating budget each year.  Beacon is proud to continue to support our community and work with organizations like Kids Path that help more than 500 children and teens access counseling and support each year because of the illness or death of a loved one.