Should I Use Canonicals or 301 Redirects?

Published October 8, 2015 | Categories: SEO
Should you 301 redirect that page to another, or should you use a rel=canonical tag? There are tons of reason why you might have some redundancy on your site. If it's an eCommerce site, you're probably displaying product listing pages a few different ways (sort by price, color, rating, etc.), or you might have navigation pages that are similar to your SEO landing pages. Whatever the case may be, chances are pretty good you have some form of duplication on your site that needs addressing.  This topic has been debated for years, but the real answer lies in one simple question:
Should people be able to access both pages in question?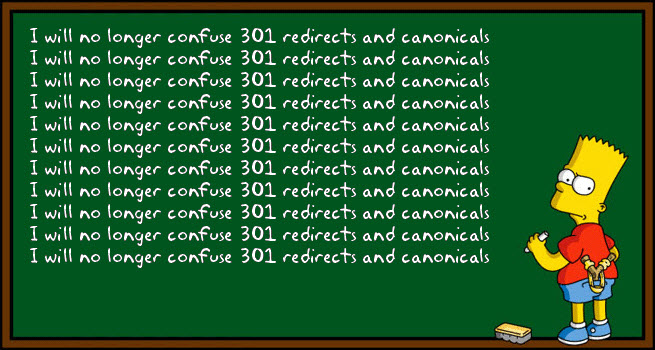 If the answer to this questions is Yes, you want to use rel=canonical. Doing so will point search engines towards your preferred page, but won't prevent people being able to access, read, and interact with both pages. Here are some times you might see the rel=canonical tag in action:
www & non-www versions of URLs
parameters that change how a product listing page is sorted
navigation pages that point to an equivalent SEO landing page (it doesn't always make sense to put content on a nav page)
If the answer to your question is No, you should remove that page and 301 redirect it. Page removal is much more common among eCommerce sites where products are discontinued but you can't just remove the page (what if someone is linking to it?!?). Occasionally, you'll see cases where this needs to be done for SEO landing pages. In the case of large SEO projects, where there are hundreds or thousands of keywords, content can get duplicated easily. Keeping a perfect account of every single SEO landing page that's been written is basically impossible, so you might end up with two different pages with URLs like this: /blue-widgets and /widgets-that-are-blue. Obviously, even if the content isn't identical, you can't keep both of those pages around. Figure out which one has the most authority, links, and traffic - keep that one, and redirect the other one to it.
Next time you come to this fork in the road, remember to ask yourself whether or not there is value in people being able to see both versions.