How to Get Started with Social Media and Win Followers

How to Get Started with Social Media and Win Followers 
Social Media can be a valuable tool to connect with customers and develop brand awareness along with relationships. Unfortunately, it can at times be a difficult and daunting task that can very easily become overwhelming. Thanks to the ever-growing list of social media platforms, it can be hard to know where to begin your social media campaign. Fortunately, Beacon has you covered with some social media best practices to help you get the most out of your campaigns. To begin a campaign, it is important to start by investing the time to do research into your target market, consistently sharing content, leveraging technology to amplify your content, and setting specific and measurable goals. This way you can be sure to get your social campaign started off on the right foot.
Research is important for your social campaign for a number of reasons.
First, it's important to know what types of content people are sharing and engaging with within your industry. A good start is to analyze your competitors' social platforms and see what's working for them along with what platforms they are active on.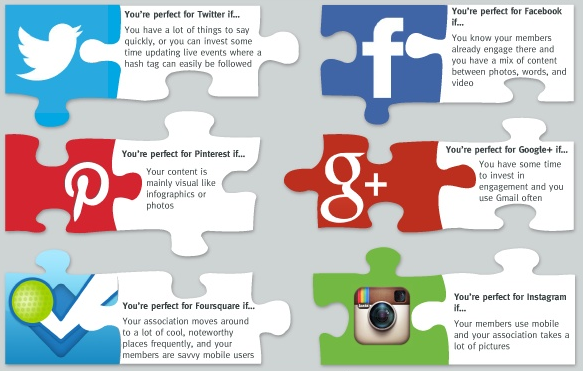 *Courtesy of member clicks
In addition to understanding what social media platforms your competition are active on, it's important to know what types of content perform well for your industry. A good tool for this is can be found at Buzz sumo.. This tool will allow you to search based on topics or by specific domains to see what types of content perform well and what is being shared. You can also easily share content from this platform directly to your social media accounts.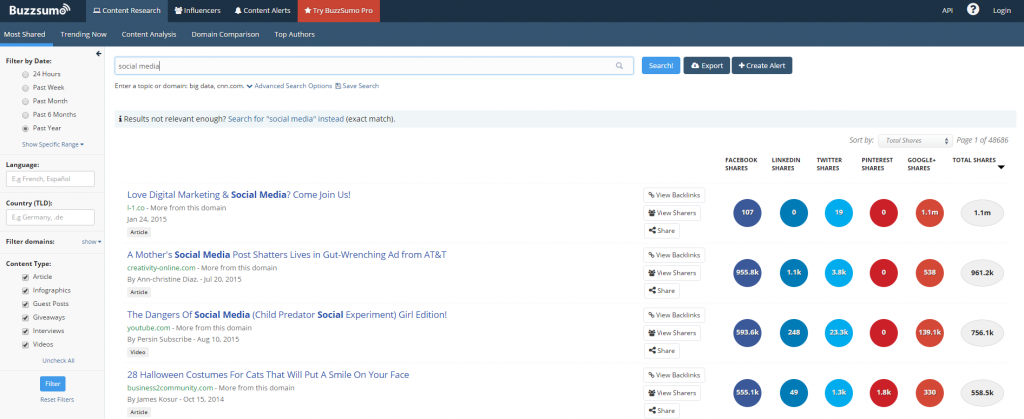 Second, once you know which platforms your target audience are active on, it's time to do some hashtag research so you can amplify your content and posts. No, I'm not talking #about #spamming #posts with #hashtags but using them cautiously to boost your reach on social media. Some social media best practices when it comes to hashtags is to keep it relevant and never spam them. Also, Hashtagify.me has a good tool that suggests relevant hashtags based on the topic you type in their search box. This is a great starting point if you are drawing a blank.
Once you identify potential #hashtags you are interested in using, now you need to understand what sort of reach and impact they will have when trying to amplify your content. You can take the #hashtags that hashtagify.me recommends and put them in Google Trends. Google trends will show you the interest of these topics over time and it should give you a rough estimate of the impact these hashtags can have on amplifying your content.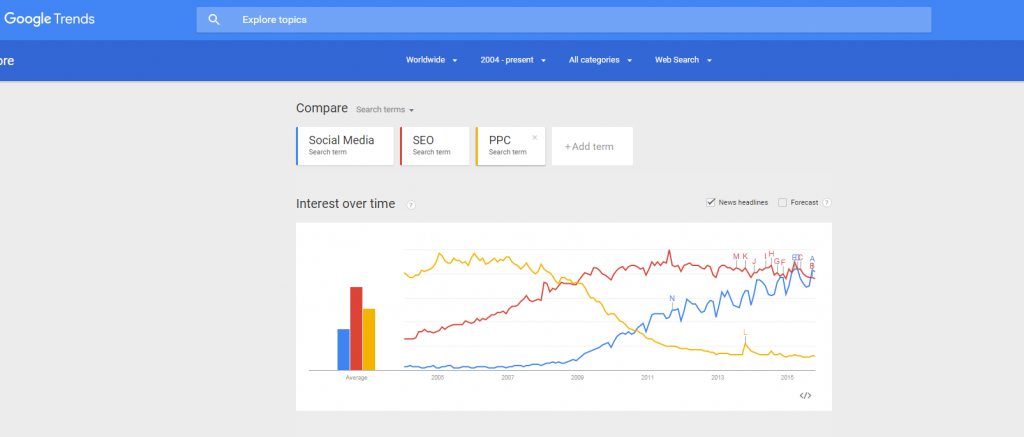 Consistency is key when stepping into the social media realm.
It is important when deciding to start a social media campaign to keep a consistent brand image across all platforms. Each social media platform you use for your business will have a different layout but make sure items such as your profile image and company bio are consistent. A good point of reference is to design your social media profiles to reflect your company's website where appropriate. It can get confusing and disorient your audience if your social media profiles are a mashup of random conflicting social bios with pixelated distorted profile images.
The next step in being consistent is regularly developing content and a content schedule. This way your business or company's social media profile will not fall into the abyss and be forgotten. Mapping out a content schedule has several social media benefits:
Mapping out Time Sensitive Content- Your social media content schedule will anticipate company events, holidays, birthdays, contests and will allow you to be creative with regards to how you develop and curate the content. This will also reduce stress while keeping your engagement rates up.
Involve Others- Scheduling content in advance allows other members of your team to become involved in the content curation as opposed to just one person.
Enforce the 80-10-10 rule- The majority of content you create should be informative (think 80%), interesting and relevant to your audience. 15-10% of your content should be re-tweets, or sharing content curated by other people, that your audience would find interesting. Roughly 10%-5% or so should be about promoting specific products or services your business offers. Remember that your social media platforms are not for actively making sales. The goal is to build relationships first and provide relevant engaging content. If you selfishly promote too much and neglect to share content from others, this can lead to potential customers unfollowing you on your social platforms. For some great tips on how to use social media for small business be sure to read "I Tweet, But No One Buys".
A wonderful tool to help with consistency and take away some stress associated with social media is Hootsuite. Thankfully, it is free for the first few accounts and lets you schedule all your social media posts out for several weeks or months in advance. You can sync most of your social media accounts all under one roof. Hootsuite also allows you to monitor what others are saying about your brand and provides opportunities to engage with your audience.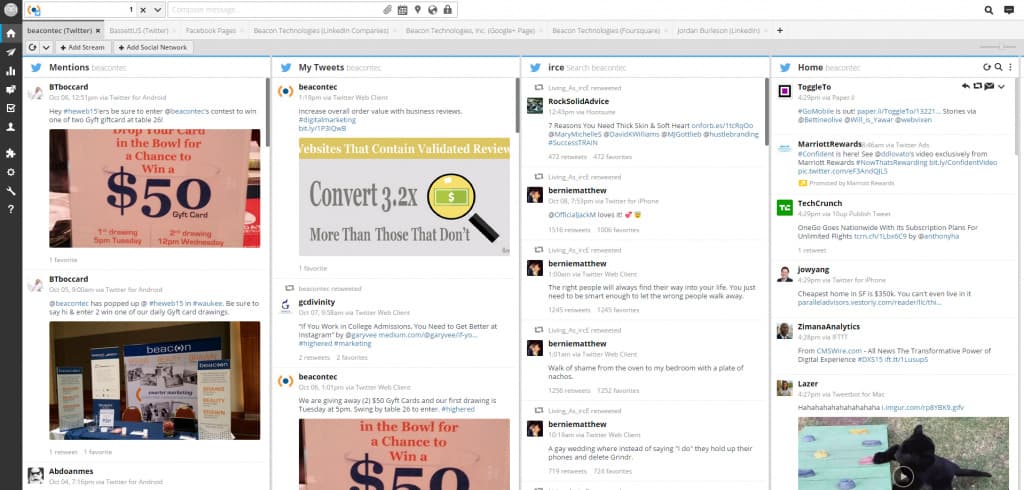 Finally, it is important to create an overall objective, specific goals, and set key performance indicators.
This will help you track your success with your social media campaign and make adjustments as necessary along the way. Your overall objective should be qualitative, ambitious and certainly achievable through social media. An example can be "We strive to be the authority on social for *lawn care services*." Moving forward, we need to set some goals to accomplish our objective. Some examples of strategic social goals to take into consideration are increasing reach, increasing website conversions, increasing retention, establishing credibility within our niche, and increasing web visibility.
These are good starting points, but it is important to dig a little deeper and discover what would positively impact your business and is it possible to accomplish through social media. Some sample goals can include:
Building and fostering a social community- Growing a strong social media following is essential to any successful social campaign, without a community you have nothing. This can be accomplished by sharing relevant and anticipated content with your followers and encouraging engagement across platforms.
Drive conversions with social media- A great reason for using social media marketing is to ultimately assist with conversion efforts. It is not so useful for engaging in selling, but it is best suited to assist customers through your sales funnel.
Build brand awareness- Possibly the most important goal of any social media campaign is to increase awareness of your brand and get consumers talking about your company. Fortunately, it is easy to track, measure and follow up with what people are saying about your brand while making adjustments as you go.
Then moving forward, establish certain key performance indicators or (KPI's) that you can use to keep you on track with your overall objective. If you are not actively measuring your efforts on social media, it becomes hard to know what sort of impact it is having on your business. This may have your boss and managers wondering if social media is a waste of time. Some sample performance indicators you can use to measure the impact of your campaign can be:
Reach  
This can easily be measured by how many followers your accounts have accumulated. These are the people who are being exposed to your posts and brand. While it is great to gain a large following and have a large community throughout your social media platforms it is important to consider the demographics of your followers as well and if they are part of your target market. More followers doesn't always = equal success in social media.
Engagement 
Sure, accumulating fans, followers, and a community is wonderful but if they are not actively engaging with your content then you have a problem. Here are some metrics to track and analyze when running a social campaign. For a more in depth look be sure to read a previous blog that goes more into more detail with measuring important social media metrics.
Likes & Favorite's are the very first level of engagement when it comes to social media. While this is a positive engagement metric it is a very low metric and does not usually mean a person has read through your post or visited your site as a result. However, they are a good indication of a campaign slowly gaining traction.
Shares & Retweet's allow your social posts to be amplified and reach a larger audience quickly. This is also an excellent indication of what types of content and posts your audience are interested in seeing. You can track shares and retweets and work with your team to curate more content that has a better opportunity of gaining greater traction within your audience.
Remember, when building social media campaigns, research your potential target market, leverage technology, then set ambitious and achievable goals that are measurable.