New Beacon Website: Smarter Marketing with "Brains, Beauty & Brawn"

Greensboro, NC - Since the Fall of 2014, Beacon has been quietly working through a significant re-branding strategy that emphasizes a more sophisticated union between marketing and web technology.  Last week's launch of the company's new website is the exciting release of this effort.
"It's amazing to look back at the evolution of web technology since we opened Beacon Technologies in 1998.  Back then, internet-related projects were primarily confined to IT departments for whom we provided web development and hosting services," says Mark Dirks, Beacon's CEO.  "Now, marketing departments drive these efforts.  Websites have become the centerpiece of the marketing strategy, with design, SEO, paid search, email marketing, social media, direct mail, branding, print, copywriting and analytics wrapped around it."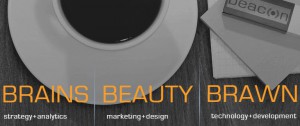 Beacon's new website reveals how "Smarter Marketing" is achieved through agencies like Beacon that provide deeply integrated creative marketing and web technology.  "Customer engagement depends on BOTH the creative and technical aspects of marketing nowadays," says Dirks.  "Graphical design, marketing campaigns, content and supporting functions need to be delivered through dependable, easy-to-use technology that not only pleases users, but also collects the data to drive continuous improvement."
During the early stages of this project, Beacon's design team was exploring creative ways to represent this new strategy in simple terms.  "Someone said that Beacon brings the 'brains, beauty and brawn' to projects, and it stuck," said Dirks.
Beacon's "Brains, Beauty and Brawn" approach steps its customers through the 3 critical phases for smarter marketing.  During the STRATEGY+analytics Phase ("Brains"), data and audience information are analyzed to define a strategy that drives business goals and speaks to the right audiences effectively.  During the MARKETING+design Phase ("Beauty"), engaging graphics, web pages and marketing campaigns are designed that maintain brand integrity and utilize best practices, especially in technology channels.  And during the TECHNOLOGY+development Phase ("Brawn"), the strategy, functionality and design are brought to life through web development, integrated software and hosting services.
"We are all very excited about our new website," Dirks says.  "Visitors can easily see our work, meet our team, learn our approach and quickly become confident in Beacon's ability to deliver Smarter Marketing."
The creativity certainly jumps out with the new Beacon site, whether it's through the use of black/white imagery, graphics and mouse overs that highlight technology on the home page, the deep portfolio that highlights Beacon's work with marquee clients, or the "Our Team" page that reflects the company's fun and lively personality.  Behind the engaging web pages, modern technology is fully utilized to also drive the strategic business plan.  Beacon's development team cleverly customized Cascade Server content management software with interchangeable widgets in the right side columns to lift user confidence and drive visitors to various calls to action.  Responsive design is carefully employed to optimize the user experience on mobile devices.  Beacon's highly active blog is connected into the new website such that news and industry tips from our staff are easily shared.  And of course, Google Analytics meticulously tracks user activity against business goals, providing data to continually improve inbound lead generation.
Christy Joyce, a well-recognized expert in creative design, marketing strategy and brand management, was brought on board in December as Beacon's Director of Creative Marketing.  She has served as VP and Director for several respected corporations and her role with Beacon is to further the company's commitment to high quality, creative and engaging marketing solutions.  "Christy's career speaks for itself and her design ideas are always very creative and well-conceived," says Dirks.  "However, I admit that I cringed a bit when her first recommendation was to drop 'Technologies' from our logo.  Just to suggest this after 17 years was extremely bold, but it was right."
Quick Facts about Beacon:  As a recognized leader in web technology and digital marketing solutions, and a long-time Google partner, Beacon has worked with over 600 companies, 40 colleges, 100+ ecommerce websites in nearly every U.S. state and 5 countries, delivering over 350 Google Analytic installations and managing hundreds of millions of dollars in marketing budget ad spend.