A Man Wrote Content To Get Clicks...What Google Did Next Will Blow Your Mind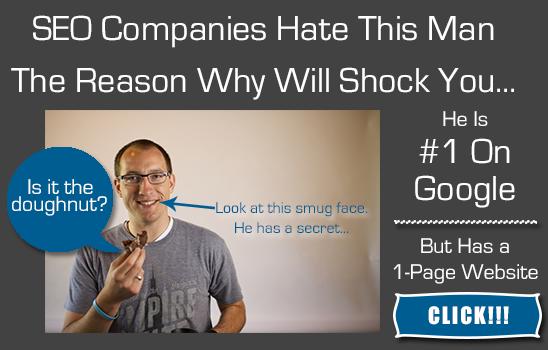 I'm sure by now most of you have seen, clicked, heard about and even hidden clickbait articles from your social feeds, emails and search results. The prevalence of articles that use emotion, sex, animals, quizzes and worst of all, tragedy, to get clicks has prompted search engines and social networks to crack down and even penalize these content providers.
Find Out Which Historical Figure You Are...
Copywriters have been using catchy headlines or intriguing headline copy to draw in audiences from as early as the 19th century. Not coined 'click-bait' in the 1800s, newspapers and editors utilized what was called 'yellow journalism' to bait readers into buying papers and increasing circulation. Early clickbait came in the form of cartoons featuring the 'Yellow Kid' by Joseph Pulitzer's, New York World, which was winning the read-bait battle against rival owner, William Randolph Hearst's New York Journal.  What is shocking is that these tycoons are remembered today as pioneers and visionaries for taking part in what was back then, yellow journalism. More recent examples include Vinnie Musetto, a former editor at the New York Post who wrote the famous headline "Headless Body In Topless Bar." He is affectionately called the godfather of click-bait as old New York Post front pages resembled very closely today's Buzzfeed or UpWorthy, with catchy and cheeky headlines stacked one on top of another. 
What is scarier still, is that in half a century we may look back in the history books at the creators of UpWorthy or Buzzfeed with admiration and as pioneers in the field of online journalism. Imagine journalism students learning the basic s by using the 'Distractify Principle' or the 'Viralnova Theory' in future classrooms where the Internet has swelled to an-ever bloated capacity that the need to go viral outweighs the need for truth in journalism. All this to say that clickbait is nothing new, but more annoying and distracting as ever when more and more people use social media and news-aggregator sites to stay informed.
Why Does ClickBait Work? You Gotta See This!
The Oxford English Dictionary defines clickbait: "content whose main purpose is to attract attention and encourage visitors to click on a link to a particular web page." That definition doesn't seem harmful or convey the emotion most people experience when they see these headlines. Most of us feel guilty within a fraction of a second of clicking one of these articles in our Facebook feed. We get this dirty feeling that we fell prey to some trap that a caveman should instinctively know to avoid. So why do we keep doing it? Why do we click an article to find out which Disney character defines us based on 10 meaningless questions? Why do we go down a YouTube rabbit hole to watch bloopers for every season of every television program on CBS? Why do I read wiki articles and forum articles on Lord of the Rings (nerd flag rising...) until 1:00 a.m. in the morning so I can better understand the difference between the Vanyar, Noldor and Teleri elves? As my wife would say, "Not to get a girlfriend."
The reason we all fall prey to suggested YouTube clips, Facebook articles shared by your aunt or quizzes that your annoying co-worker sends you are because of something called the 'curiosity gap.' The curiosity gap is the principle that articles, headlines or thumbnails show just enough information to get you interested in taking action, but not enough information to help you fully understand what the piece is about. This is why YouTube creators use thumbnails of attractive women that don't even make a cameo in the video you just clicked. This is the reason you click on an article to find out "Why You Should Never Shop At Grocery Stores Again" or "These 8 Celebrities Had WHAT Job Before They Got Famous?" instead of spending time with your child who is next to you reading "10 Time Justin Bieber Proved He's The Real Prince Charming." The curiosity gap helps to show us how we all are becoming compulsive clickers, clicking from one un-informative article to the next without considering the consequences. In a world of abundant and never-ending information at our fingertips, American's attention spans have dropped from 12 to 8 seconds in just a decade. With the amount of emails and websites read every day, getting a message through to anyone is becoming an impossible task.
This Paragraph Will Change Your Mind About Click Bait In Just One Sentence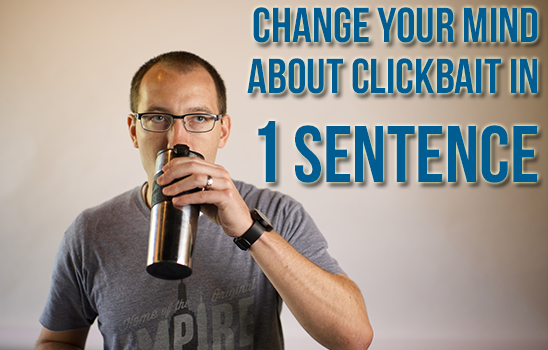 Clickbait is a great quick-win for traffic but a terrible lose-lose strategy for retaining readers/viewers and staying relevant in a saturated Internet. (This was the sentence I was referencing. Not to say the one immediately following this one isn't bad, but...yeah) Here is the trouble with clickbait; Print and online media's job is to express, educate, persuade and entertain. Most articles that fall under the definition of clickbait do not complete the job of any of the aforementioned purposes of the media. Sadly, the most interesting thing about the clickbait article is the headline itself. This is why we are beginning to see a revolt against clickbait. Late last year Facebook began cracking down on clickbait by penalizing content sources that don't hold readers attention. If a reader clicks on an article and within seconds returns to Facebook, this suggest they didn't find what they wanted and the article is not useful. Facebook realizes the power it has with brands and brand publishers who strive to have relationships with readers/consumers by posting engaging news, photos and articles that get users to click and stay on their website for a lengthy period of time. These brands spend money with Facebook, they advertise within the NewsFeed and these clickbait sites are clouding the message. This is the reason for the options to now hide "posts like these" or "posts from this page" from your own news feed.
This trend isn't limited to just Facebook. Google has also joined the queue. Google launched a phantom update earlier this year that largely impacted sites that employ how-to content such as HubPages or Answers.com. Some of these sites saw an almost 25% drop in search traffic in one week. The algorithm isn't only limited to how-to content. Similar sites with thin content targeted by an earlier Panda update also were targeted. This was true for sites with clickbait articles, an abundance supplementary information, pages of stacked videos, and content that was difficult to navigate. These types of updates from Google will keep coming as well. With more and more clickbait articles showing up in Google News, users are complaining by the thousands and Google is responding in ruthless fashion by penalizing whole sites for thin content on even a small percentage of a site's pages. This begs the need for better written content Internet-wide and a chance to re-evaluate search engine optimization's role in getting clicks without the bait.
Improve Your SEO Without Clickbait...In 60 Seconds Or Less
(Unless it takes you longer to read. And in that case this anecdote isn't helping your case) 
Brands, marketers and small business can all write content that will be read, shared and help improve SEO. Even using catchy headlines that peak interest can be effective. The difference between a catchy headline in a well-written article and a clickbait article is the content itself. Some of the most successful blogs that Beacon writes are purely informational. They provide resources, analysis and engaging content that readers use, share and bookmark so they can come back later and consume more. Clickbait articles make you feel hollow inside and even though they get millions of views, don't keep users on the site for longer than a minute. The likelihood of someone returning to your site again goes up dramatically when you keep them on your page for over 3 minutes. The other key difference is that when we feel cheated by a thinly-written clickbait article is that we don't share it with others or start a conversation. Most news organization's sites most-viewed articles concern hard-hitting content about war, race, politics, religion or social issues that can span 3-4 pages. They don't make for catchy titles but they start a conversation, and in some cases a revolution.
Google and Bing pay attention to good content. Almost every algorithm in the past two years has been focused on content. The content cannot be thin, misleading or irrelevant enough from your title or you will be penalized. When it comes to writing content for your website, blog or social media, focus on creating content that expresses and idea, that educates the masses, persuades the reader to your side or to your products and entertains with quick-wit, wonderful photos and video content. On social outlets be clear with your hyperlinks where you are sending people, make your titles and descriptions enhance the content and see your engagement soar. Don't write with the intent on stuffing keywords in every sentence, to copy every page and change content slightly to double your exposure or get into black-hat or grey-hat search engine optimization. Write with the passion a journalist does with engaging and informative headings, meaty paragraphs and visuals that do more to reinforce the text than get a click. The end result of well-written, deeply-researched and engaging content is the start of a relationship with a potential consumer. That consumer now has buy-in and will come back for more, will share content to their friends and followers and help increase traffic the right way...Instead of  making illiteracy seem like a preferred option.