Higher Ed Sites: Understanding Your Most Common Target Audiences, Part I: The Millennial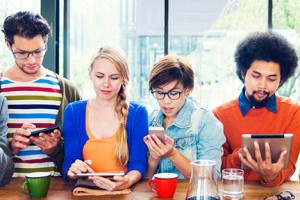 All websites have at least one challenge in common:  They all have a target audience, and the success - or demise - of their site rests heavily on how well their site 'speaks' to that particular demographic.
But wait - let's back up to the beginning! First, let's understand what a target audience really is:  To put it simply, a target audience is a particular group of people that have been identified as the deliberate recipient of advertising or messaging relating to a product or service a brand is 'selling'. Given this definition, higher education sites face a hefty challenge - they generally have 6-7 unique targets for one web site! The following are the typical categories:  Prospective students, current students, prospective parents, current parents, faculty and staff, alumni and donors.
In this series, we will cover some of the key considerations a higher education web site should incorporate to attract each audience most effectively.
First, let's visit prospective and current students, who the majority of them today are categorized as Millennials. Today's Millennial is technologically savvy, so developing a responsive site is a must, especially considering that the average Millennial interacts the majority of their time on a smart phone. They tend to have a very high sense of urgency and if they aren't satisfied with their findings on your higher education site in 1-2 clicks, they will likely bail and go somewhere else. Asking questions via surveys or focus groups prior to higher ed web development will help to ensure you are answering their searching needs. This generation is intensely social (at least via social media channels!) and they look to their peers for advice or referrals. Millennials trust their friends much more so than any other marketing tactic employed today, so the use of testimonials, videos and reviews on your site greatly impacts their perception of the school. In conjunction with their social nature, Millennials love to engage, contribute to content and broadcast their own thoughts. Sites that have boldly incorporated a full social media feed, such as Nazareth College for example, are perfecting that channel as it relates to this audience.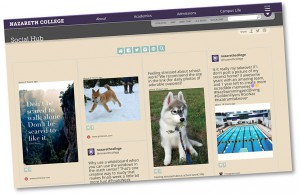 Interestingly enough, 26% of all Millennials rank Twitter as their number one social media platform, and 59% of all Millennials currently have a Twitter account. Many Millennials have been 'awarded' their entire lives so the use of game-like elements with corresponding 'rewards' resonates with this demographic. For example, Saint Joseph's University incorporates "+" symbols that allow the viewer to interact in a game-like way to learn more. Lastly, this audience also visits your site to get a sense of the experience they will have while attending. Ensuring your site a) reflects your school's brand and b) visually feels modern and 'real' and c) demonstrates through photography student's life-experiences will all help to convince this group that your offering fits their needs.
So let's recap:
Responsive design
Listen to understand their needs
Use testimonials, videos and reviews
Up-to-date social media feeds – notably via Twitter
Game-like elements with corresponding rewards
Visuals reflect the brand and personality of the school
While surveys are paramount in understanding any audience – and keeping in mind that each school is not 'cookie-cutter,' these six points will help most higher education sites start their develop on the right foot and most effectively target today's prospective and current students.