How To Create A Custom Google Map With MyMaps

Often Forgotten, Google MyMaps Makes It Easy To Create & Share Maps Online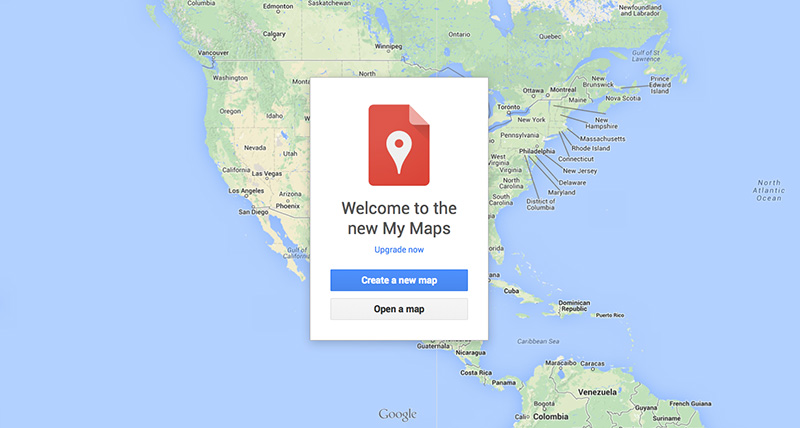 We all know the power behind Google Maps. We know that it is crucial in helping new businesses get found, getting everyday directions to home or work and places in-between. Google Maps can even be leveraged to find your way around a city on your mobile phone whether you are online or offline. I mean you could use another service like Apple Maps or Bing Maps but, for me, that is like saying "I am switching to Zune because I Pods don't work for me."  As a big Google reviewer, I also love that I can do a quick search for new places to eat or new shops and get an idea on how the public received it before trying myself.
Why MyMaps?
I am going to be completely honest. I had totally forgotten about Google's MyMaps until recently, which is shocking because I use Maps every day...and they never stopped reminding me of its existence. I also saw great applications that I assumed were done with MyMaps; for corporate sites where they made searching a local area or finding franchises super simple and fun. I have used custom maps with Google before to plan trips to New York or create a shared map for friends who were visiting from out of town for my wedding. But with MyMaps new features I can see myself using these maps more often and in a wider scope.
Google's MyMaps is now fully-integrated into Google Drive which helps show how they plan  to used their cloud-based service to better connect products and Google users. This helps differentiate their Maps from those like Microsoft's Office 365 which serve in a more limited business role and not open for all users to take advantage of. They have even created a MyMaps application on Android devices that makes it easy to access, manage and create maps on the fly. The features added to this version of MyMaps are great too. You can:
Choose different icons, colors and markers to your map. (Even add your own custom images)
Create multiple layers to better organize your places. (One layer for each day of an event, or one layer for friend's addresses and another for the restaurants you eat at together)
You can import and edit your maps in bulk through the use of spreadsheets and data imports.
How Do I Create My First Map?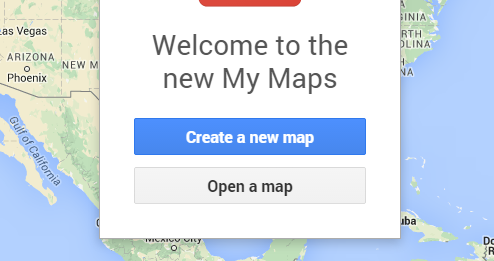 Getting started couldn't be any easier.
1.  Simply go to MyMaps and click 'create new map'.
 2. Once there, you can start by giving your map a title, naming your first layer (similar places you want to keep together) and start searching for the locations you want to add by name and address.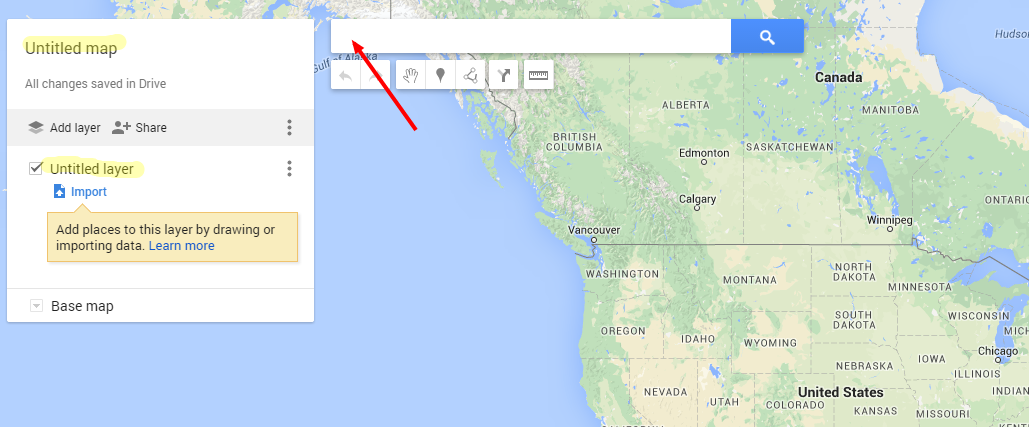 3.  Once you complete this step you can start customizing your map with icons, descriptions, adding photos to each marker and even adding Youtube videos.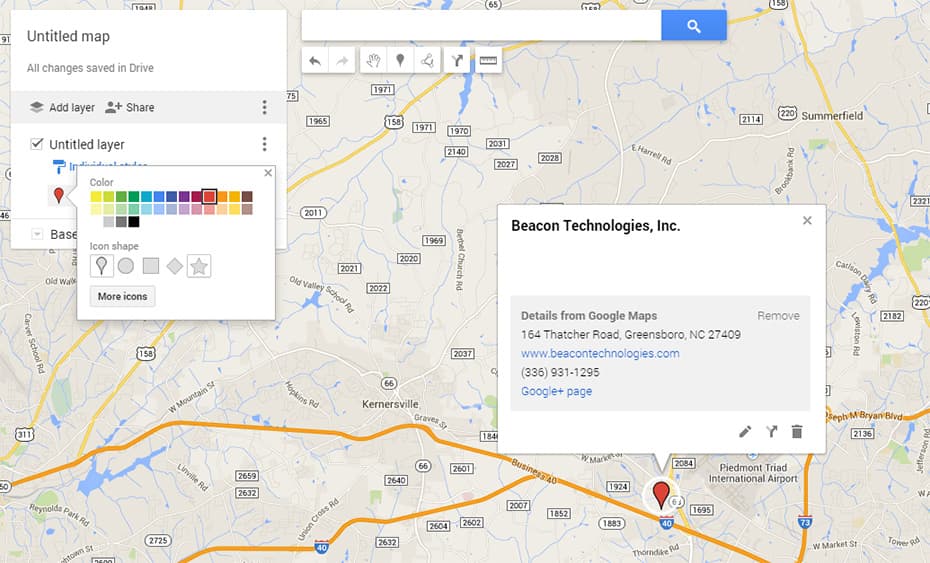 That is all it takes to create your first custom Google Map. Start creating your own!
What Kind Of Maps Can I Create With MyMaps?
Collaborative Event/Club Maps
Most people have friends or colleagues that they meet up with often and go out to eat, get drinks or check out the nightlife in their neighborhood. Others are part of a civic/fun club or organization that plans events or meets at different locations. Helping ease this process is MyMaps. With MyMaps you can add your meeting places, favorite restaurants and bars or even one-time events with locations to a custom map that makes organization simple. Several of my co-workers and I started enjoying breakfast biscuits together recently and I used MyMaps to keep track of the places we try and jot down notes as well. Note that I am able to use custom image markers using a URL upload.
Informative/Educational Maps
To further prove its awesomeness, MyMaps allows anyone to leverage the marking, embedding and editing tools to create rich tapestries of information for educational and informative purposes. You can embed text, charts and even YouTube videos into the map to showcase stats, dates or events that help tell a visual story to your audience. Google already has some great examples of these like the one below that details the Battles of The Revolutionary War. They have a plethora of others too that show you just how far you can take your creations.
Embed Maps Everywhere!
Once you find a map you like or create one that you want to share on your community group or website, Google make sit easy for you to set sharing options (private versus public) and gives you the ability to embed your map anywhere. Doing so is simple. Just make sure your map is set to public and click the menu icon on the left-hand side of your map. Once there, select Embed on My Site and you are good to go!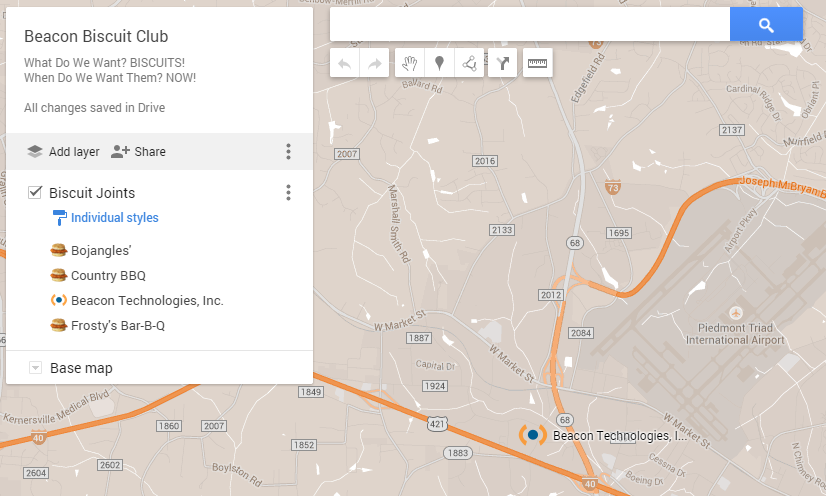 Distance/Driving Instructions
One last feature that you can use on your map is sharing or displaying driving directions to different locations on your map. This sounds straightforward and a task most people can already do, but these maps make it even easier to visualize how far your markers are apart and for shared maps, how far the locations are from all connected users.
In Summary
To most people, Google MyMaps is nothing new. But, like me, you may have missed out on some great new features you were not aware of or lost sight of how simple and fast it is to create a map that can serve so many purposes. I hope you try out MyMaps for yourself and start exploring, learning and collaborating in your neighborhood.