How to Check Goal Conversions are Set Up Correctly in GA

I absolutely love that Google Analytics has the Real-Time Reporting section that allows you to see many different options in "real time." Now, when you are testing out new goals you've set up, to make sure they show up correctly in GA, you don't have to wait a few hours to see the data. It will populate in real time while you're on the site clicking, which is very convenient - don't you think?! I use this feature every time I set up a new goal to test it works correctly.
Here's how you can use it too.
Step 1
Set up a new goal in GA. As my example, I'm using a Goal I set up to track Live Chat sessions on a client's site.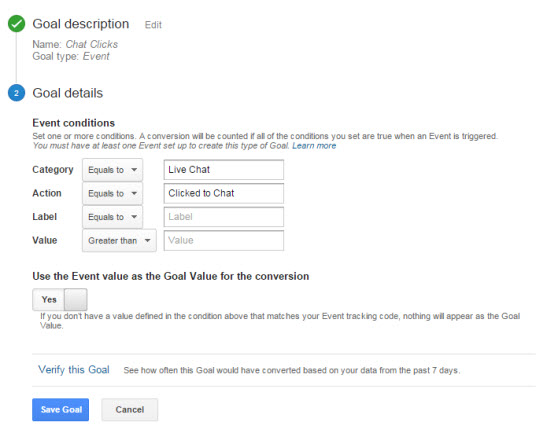 Step 2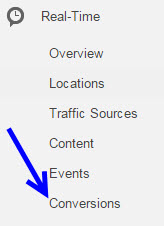 Once the goal is saved, go back to the reporting tab and click on "Real-Time" then Conversions.
Now go to the website and go through the steps needed to complete the goal.
(This is where having two screens comes in handy. If you have two screens, keep GA open in one screen and complete the goal steps on the other screen so you can see when your Goal completion pops up.)
Step 3
Once you take the steps to complete your goal, then look at GA and see if it showed up under the conversions section. Using my example, you can see that my Chat Goal is working correctly.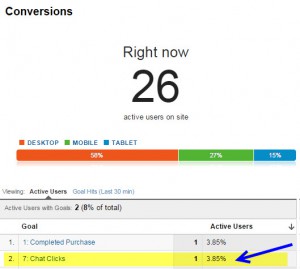 If you don't see your goal completion show up, then you need to go back and make sure you set the goal up correctly. You might have chosen the wrong Match type for URL destinations or wrong category names if you did event type goals. You can even double check the goal is configured properly by clicking "verify this goal" before you click the blue button to "create" the new goal.
That's it. It's literally as simple as 1-2-3!
Question for you
How do you currently double check your goals are set up correctly in GA?