Beacon goes to Moogfest 2014

Beacon had the opportunity this past weekend to participate in Synthesis, an event by NCTA, at Moogfest in Asheville, NC. This portion of Moogfest was a high energy tech expo featuring a wide range of technology companies. Live entertainment was there, in true Moogfest spirit, and various speakers from the tech field presented throughout the day.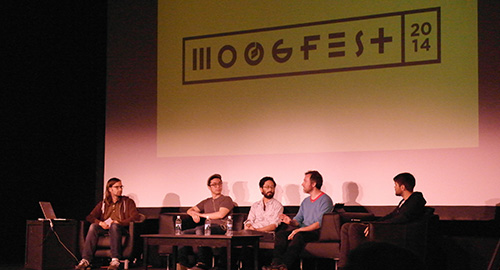 Beacon was able to participate in the various Moogfest workshops and presentations as well as enjoy all the live music the festival has to offer. The one thing that unites all the performers and speakers throughout Moogfest is the use of technology and innovation in their art and music. It was fascinating to see how technology is being used in both audio and visual experiences and to envision where these technologies will take us in the future. Excitement about interactivity and communication was a common theme throughout Moogfest. At the Google Creators Panel Discussion, the Google team talked about creating tools for mobile devices that allow users to create their own music. Mobile apps are enabling people to have easier access to all sorts of tools, breaking down barriers, and giving people new ways to create and learn. They also showed a project that used data (from Google Maps), combined with images and music to create an audio/video experience that was personalized to the user's childhood neighborhood. This took the music used in the project to a new personal level. I think personalization and interactivity are always marketable things to integrate into a software product. When you can build a relationship between the user and the experience, then there is attachment there that helps build loyalty and this relates back to user experience and brand loyalty.


Moogfest is mostly about music, but there was definitely a lot to take away about design and user experience. NCTA's Synthesis event was a great avenue for people to see how technology is applied across a wide range of areas. A big thank you goes out to NCTA for putting on this event and bridging the gap between technology in the business world and technology in the music world.