Great Google Analytics Dashboard Shortcuts

If you are like most people who are new to Google Analytics, you have not yet broken the surface of possibilities that Google's dashboards can provide. Google Analytics can help shine light on your website's traffic sources, seasonality, Google AdWords spend and revenue, social media impact and user behavior. The most difficult art about Google Analytics can be sifting through the mountains of information and metrics and gleaning important trends and risk factors that help your business adapt and grow.
What Are Google Analytics Dashboards?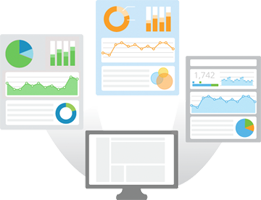 Dashboards help give you a high-level overview of your properties by displaying multiple reports as widgets on a single page. With one dashboard, you can monitor many metrics at once (such as traffic sources), so you can quickly check the health of your site's traffic, popular referral sources, organic traffic growth and user engagement by traffic medium. With another report, you can view the impact of your paid search campaigns by tracking revenue, eCommerce conversion rate, keyword data and spend analysis...all on one page.
Each profile in your Google Analytics account displays a default dashboard that is pre-populated with a few widgets. You can add new widgets to a dashboard by clicking Add to Dashboard at the top of any report, or by clicking +Add Widget from the dashboard menu. Click the gear icon in the top corner of each widget to see these customization options. To view and manage your dashboards, use the Dashboards menu on the left, found under the Home tab.
You can create up to 20 dashboards for each of your profiles, and each dashboard can contain up to 12 widgets. Dashboards are available only in the view in which you create them.
But What If You Don't Know Where To Get Started?
Google has made this process easier through its powerful Google Analytics Solutions Gallery. More proficient Google Analytics know how to effectively create their own custom dashboards, with key metrics and comparison data while newcomers to Analytics don''t know where to get started. The new Solutions Gallery takes custom dashboards created by Google Analytics experts and expert marketers and release them (for FREE) to the masses.
Whenever you find a shared dashboard that you think would be helpful, all you have to do is click on the link while logged in to your Google Analytics account, choose the property you want to add the dashboard to, and you now have a pre-built and powerful dashboard!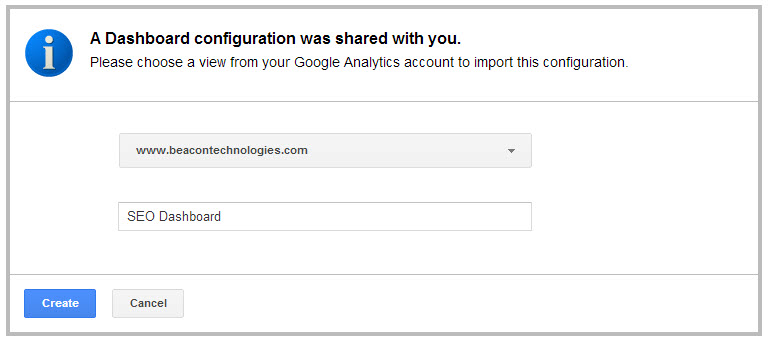 There are 16 different filters that you can apply to the Solutions database so you can easily find the dashboard or bundle that is right for your business. This includes acquisition, conversions, display advertising, organic search, engagement and many more. You even have the ability to find pre-made segments, custom reports and goals to make tracking your success and analyzing your data even easier.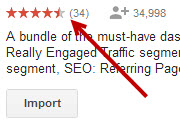 Make sure to look at the reviews from each importable dashboard or bundle to see how successful they have been and use customer satisfaction to drive imports. The gallery will keep track of dashboards you have previously used and imported as well which makes it easier to re-use dashboards that work well for your business or clients.
Save Time With Bundles
A couple of great finds in the Google Analytics Solutions Gallery involve bundled sets of dashboards which can be helpful to use right out of the box or customize to your liking. One such great example is the "New Google Analytics Starter Bundle" which incorporates over 20 reports, segments and dashboards that give even new Google Analytics users a leg up on the competition.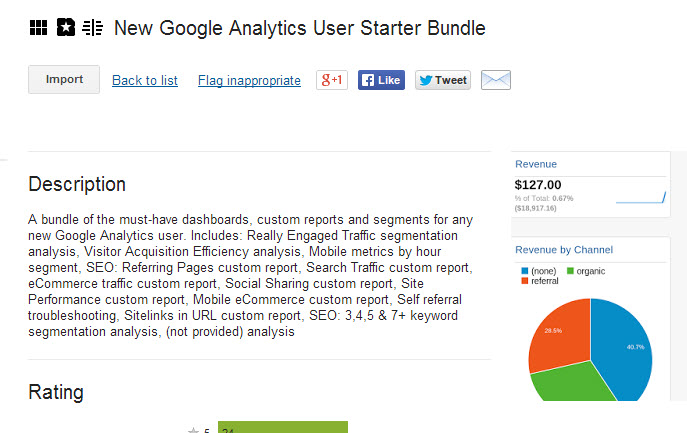 Another great bundle is the "Device Segments" bundle which includes custom advanced segments to see how traffic sources, campaigns and pages perform depending on devices (tablet, mobile, desktop). All of these bundles can be easily by simply searching for "bundle" in the "search for solution" search box.
Customize, Customize, Customize...
The last step to help fully utilize these new dashboards in your account is to customize them so they are right for your business. Some of the dashboard's widgets may contain dimensions or metrics that don't apply to your business. If you cannot track revenue in Google Analytics, you can edit the widget or dashboard to focus on tracking conversions such as registrations, signups or contact form submissions.
Customizing each dashboard and segment is super simple.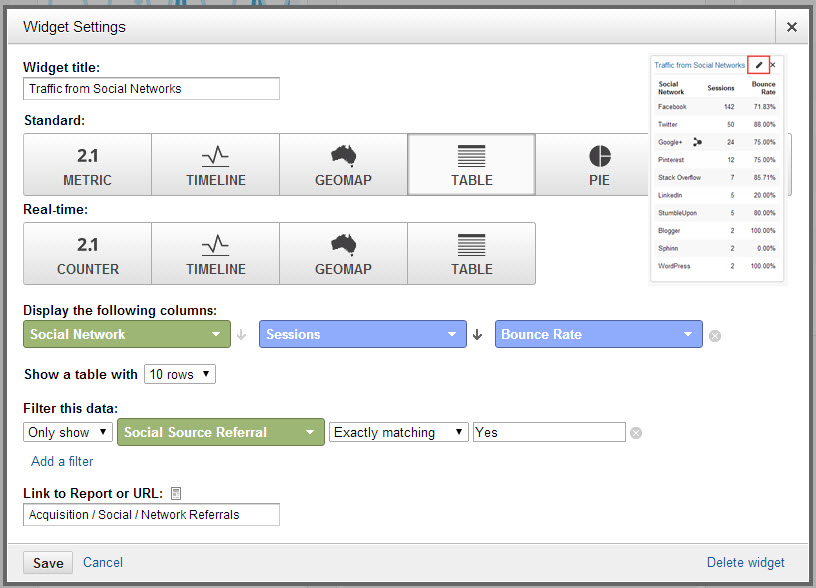 From your dashboard, mouse over the "edit" pen in the upper right corner and click to open up the "widget settings" pane where you can customize each widget to only show dimensions and metrics you want to see or care about. The same thing applies for advanced segments.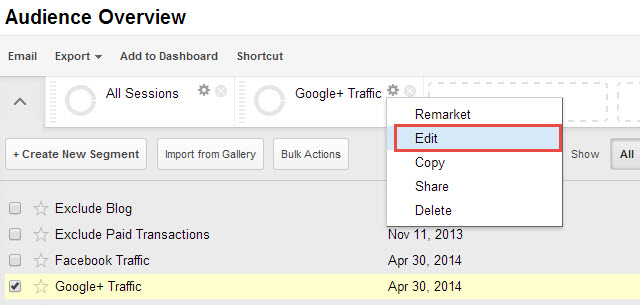 Open the Segments drop-down at the top of your analytics window and select one of your imported segments, then click the cog in the upper right, then click edit and voila! You now can customize your custom advanced segments. The same is true for custom reports to help alert you to drops in traffic or revenue or erratic behavior on your site.
In Conclusion
The Google Analytics Solutions Gallery makes diving deeper into Google Analytics easier and more painless. Almost every option of analysis and trending can be found in the gallery and the option to import your own exists if you wish to share your own knowledge and give back. Save time, energy and frustration and make use of this wonderful and free feature today! If you are working on a very complex Google Analytics setup or configuration don't hesitate to contact Beacon today!