Google Analytics for Colleges and Universities

How would you like to be able to tell exactly how many prospects you have at your defined admissions cycle steps? How about seeing your abandonment rates between steps in the admissions funnel? How about what sources or efforts are actually driving applications? How about sources that are actually driving actual enrollments? What patterns of activity do people who apply or enroll do? How much does social media actually play a role in the admission process?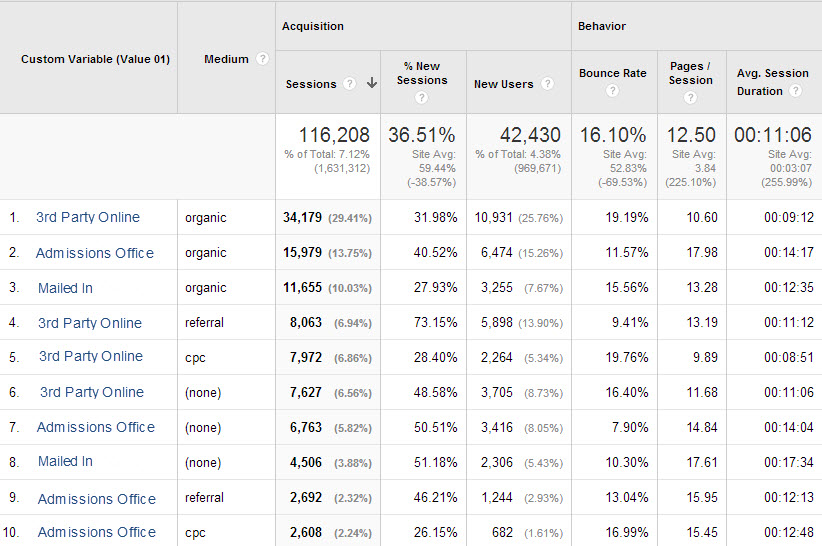 These are all questions that marketing directors and VP of Admissions should be asking themselves and currently it's very challenging if not impossible to answer these questions. I've worked with dozens of schools over the years and have found a consistent theme when it comes to their ability to tie all the data together. Many schools use third-party application software that doesn't tie into their analytics and essentially houses all their admissions applications data external from their website analytics data. I saw these challenges as an opportunity. The data that could be leveraged if we could connect all the disparate systems would invaluable for marketing decisions.
While GA is an awesome tool for analysis, without having all the data centralized and aligned to match visitor activity into a single user, Google Analytics alone still doesn't solve this challenge. This is why we built GAFUSION. It is the must have tool for any college or university that wants to view all their marketing data in a centralized location and be able to easily see what activities are driving key conversions and ultimately lead to applications and enrollments.
Colleges and Universities online marketing is a lot different from your typical ecommerce marketing. The application and enrollment process can span years over many devices. And applications can be submitted through many channels such as your website, a third-party website, your admissions office, they can even mail them in. This is why having a centralized conversion database that uses sophisticated matching algorithms to sort through the data and isolate a unique visitor and their activity and push it back into GA with their unique Google Analytics identifier that ties that usage and conversion data to their original sources and mediums is so important.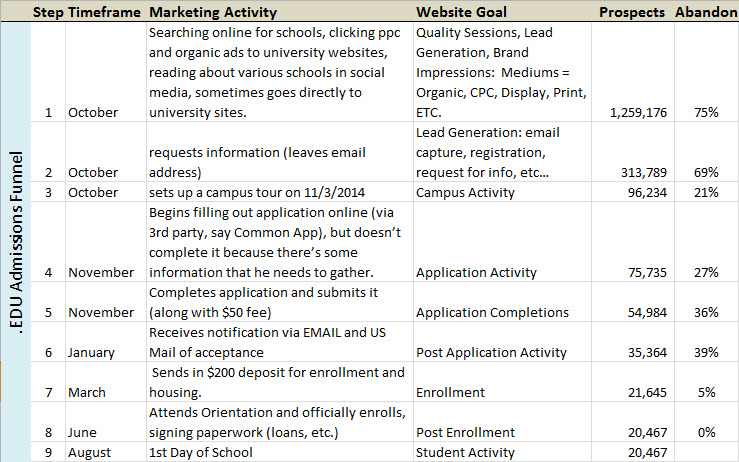 Imagine being able to easily see the type of activities above for any defined period of time. Imagine being able to compare/contrast against the previous year and see where you are making gains or losing prospects. Imagine being able to see the sources and marketing activities that are driving prospects into each step in the funnel. GAFUSION can help you do all of this. When it comes to Google Analytics in the higher education space, Beacon Technologies has the experience and GAFUSION is the "must-have" tool to accomplish this.