University of Hartford launches two new communication sites

Beacon recently assisted longtime partner, the University of Hartford, with the development and launch of two new Cascade "sub-sites" that will serve as communication portals for the University.
Unotes Daily shares campus announcements on a daily basis with the campus community and allows external visitors to submit announcements of their own for publication.
Unotes Extra is a periodical/magazine format that allows the communications office to produce stories on a less routine basis as the need arises.
Both sites also have an email component that allows the administrator to produce an HTML-based message based on the day's content for distribution to stakeholders. More information can be found at the following University of Hartford page: http://www.hartford.edu/extra/articles/2014/Feb-24/UNotesExtraAnnouncement.aspx.
The new sites are based on the Hartford main site design and more closely match their brand than the old site design (below).
NEW
Hartford Unotes Daily Homepage (New)[/caption]
BEFORE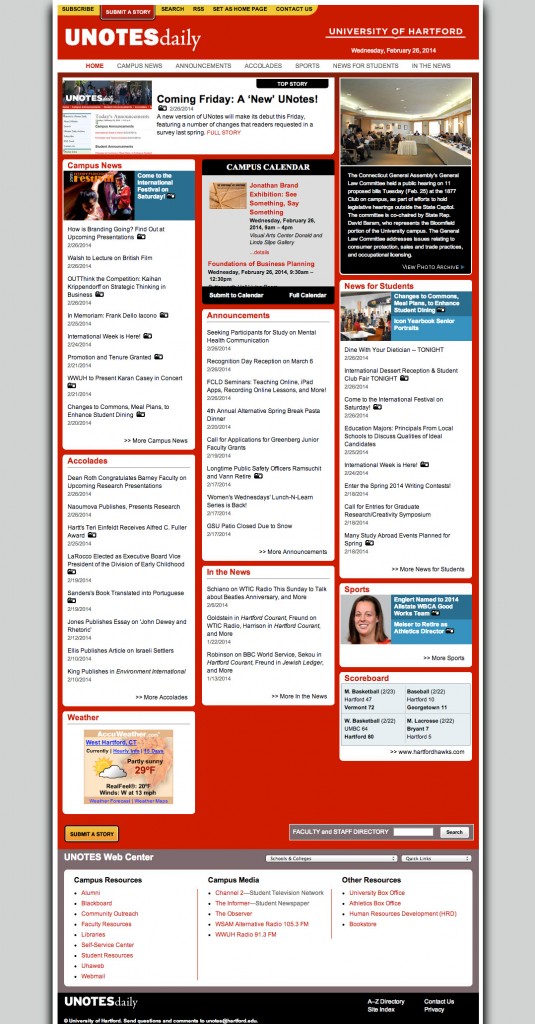 Hartford Unotes Home page (Old)[/caption]
The client is very pleased with the ease of use and appearance of the new sites and is anxious to add even more functionality to them.  Congrats to Hartford on their new Cascade sites and to the Beacon team for another job well done!