Day 1 at IR Focus in Orlando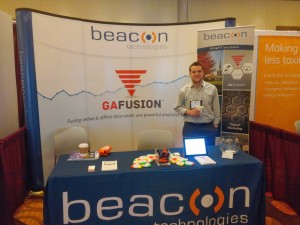 Monday was a day of workshops for SEO, Web Design and Mobile Commerce at IR Focus.  All the sessions seemed to be well attended.  David Workman, Ecommerce Operations Manager from Delta Apparel (one of Beacon's clients),  presented during the morning about The Building Blocks of Design:  Taking the Basics to a New Level.  There were a lot of great sessions regarding advancements in SEO, setting goals for your redesign, responsive design, how sites can be BOTH beautiful and fast, what to expect in terms of cost and of course, live design and SEO reviews.
We had our booth setup early and ready for the opening of the Exhibit Hall Welcome Reception at 4pm.  It was good to see some of our partners and friends that were also exhibiting, like Nextopia, Optimizely, Windsor Circle, MyBuys, Avalara, Authorize.Net and Conductor.  During the Exhibit, we spoke with many different attendees and the hot topic was definitely analytics and getting the most from your web initiatives – whether it be through more ROI-focused digital marketing, improved website usability, onsite marketing or becoming more efficient with integration to 3rd party and back office systems.
A great list of speakers are on tap today, at IR Focus, from companies like QVC, Wayfair, Zappos, Twitter, Grainger, Google, Newegg, Nicole Miller and Uberflip.