Holyoke Gas & Electric Redesign Launched!

Beacon Technologies is very proud to announce the launch of the new Cascade site for Holyoke Gas & Electric at http://www.hged.com! This site is visually a dramatic improvement over the old.
BEFORE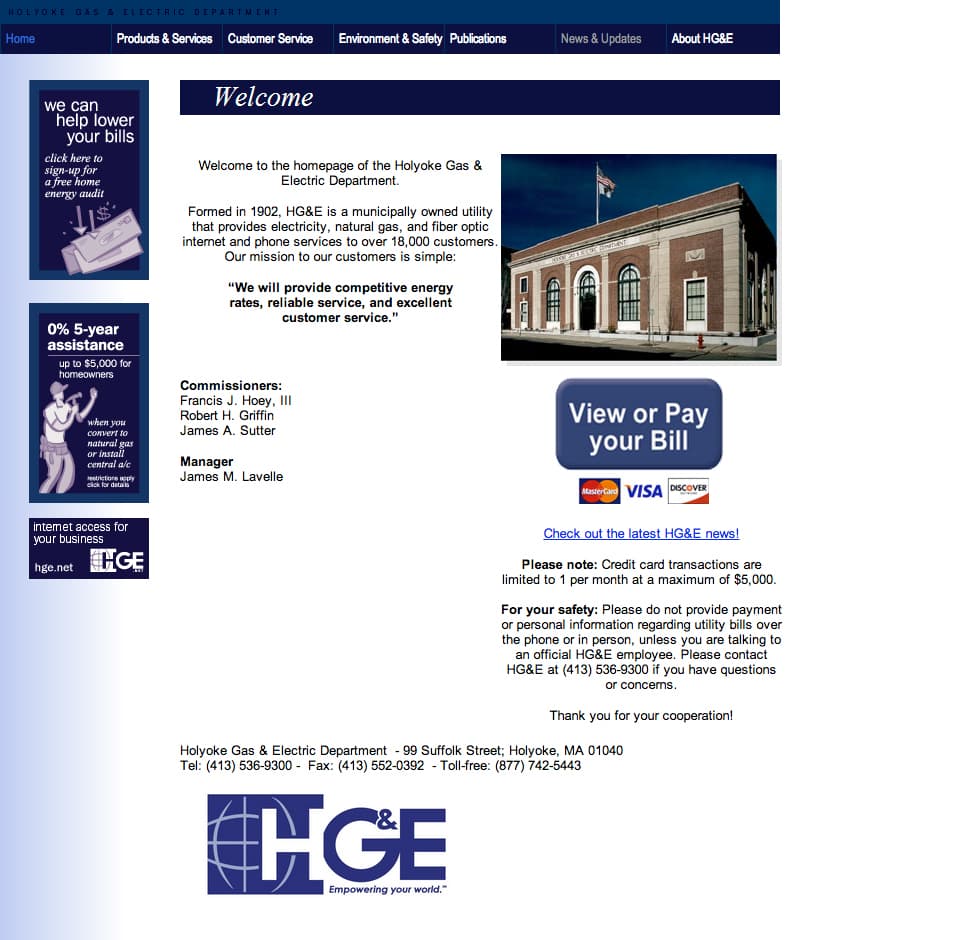 AFTER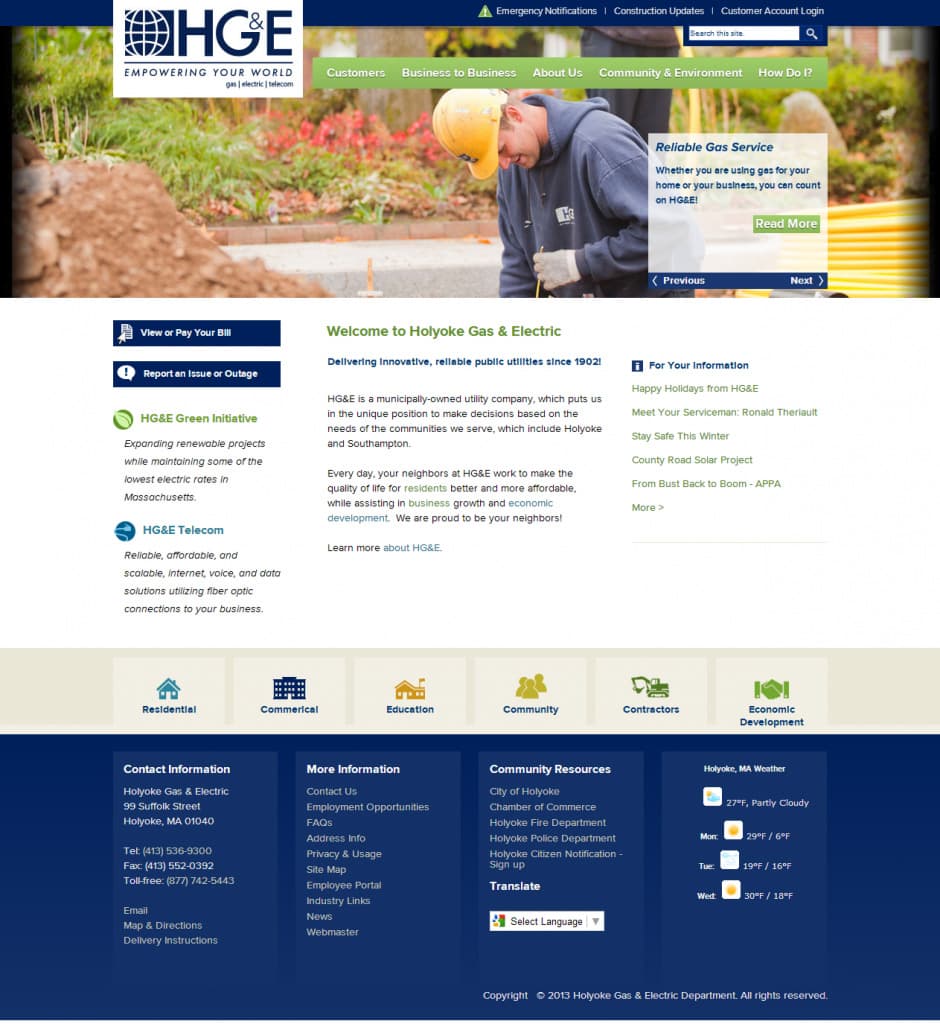 It also incorporates the following fantastic functionally:
Responsive Design— The new site is a lovely, colorful responsive design, that looks great in the largest monitor and the smallest phone
Audience-based site maps—When a visitor clicks on one of the audience based icons in the site footer (like "Residential"), they are directed to an audience-based site map (http://www.hged.com/site-map/residential.aspx), displaying the pages that the client has tagged as relevant to that audience within the CMS.
Emergency Notifications—Two different messaging options to alert customers. One is for severe emergencies and pops up in an ajax window on every page of the site and the other is a banner message that doesn't require visitor interaction but appears on every page of the site. There's even a very cool animation effect for the emergency message when it is in effect.
Google Translate—Easy to access Google translate widget in the footer of every page of the site
Weather feed—Weather related info for the Holyoke area displayed from a 3rd party tool in the site footer. Note the effort devoted to make it match the site design perfectly!
Call to Action buttons—Editable buttons that display on the home and optionally on any interior page under the left navigation.
Contact Information—Editable contact information that can be displayed on any internal page under the left column navigation (http://www.hged.com/customers/start-stop-move/default.aspx)
Optional right column area—All internal pages can display an optional right column that includes widgets for content, images, videos or external links (http://hged.com/about/history/default.aspx)
Internal animated banner images— Can be incorporated on any internal page on the site (http://www.hged.com/telecom/default.aspx)
Department-specific design—One department at HGE required an alternate, but similar, design for marketing purposes and it can be seen here: http://www.hged.com/telecom/default.aspx
Google Map integration—Client can enter location details into Cascade to display an interactive Google map (http://www.hged.com/about/contact-us/delivery-instructions.aspx)
Custom "calculators"—These two pages are custom .NET forms that allow the visitor to calculate their own energy costs– http://www.hged.com/customers/save-energy-money/energy-efficiency/carbon-foorprint-calculator.aspx and http://www.hged.com/customers/services/gas-service/gas-conversion/default.aspx
 Spectate integration—Any internal page can display a Spectate-based online form as created and maintained by the client (http://www.hged.com/about/contact-us/default.aspx)
Web and social media tracking– The site makes extensive use of web and social media tracking tools so that the client can be well informed of all client interaction with the site.
The client is just thrilled with the beautiful site– "Everyone here at HG&E is so very excited about this project! The design is amazing, the CMS is great, I have had very positive feedback from all our employees!"  Congrats to the entire Beacon team for a job well done!