Free Responsive Web Design (RWD), HTML5 and CSS3 Vector Logos in PSD, AI and PNG Formats

I was working on my personal website over the weekend and decided I wanted to use the HTML5 and CSS3 logos within my portfolio. When I went to do this I realized I had no visual way to display Responsive Web Design. I searched and couldn't find any official RWD logos or a version that I felt would go along with the HTML5 and CSS3 logos like I wanted so I decided I was going to have to make it myself.
Here is the process of how I created the RWD logo:
Downloaded the vector versions of the HTML5 and CSS3 logos
Used Gotham Ultra to create the base for the 'RWD' in black
Tweaked the RWD slightly to match the 'HTML and 'CSS'
Used the shape and size of the '5' and the '3' as an outline to create the R
Used a color schemer online to choose a color that complimented the first two logos
I'm really excited with how it turned out so I would like to share it with everyone. Feel free to use it however you wish!! The RWD logo's I did see were a lot of the time in a shade of dark gray so also feel free to change the color if black becomes the new RWD signature color.
This vector set includes:
HTML5 Logo
CSS3 Logo
Responsive Web Design (RWD) Logo
Preview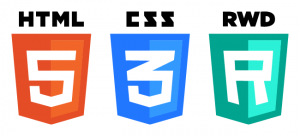 Download Links
PSD – Adobe Photoshop
AI - Adobe Illustrator
PNG - Adobe Fireworks
ZIP - download all 3 versions in a zipped file
Also if you have any ideas to improve the R within the RWD logo please comment below! I struggled with it following the same structure as the 5 and the 3 but still looking like an R.
*Please note this is in no way an official logo or design for Responsive Web Design. Given RWD is a practice or methodology of a combination of multiple things I'm not sure there will ever be an official logo created for it. I did this as a way to display RWD visually next to the HTML5 and CSS3 logos within my personal website.