IRCE is a huge event. When I say huge, I mean HUGE. Walking into the conference you have to do a double take to make sure this is where you should be. Massive RV's, cars, three-story booths and awesome lights are a great welcome to Chicago and McCormick Place. But wait, I am getting ahead of myself...we haven't arrived yet.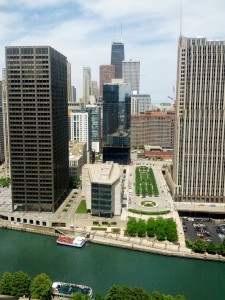 Beacon started off from Greensboro, went through Charlotte and then onto Chicago on Tuesday morning. After a smooth ride and great shuttle service to the hotel, the Beacon team (Rick, Emily & Jordan) picked up the booth and supplies and took the complimentary shuttle to McCormick Place (America's largest convention center...think airport size). After setting up everything, Beacon was able to unveil the new look of our brand, at booth 545, and approach through SMART Web Solutions with brand new materials and a backdrop to set the booth off.
The exhibit hall opened at 4:00 p.m. and Beacon started off meeting the huge 9,500-attendee crowd. Shortly after the event kicked off we were welcomed by the rest of our team, Annette and Mark! Beacon is giving away some great prizes over the three-day conference and exhibit and started the contest to see who will take home some Google bags, lava lamps and a Jawbone JAWBOX. We even ran into one of our partners, Nextopia, who are right next to the our booth. The event shut down at 7:00 but the party continued as Beacon took part in a conference kickoff event with great food and entertainment.
Later on that evening, Beacon took to downtown, a short walk from the hotel, to go watch the Chicago Blackhawks play downtown and enjoy some good food and catch up after a very long day of travel and work. Stay tuned for a recap of day 2 and 3 at the conference and see some of the winners of the contest and meet some of our great partners who are at the event!