Word from the Sales Front

April was a busy month here at Beacon.  We came into the month off of a real strong first quarter with lots of exciting new projects kicking off with existing and new clients.  The momentum continued into April with over a dozen project kickoffs and the addition of seven new clients, including:
In addition to forming new relationships and strengthening existing partnerships, we were out on the road at The Bronto Summit and North Carolina Technology Association's State of Technology Conference.  It was awesome to participate in these fun yet informative conferences without having to spend anytime in an airport or hotel.
The Bronto Summit was a great event.  The conference had such a friendly vibe and was one of the realist conferences I had been to in awhile.  There was awesome camaraderie across the board and really unique opportunities for networking.  As a partner, my favorite was their game of CLUE (Marketing Style) which was an excellent way for clients to get to know Bronto's network of partners.  The key notes were top notch, from Joe Colopy's (Bronto's CEO) spin off of Coach Brooks' pregame pep talk in the 'Miracle' to Ken Magill's (The Magill Report) blunt take on the importance of relevancy.
[caption id="attachment_7019" align="aligncenter" width="261"]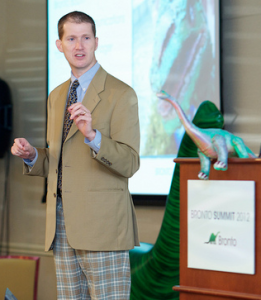 Joe Colopy dressed in his Coach Brooks' digs for the opening keynote.[/caption]
NCTA's State of Technology event is a perennial favorite.  It is a short, high impact event that always excites me about what is going on with technology in North Carolina and beyond.  This year was no different.  'Big Data' was the theme of the day and it was amazing to see how local organizations are utilizing big data or empowering others to leverage its power.  So many awesome use cases were discussed across a wide range of businesses, including: Public Safety, Healthcare, Finance, Non-Profits and many others.  It was amazing to hear about the awesome ways folks are using predictive analytics to increase revenues, decrease crime rates, lower mortality rates and increase revenues.
Looking ahead - we have a full calendar and pipeline so stay tuned.  Over the next few weeks, we'll be at NCTA's ET&T Breakfast on Analytics, The Triad Showcase and the Internet Retailer Conference.  Any chance we'll see you at these events?  Let us know in the comments section below.