Want to Attend Internet Retailer?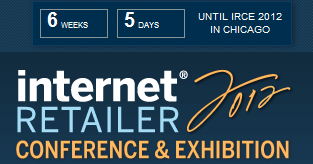 If you've looked at our events page then you know we're attending the Internet Retailer Conference in June. Wahoo! This conference is HUGE and is jam packed with tons of great sessions and information. There will be 175 speakers, 570 exhibiting companies, 8,000 attendees, and multiple workshops! I'm excited, are you excited?
Since we don't want you to miss out on this opportunity we are offering you a discount code good for $100 OFF the current registration rates (excluding Exhibit hall and Workshop only passes) if you register as an individual.  If you register with a group of three or more attendees you will receive 25% discount OFF of ALL (Yes you're reading that right!) passes registered in lieu of the $100 discount. However, the discount only applies to new registrations and cannot be applied to existing registrations.
What do you think of that discount? Pretty good eh? So if you're interested in attending and would like the discount code, shoot me an email letting me know. :)
Also, don't forget to check us out on Twitter and Facebook to see what giveaways and contests we're holding during each event!