Not Your Average Breakfast Conversation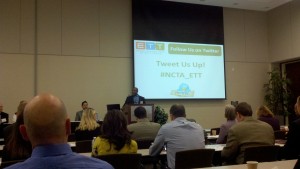 Whether you're a morning person or not, it's safe to say you won't find this kind of conversation around the kitchen table.  Part of North Carolina's Technology Association (NCTA) "Emerging Tech and Trends" breakfast series is focused on providing a forum where business professionals can engage in serious conversation and rhetoric around the ever morphing topic and trend of technology.
"How Technology Enables a Virtual Workforce" was the topic of the March 28 meeting.  The Panel consisted of:
• Rajeev Jaswal, Senior Manager, IT, Red Hat
• Susan Kellogg, CIO, Kenan Flagler Business School
• Josh Schlanger, Director of Infrastructure, ChannelAdvisor.
• Shannon Roberts, Vice President of Technology, Peoplefluent
As a first time attendee I was quite impressed with the candidness and ease at which ideas were tossed about as a casual game of catch, but equally impressed with the sincerity of questions that flowed from the audience.  Distinguished Panel members, business leaders, entrepreneurs, and students sharing their thoughts, experiences, and solutions made for a beneficial time.   It makes sense when you think about it.  What better way to learn, be stretched and sharpened than to gather with likeminded innovators.  Solomon, known as the wisest man that ever lived, went on record saying, "Without counsel, plans go wrong, but in the multitude of counselors they are established."
As a business owner are you looking for a place to network and bounce around pertinent ideas concerning your business as it relates to technology?  Consider attending the next "Emerging Tech and Trends" series on May 17th http://www.nctechnology.org/events/overview/emerging_tech_trends/default.aspx
Hope to see you there.